Everything We Know About Amazon Prime's 'The Boys' Season 2
'The Boys' are, you guessed it, back in town.
Amazon's The Boys turns the squeaky-clean superhero archetype on its head. Based on the comic book series of the same name by Garth Ennis and Darick Robertson, the show is about a vigilante group called The Boys whose goal is to tear down the nation's top superheroes, who are, for the most part, under the control of mega-corporation Vought International and generally corrupt as hell. In a world where superheroes are essentially celebrities subject to the whims, promotion, and privileges of a major company, things are bound to get dark and messy.
Season 1 premiered last July, and it didn't take long for Amazon to announce, at the 2019 San Diego Comic-Con, that it had already renewed the series for a second season. Production rolled quickly along, with executive producers Seth Rogen and Evan Goldberg telling Collider in August 2019 that they'd already watched the first episode of Season 2. With the continuation of Billy, Hughie, the Homelander, and everyone else's stories on the horizon, here's everything we know about The Boys Season 2.
When will The Boys Season 2 premiere?
At the end of June 2020, Amazon Prime released a short clip from the new season, featuring a bunch of supervillain terrorists being taken out one by one by a particularly violent "hero." At the end of the clip, the Season 2 release date is confirmed to be
September 4, 2020
.
While the first season of The Boys dropped all at once, Amazon is taking a different approach with Season 2. It'll release the first three episodes on the premiere date and then the rest every Friday until the finale on October 9.
While so many of this year's film and TV have been impacted by production shutdowns and quarantine, The Boys had already wrapped production on Season 2 in November 2019, per an Instagram post from star Karl Urban. In May, showrunner Eric Kripke shared on Twitter that the rest of postproduction was being finished remotely, making The Boys one of the luckier shows to come out of quarantine relatively unscathed.
At the 2020 virtual San Diego Comic Con, producers Seth Rogen and Evan Goldberg dropped into The Boys' panel to announce that Amazon had indeed renewed the show once again for a third season, which they hope to start shooting sometime in 2021. What's more, they also announced that Season 2 will have an after-show of post-episode deep dives, Prime Rewind: Inside The Boys, hosted by Aisha Tyler.
Is there a trailer yet?
Yes! In August, Amazon released the final trailer for the new season of The Boys (above), introducing a powerful new Supe named Stormfront, a bunch of supervillains pitted against the Seven, and plenty of ultraviolence -- including a giant whale corpse (RIP).
Who's returning for The Boys Season 2?
Most of the original cast will return for Season 2. That includes Karl Urban as Billy Butcher, Jack Quaid as Hughie, Laz Alonso as Mother's Milk, Karen Fukuhara as The Female, and Tomer Kapon as Frenchie. Malcolm Barrett (also a
Timeless
veteran), will return as Seth Reed, a marketing executive at Vought who had a few poignant moments in Season 1 of
The Boys
.
We can also expect most of the Seven to return as well, although it hasn't yet been confirmed. That would include Erin Moriarty as Starlight, Chace Crawford as The Deep, Antony Starr as Homelander, Dominique McElligott as Queen Maeve, Nathan Mitchell as Black Noir, and Jessie T. Usher as A-Train. Also anticipated to return are Shantel Van Santen as Becca Butcher, Billy's wife, and Giancarlo Esposito as Stan Edgar, the head of Vought International.
Who will join the cast for Season 2?
Aya Cash (
You're the Worst
) is joining the cast, which
Variety confirmed
just prior to the Season 1 premiere. She's set to play Stormfront: who (if the name doesn't immediately clue you in) is a super-powered neo-Nazi created as part of Nazi Germany's hero program. Stormfront, who is male in the comics, came to America in 1938 and is incredibly powerful, possessing the usual gamut of basic superpowers (super strength, durability, flight) as well as the ability to shoot lightning bolts from the mouth.
Per Deadline, Goran Visnjic and Claudia Doumit, both of whom starred in Eric Kripke's Timeless, will have recurring roles in Season 2. Visnjic will play Alistair Adana, the leader of a mysterious church, and Doumit will play Victoria Neuman, a young, talented congresswoman.
Mere weeks before Season 2's debut, The Boys also confirmed that former X-Man Shawn Ashmore would be joining the cast as Lamplighter, who used to be part of The Seven before inciting a catastrophe that broke the group up for a few years, and then mysteriously retiring (which allowed newcomer Starlight to join the team in Season 1). Lamplighter has power over fire, which he wields using a cool staff, and, as Billy Butcher's anti-supe confidant Grace Mallory once mentioned, used his superpowers to incinerate Mallory's grandchildren. Whoops.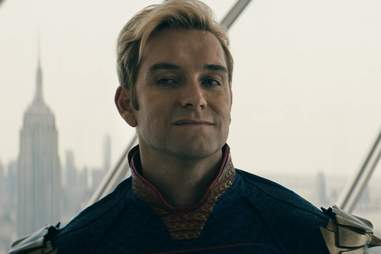 Homelander stands smugly in front of a window.

| Amazon Prime Video
What is the plot of The Boys Season 2?
Season 1 left us with a full slate of cliffhangers and unanswered questions about the future of The Boys, the Seven, and Vought International. Upon discovering that his wife Becca is alive after engaging in what may have been a consensual relationship with Homelander that ultimately led to her giving birth to a super-powered son, Billy is forced to question his motives about taking down the band of superheroes. That's in addition to the fact that Homelander and Becca's son disproves the belief that Compound V renders heroes unable to produce children, blowing Vought International's tight reign over superheroes right out of the water.
Outside of the focus of Billy and Homelander, The Boys are now on the run after Vought got ahold of their true identities. The Seven aren't really in a much better place, either: with Translucent dead, The Deep sequestered in Ohio, and A-Train pretty beat up, they don't have much going for them either.
All of that sets up an even more tumultuous Season 2, which is really saying something given that literally every character in the series is a disaster. We don't know much plot-wise about the second season -- essentially all we've got thus far is an image from showrunner Eric Kripke that shows him standing between a bloodstained Karen Fukuhara (The Female), Jack Quaid (Hughie), Laz Alonso (Mother's Milk), and a suspiciously clean Tomer Kapon (Frenchie). All of them are flipping the camera off, which basically sums up the series' irreverent attitude.
The addition of Stormfront could be another clue as to the future of the show: in the comics, Stormfront is a member of Payback, another superhero team under Vought. Payback brings together heroes like Tek-Knight, Soldier Boy, Swatto, Mind Droid, Crimson Countess, and Eagle the Archer, some of whom have already been name-dropped in The Boys Season 1. It's reasonable to expect that at least some of them, if not the team as a whole, will pop up in Season 2.
Finally, Goldberg told Collider that season two is not only "definitely better than the first season," but also that, "Immediately it just looks a bit better. It feels bigger. The actors all know what they're doing."
We'll be updating this story as more details about The Boys Season 2 emerge because that's our superpower.