Everything We Know About Amazon's 'The Boys' Season 3
More episodes of 'The Boys' are coming very soon.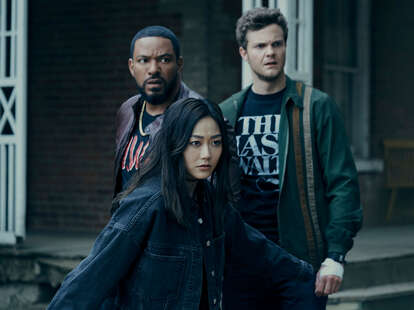 In its two seasons, Amazon Prime's The Boys has quietly emerged as one of the best, savviest shows on television. Though from the outside it looks like a generic "what if superheroes were bad" narrative, it's a devastatingly sharp critique of American corporate structures and the horrors they have wrought. (Or have... Vought... if you want to be more specific.) With a Season 2 finale that was characteristically bloody but left a lot of hanging questions, fans are clamoring for Season 3. Here's what we know about it so far.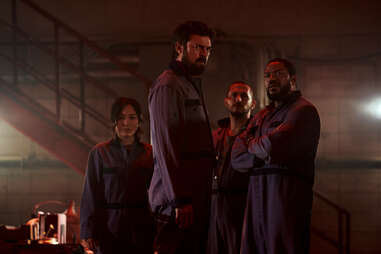 Is there a trailer for The Boys Season 3?
Yes! The first full trailer for the season opens with Homelander's break down, introduces big new supe Soldier Boy, and gives us a look at a Compound V-type serum that gives people powers for a limited amount of time. Seems like Butcher is going to try that one out. There's lots of blood and guts to unpack.
What will The Boys Season 3 be about?
Showrunner Eric Kripke left plenty of open doors in the Season 2 finale, but the biggest reveal has to do with the anti-supe Congresswoman Victoria Neuman, played by Claudia Doumit. Victoria had been hovering on the sidelines throughout the season. She's an Alexandra Ocasio-Cortez-esque politician who has been an outspoken opponent of Vought and Compound V. But, as we learn in the last bits of the Season 2 finale, she's also a supe herself with the insane ability to blow people's heads off. So what's her angle here? Hard to say! But we do know that sweet Hughie (Jack Quaid) is going to work for her. What mess has he gotten himself into now? "We want people worrying about thinking about the danger Hughie is in: The poor guy is trying to fight the fight in a good way—in a legal way—and literally step one he finds himself working for a secret supe," Kripke told Variety.
Meanwhile, Homelander's son Ryan (Cameron Crovetti) is now in the custody of Grace Mallory (Laila Robbins) and the US government, while Homelander himself is being blackmailed by Maeve (Dominique McElligott), who threatens to release the video demonstrating how he left a plane of people to die if he goes after her or Starlight (Erin Moriarty).
The full trailer for the series implies that Homelander's emotional meltdown will constitute a big portion of the season, while other parts will be devoted to Hughie's disillusionment, and the introduction of a serum that can give people supe powers for a brief time. There will also be a musical number.
Is Stormfront gone for good?
Homelander's Nazi girlfriend Stormfront (Aya Cash) was burned to a crisp by his son in an effort to protect his mom, the wife of Billy Butcher (Karl Urban), mumbling in German on her way out. But is she gone for good? Nope. Kripke confirmed in an interview with TV Line that she's very much still alive. "So the best poetic ending for that character is someone who so believed in some kind of pure race finds herself mutilated and having to live with it for potentially centuries felt like a fate worse than death for her," he said. "So no, Stumpfront is not dead." (He calls her Stumpfront.)
Will there be any new characters in The Boys Season 3?
Oh, yeah. The big new addition is Supernatural star Jensen Ackles as Soldier Boy, who Entertainment Weekly explains is being billed as the "original superhero." It's a little unclear from the reports whether he'll appear with his team Payback in flashbacks or is just super old like Stomfront, but he'll big a part of whatever comes next. "As we're writing him in this, we're getting to really talk about the history of Vought because he's like John Wayne: He's one of these guys that's been around for decades of Vought history," Kripke told Variety. "And he was Homelander before Homelander, so he's from a different era, but he's got the ego and the ambition—it just comes across in a different way because he's from a different time." In addition to Soldier Boy, other new supes will be joining the pack, among them the TNT Twins, set to be portrayed by Kristin Booth and Jack Doolan.