'The Card Counter' Will Make You an Oscar Isaac Mega-Fan, If You Weren't Already
The smoldering new Paul Schrader movie, out in theaters, is an example of Isaac's power as an actor.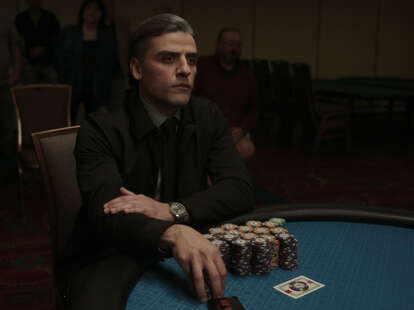 Focus Features
Focus Features
This past weekend, Oscar Isaac gave an award-worthy performance that sent the internet spiraling. It wasn't in a film or TV show—though he has both of those coming out. Rather, it was a moment on the red carpet of the Venice Film Festival captured by Getty Images. He strokes Jessica Chastain's arm before peering up directly into her eyes. He then kisses her shoulder. It's incendiary, not really even because of the gesture, but because of his gaze.
Oscar Isaac can do more than most with his eyes. He can simmer and smolder; mourn and rage. He bristles with chemistry, sexual and otherwise. In that way, his work in the new film The Card Counter operates as a complement to the viral clip. You think that's good? You've only seen the half of it. Isaac has a big year, which will include Dune and his HBO remake of Scenes from a Marriage with Chastain, and yet it seems unlikely that anything will top his terrifying, electric performance in this movie.
The Card Counter is the latest from Paul Schrader, a poet of American male anger and guilt, famous for writing Taxi Driver, who follows up his 2018 return-to-form First Reformed with this companion piece of sorts. Isaac plays a man who goes by the name of William Tell (yes, like the Swiss revolutionary and opera subject). In an opening monologue, William explains in an unnervingly steady voice that while he never thought he would take well to confinement, he thrived in prison where he taught himself to count cards, a skill he has utilized in his freedom, traveling from depressing casino to depressing casino, making some cash and then bailing to the next destination.
Schrader holds tight on Isaac's face as he shows him at work in a blackjack or poker game, and Isaac lets the intelligent intensity flood his eyes, without giving away what he's doing, so neither the house nor the audience can truly know this man. Because, as one might expect, William Tell has secrets, and they have very little to do with gambling. (And, yet, they have everything to do with gambling, if you catch my drift.)
Now here's where I'll encourage you to stop reading if you want to go in completely fresh, as I did. Just what William was in prison for is not a spoiler exactly, but there is a shock value to the reveal that shakes you to your core.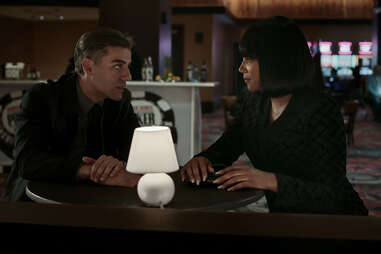 In a flash of memory, filmed with an extreme fisheye lens, Schrader reveals that William was not just in prison, he was in Leavenworth for his participation in the torture at Abu Ghraib. When Schrader glimpses inside the notorious detention center, the images are quick and loud and abrasive, like the memories plaguing William, all of which are brought to the fore by the appearance of a young man named "Cirk" (Tye Sheridan), the son of one of the soldiers who was there with William and similarly punished for his actions. But Cirk's father did not find the kind of uncertain peace William did; he killed himself, and now Cirk plans to torture and murder the contractor played by Willem Dafoe who taught them all to abuse and got away with everything.
William, in his own sort of penance, takes Cirk under his wing, not to entertain his ideas, but to make up for what the young man lost. At the same time, he accepts the offer of La Linda (Tiffany Haddish), an agent for poker players, more or less, who puts him on the world series circuit, which he only consents to in order to provide for Cirk.
La Linda and William have an unmistakable tension. She is clearly into him, and her outré flirtation butts up against his inherently guarded nature. But there's a thrilling undercurrent of eroticism to every moment of their interaction—the way their hands clasp around their glasses at various dingy casino bars, the way he eventually submits to the joy she projects—that flourishes in the final act.
Schrader and Isaac deftly insert these bursts of heat into what is otherwise a portrayal of deep repression. William is a man who, upon reaching a motel room, takes all the pictures off the walls and wraps the furniture in stark white linens, recreating the stale monotony of a jail cell. There's a danger when William submits to his sexual instincts, which makes it all the hotter for the viewer, and yet all the more frightening. Only an actor like Isaac, someone who knows how to use handsomeness for something beyond simple appeal, could pull it off.
The Card Counter is an uncomfortable, meditative movie about guilt, risk, retribution, and the way America operates. It's also an extraordinary example of Oscar Isaac's power. He crackles under the facade Schrader creates, always on the edge of bursting.