TV's Most Daring Comedy Put Bill Cosby on Trial Last Night
<strong>The Carmichael Show | </strong>Chris Haston/NBC
"The Carmichael Show is taped in front of a live studio audience."
Those are the words that begin every episode of stand-up comedian Jerrod Carmichael's eponymous television series, which returned for its second season last week, and they're important to remember. The show's old-fashioned living-room setting and the presence of a laugh track could scare away modern audiences, but they're actually a blessing. The fakery makes the show feel real. It creates intimacy. It adds tension.
This was especially true Sunday night, when the show took on its most controversial target yet: Bill Cosby.
In its first season, which debuted on NBC last August, the family sitcom indicated that it wasn't afraid to tackle complicated subject matter with a combination of modern South Park button-pushing and vintage Norman Lear empathy. With only six brutally funny episodes, the show examined the Black Lives Matter movement, religion, gender, and gun control. The writing could occasionally feel clumsy, but it was also fearless. And now that fearlessness has paid off.
Last night's episode, "Fallen Heroes," written by Carmichael and Mike Scully, was the show's most audacious gambit yet. You could sense the tension in the first scene, when Jerrod tells his girlfriend, Maxine (Amber Stevens West), that he bought tickets for them to go see a family-friendly comedian. When she sees the tickets are for Bill Cosby, she lets out a gasp, one the studio audience quickly mimics. As a viewer, you can feel the anxiety of the room: is the show ready for this?
"The ironic part is you'd have to knock me unconscious to go see Bill Cosby," Maxine says. The audience laughs with relief. For a second, the tension is gone. But not for long.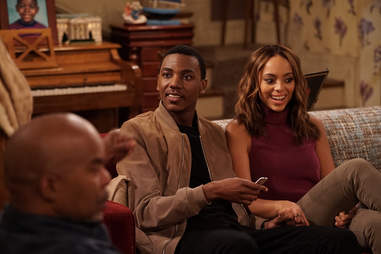 Chris Haston/NBC
The Carmichael Show specializes in queasy catharsis, but it also creates enough room for opposing viewpoints to emerge. Throughout last night's episode, each character had an opportunity to voice a specific opinion on the Cosby rape allegations. His accomplishments were mentioned. His flaws were explored. No cheap Jell-O jokes were made.
At first, Jerrod's parents have no problem taking the tickets from Jerrod as an anniversary gift, but when his mother is reminded of the many women who have come forward to accuse Cosby, she becomes a little less comfortable. Maxine pulls up Cosby's Wikipedia bio on her phone. The conversation has the texture of a debate you've probably had in a bar, a dorm room, or your own family's living room.
"Talent trumps morals," says Carmichael at one point, offering up the closest thing the show has to a thesis, but that idea is quickly attacked as well. Throughout the episode, the family mentions other popular entertainers -- Michael Jackson, Woody Allen, Mark Wahlberg, and Seinfeld's Michael Richards -- who have come under public scrutiny. Can we still enjoy the entertainment they created? The episode doesn't have answers -- only tough, very funny questions.
"Fallen Heroes" arrives at a moment when the "very special episode" is having a bit of a moment. In addition to this Carmichael episode, ABC's Black-ish recently centered an episode around the police shooting an unarmed young black man. Both shows point a way forward for sitcoms looking to deal with heavy issues without wading into Diff'rent Strokes territory.
Ultimately, The Carmichael Show doesn't deliver a verdict at the end of the episode, because it doesn't have to. Instead, the characters gather around the TV to watch a rerun of The Cosby Show, but you get the feeling it won't be comfortable viewing for anyone. As this tough-minded show proves, sometimes comfort food is at its best when it makes you a little uncomfortable.
Sign up here for our daily Thrillist email, and get your fix of the best in food/drink/fun.
Dan Jackson is a staff writer at Thrillist Entertainment. He's on Twitter: @danielvjackson.