Gwyneth Paltrow's Befuddled Cameo Is the Best Part of Netflix's 'The Chef Show'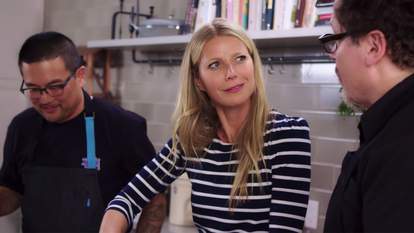 Remember the movie Chef? Director-star Jon Favreau hopes you do. At least that's the guiding principle behind his new Netflix endeavor The Chef Show, among the least dense of Netflix's food-based offerings. While Samin Nosrat's Salt Fat Acid Heat is a sensory journey into cooking traditions and the Chef's Table universe presents detailed glimpses into the minds of culinary artists, The Chef Show is sort of just... there.
Favreau puts it this way: Kogi truck founder Roy Choi trained him to be a chef for the 2014 movie Chef. He missed the experience of cooking, so he enlisted Choi to give him more lessons and began filming it. So what you're seeing on this new series is essentially well-made home videos Favreau cut in his downtime from playing Happy Hogan and making CGI lions sing. In the show, Choi and Favreau prepare some dishes and visit restaurants. They make beignets out of a box more than once. Often some of his celebrity friends join on the fun. Among those famous people: Gwyneth Paltrow, right off the bat in episode 1. And, man, is that a weird, delightful experience.
A Paltrow appearance on television feels special in the year 2019. Paltrow has largely retreated from the world of acting -- though she'll be back on Netflix in Ryan Murphy's The Politician when it launches in September -- preferring to become an elixir guru thanks to Goop. She fulfills her Marvel contract, popping up as Pepper Potts, but isn't hitting the talk show circuit on any sort of regular basis.
The very first episode of The Chef Show begins in the Goop test kitchen, wherein Choi leads Paltrow and Favreau in making a vegetarian version of a traditionally Jamaican pepper pot soup. (Get it? A pepper pot for Pepper Potts!) It's mostly extremely awkward. Paltrow doesn't seem to quite understand why Favreau is doing this, and asks the same question you might be wondering as a viewer: "What is this TV show for?" It's refreshingly blunt.
Paltrow's general confusion extends into when Favreau brings up the Marvel movies, the franchise that links them. He explains that he first started making this show with Choi while he and Paltrow were on the set of Spider-Man: Homecoming in Atlanta. Paltrow seems confused: "We weren't in Spider-Man." Favreau insists that she was. "No," she says as she zests an orange. "I was in Avengers." Favreau jogs her memory about the brief scene she did at the end of the film where Pepper hosts a press conference with Tom Holland standing nearby. "That was Spider-Man?" she says, a look of glee on her face.
The exact moment Gwenyth remembers she was, in fact, in 'Spider-Man.'

| Netflix
Honestly, iconic. Seriously, who can blame her? For years now, Marvel has called her in to issue some stern words to Tony Stark and then disappear from the narrative. She, admittedly, had a bigger role in Endgame, but it frankly makes sense that she would mix up all of her various isolated scenes. She just shows up, collects that fat paycheck, and goes back to her "Gluten-Free Dark-Chocolate CBD Brownies."
I, admittedly, have not finished watching the entirety of The Chef Show, but celebs pop up throughout. In the second episode, Favreau and Choi have a lavish meal with Robert Downey Jr., Tom Holland, and the Russo brothers. Holland eats an oyster for the first time. But nothing I've seen reaches the surreality of Gwyneth Paltrow realizing she was in a Spider-Man movie. I stan a legend.
Sign up here for our daily Thrillist email and subscribe here for our YouTube channel to get your fix of the best in food/drink/fun.