Kurt Russell Was Simply Born to Play Action Hero Santa Claus
'The Christmas Chronicles 2' injects some pizzazz into Netflix's bleak holiday offerings.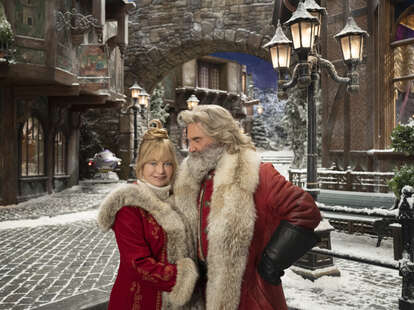 There are few better things in this world than watching a movie that has absolutely no business being as good as it is. Netflix's The Christmas Chronicles, which dropped in 2018, introduced us to Kurt Russell's interpretation of the elder god of the holiday season, an impossibly old man with boundless energy and a sick outfit who finds joy in bringing happiness to young children. What's not to like about that??
Since the movie had "chronicles" right there in the title, we were hoping that this wouldn't be the only outing for Russell's Santa, and shortly after its release, to our great relief, Netflix announced that not only was another Chronicle in the works, it would co-star Goldie Hawn as Mrs. Claus. Sounds awesome, we're in. And, folks, The Christmas Chronicles 2, which just hit Netflix after a limited theatrical engagement, was worth the wait.
The film opens with a thrilling action sequence of Santa Claus and his team of reindeer chasing down an enormous Yule Cat trying to make off with one of his steeds. He quickly reunites with plucky young Kate Pierce (Darby Camp), the troublemaker from the first movie whom Santa has affectionately dubbed "Katie Cat," when she and her potential new stepbrother Jack (Jahzir Bruno) are accidentally transported to the North Pole by Belsnickel (Deadpool 2 and Hunt for the Wilderpeople's Julian Dennison, who is absolutely dialed in to this), an evil former elf intent on canceling Christmas forever. There, Katie and Jack meet Mrs. Claus, who's thrilled at the prospect of having children at the North Pole. When Belsnickel finally reveals his plans to steal what is basically an Infinity Stone that powers Santa's whole elf city, the four of them fight alongside each other to save the holiday spirit.
Normally I don't really vibe with Christmas movies that try to "modernize" the whole Santa thing, adding in futuristic technology to explain away how he's able to build a bajillion presents and visit every child's house in one single night. But I think I connect with the stuff in these movies because of who is playing Santa. Look, you're not gonna cast the guy who vanquished the Thing as an old man who sits in a chair and says "ho ho ho." Kurt Russell's Santa Claus is energetic, brilliant, and fun, and wields the elvish tongue like Gandalf navigating the Mines of Moria.
What's more, The Christmas Chronicles 2 gets at the most important thing in any Christmas movie: Santa Claus is cool. He's an ageless silver fox with a sleigh that looks like a Lamborghini and a saxophone that he just yanks out of nowhere whenever there's an impromptu musical number—specifically, a duet with Darlene Love herself in the middle of a crowded airport. He's up for anything: cookie grenades, performing ancient magic with a shard from the legit Star of Bethlehem, a mile-high sleigh drag race (appropriate, since Russell has also become part of the Fast & Furious family in recent years). Classic Santa stuff.
It's the kind of improbable but inarguably effective chemistry you get in a movie that stars genuine entertainers and is directed by an industry veteran (Chris Columbus, of Home Alone and Harry Potter and the Sorcerer's Stone, who also produced the first Chronicles). And real-life lovebirds Hawn and Russell are so cute together and so into it, I 100% believe that they actually are Santa and Mrs. Claus, who have come down from the North Pole occasionally throughout the last few decades to star in some movies in their spare time. That's a free idea for The Christmas Chronicles 3, which had better be coming soon, or Christmas really will be canceled.
Need help finding something to watch? Sign up here for our weekly Streamail newsletter to get streaming recommendations delivered straight to your inbox.
Emma Stefansky is a staff entertainment writer at Thrillist. Follow her on Twitter @stefabsky.