The coolest city posters your pad needs
Possessing some semblance of city pride is important, just ask anyone from Boston, New York, Chicago, Portland, Seattle, Austin, LA, San Francisco, and probably Cincinnati. Maybe. And once a city has embraced you, spit you out, and taken you back in, a special, unbreakable bond is formed, much like Sean Connery in You Only Live Twice, except better. Respect that bond, and your walls by snagging one of these visually satisfying prints that'll let 'em know you rep your city with unswerving artistic integrity...
Rep your 'hood: 1. New York City by John W. Golden 2. Philadelphia by John W. Golden 3. Seattle by John W. Golden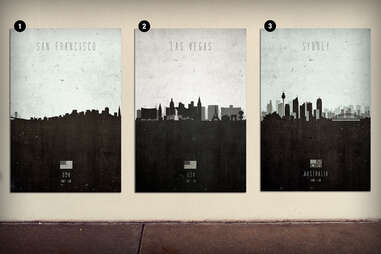 Ironic and iconic, it's just one letter. Your city's skyline is iconic. Your poster collection is ironic. Both are probably not ionic… remember '90s band Tonic, they were kind of moronic. This got dark… like these posters!
Rep your 'hood: 1. San Francisco 2. Las Vegas 3. Sydney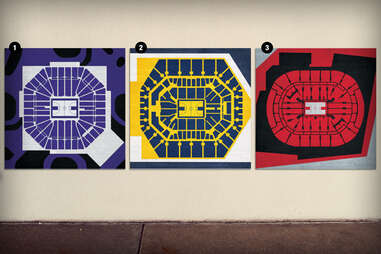 Because finding something to hang on your wall that adequately encompasses your love of architecture, sports, and city pride would entail tearing off a piece of a stadium and bringing it home, do the better, more legal thing and snag one of these expressive numbers.
Rep your 'hood: 1. Sacramento Sleep Train Arena 2. Indiana Bankers Life Fieldhouse 3. Toronto Air Canada Centre

1. San Francisco 2. Las Vegas 3. Washington DC
Chock full of iconic local architecture and infrastructure, these modern prints from BirdAve will surely brighten up your living room, bedroom, or darkroom. Let your city shine!