This Is the Actress Who Plays the Perfect Jackie Kennedy Look-a-Like in 'The Crown'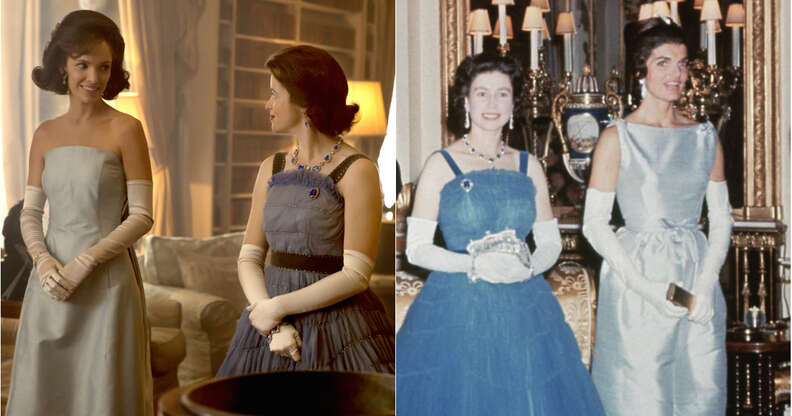 Netflix/Getty Images/Bettman
Netflix/Getty Images/Bettman
Mild spoilers for Season 2 of The Crown follow.
Michael C. Hall calls her an "amazing talent." Claire Foy: "Brilliant."
They're referring to castmate Jodi Balfour, the actress who plays Jackie Kennedy on Season 2 of The Crown, out today on Netflix. Balfour got the part last Christmas Eve, as she was watching Season 1. She said it was "the best Christmas present ever... that is, until the terror set in." Playing Jackie is a tough assignment, especially following the recent, strong performances of such big-name actresses as Natalie Portman and Katie Holmes. But Balfour brings it.
Who is this 30-year-old rising star from South Africa? And how did she end up playing one of America's most beloved First Ladies? Consult our cheat sheet for answers.
She made her U.S. TV debut on The Philanthropist
A teenage Balfour got her start working in Cape Town's burgeoning theater and TV scene -- nabbing a hosting gig on the young adult magazine-show Bling! -- before setting her sights on Hollywood. "When it came to casting, I wasn't the hot girl or the quirky best friend," Balfour told the Daily Mail recently. "I don't think people in Hollywood really knew what to do with me." Her first credited U.S. role came in 2009 on The Philanthropist, a short-lived NBC drama, as a concierge. It was a very small part, but it marked the beginning of a crescendoing string of parts -- see also: BBC's BAFTA nominated mini-series The Sinking Of The Laconia, R.L. Stine's The Haunting Hour, Sanctuary, Supernatural, Final Destination 5, and Primeval: New World -- that would hone her chops.
Where to watch: Rent The Philanthropist on iTunes.

She broke out on Bomb Girls
In 2010, Balfour took her acting dreams to Vancouver, where she capitalized on a big opportunity. Cast on the visually stunning Canadian series Bomb Girls, Balfour stole the show as Gladys Witham, a fan-favorite lead. "There is little to recommend in Bomb Girls, but that little should be noted," wrote a critic at The Globe and Mail. "Jodi Balfour is very good as Gladys, the rich girl defying her family by taking a job in the munitions factory." Her work got her a Leo Award nom (Canada's version of the Emmys and Oscars combined), and she soon followed up the success with a Canadian Screen Award win for best lead actress in the 2014 Bomb Girls movie.
Where to watch: Stream Bomb Girls on Netflix.
She built cred on Quarry and Rellik
If Bomb Girls put Balfour on the map, Quarry and Rellik ensured she stay there. Deadline called her work on the former, as an arts reporter and wife of a demonized Vietnam vet, "fantastic." And the recent Brit hit Rellik, a gruesome thriller that chronicles in reverse the hunt for a serial killer, showcased Balfour opposite Game of Thrones' Richard Dormer as the compelling DI Elaine Shepard, Dormer's onscreen colleague-turned-lover. (She wants to do a rom-com next. Someone help her out.)
Where to watch: Stream Quarry on MAX GO, expect Rellik on Cinemax in 2018.
Now she's playing in the Big Leagues with The Crown
With Quarry canceled, The Crown is Balfour's most recognizable role to date -- at least for Stateside viewers. Balfour shines in Episode 8, playing Jackie Kennedy with grace and a subdued sense of anxiety. "When you're playing Jackie Kennedy, or you're playing any well-known and especially beloved person, it's like you're in a glass box," Balfour's said of the part. "There are absolutely important limitations, otherwise you're not being true to who that person really was." As Jackie meets the monarch, there's a palpable awkwardness that turns into a complicated sort of compassion. It's riveting, and Balfour proves she's a talent to keep tabs on.
Where to watch: Stream The Crown on Netflix.
Sign up here for our daily Thrillist email and subscribe here for our YouTube channel to get your fix of the best in food/drink/fun.
Sean Fitz-Gerald is a staff writer at Thrillist Entertainment. Find him on Twitter: @srkfitzgerald.