'The Crown' Season 4 Will Reignite Your Diana Obsession
Thanks to a magnificent performance by Emma Corrin.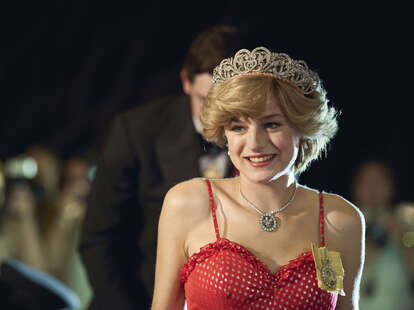 Emma Corrin as Princess Diana

| Des Willie/Netflix
Emma Corrin as Princess Diana

| Des Willie/Netflix
Diana Spencer is wearing a mask when she first appears in the fourth season of The Crown. Dressed like a sprite, she's practicing for a production of A Midsummer Night's Dream, but also lurking in the corners of her family's estate while Prince Charles waits for her sister to get ready for their date. The mask is a symbolic choice on the part of series creator Peter Morgan and the writers. Diana's identity is partly concealed when she meets Charles; these two, when showing their true faces, are not meant to be. At the same time, as her costume implies, Diana is also immediately enchanting.
This installment of The Crown will not necessarily reveal any new information about the People's Princess, played by Emma Corrin, whose magnificent performance will make you fall in love all over again with Diana. Unlike many of the series' new additions—like Gillian Anderson as Margaret Thatcher—Corrin is essentially an unknown. The 24-year-old actress has a couple of credits to her name, including a run on the EPIX series Pennywise, about Batman's butler, but The Crown is her first major showcase.
Initially, the most striking element of Corrin's performance is just how youthful it is. Diana often feels engrained in the amber of historical memory. She was only 36 when she tragically died, but it's still almost hard to remember just how young she was when she entered public consciousness. The Crown introduces Diana as the teenager she was—just 16 when she first met Charles (Josh O'Connor) and 19 when he took interest. She's savvy, but still not yet an adult. She gossips about a classmate's ass size during her initial encounter with Charles, and dances to Stevie Nicks' "Edge of Seventeen." Following their engagement, she holes up in Buckingham Palace to avoid the press, and roller-skates through the halls while listening to Duran Duran (and wearing an incredibly cute outfit with gingham pink pants, of course).
Corrin makes this early Diana seem charming, witty, and, most of all, young, which is why the warning signs go off in your head as soon as she accepts Charles' half-hearted proposition of marriage. Even Olivia Colman's Queen Elizabeth II is surprised he didn't get down on one knee.
If part of The Crown's aim is to humanize the royal family, it certainly doesn't do Charles any favors here, who comes off like a brat who winds up hurting both of the women in his life, Diana and Camilla Parker Bowles (Emerald Fennell), with his selfishness. O'Connor ratchets up the sniveling qualities of his character, who quickly turns on his new bride for her budding popularity, taking attention away from him, and not being the person he actually loves.
After Diana and Charles are married, the season keeps leaping forward in time, showing an increasingly weary couple whose problems are evident. Corrin is adept at wearing both Diana's public and private faces, while convincing the audience that neither is an act. Her depression and struggles with bulimia are as real as her innate charm that wins over Australia during the royal couple's first tour, and then her solo trips around the entire world. There's a care among all involved, however, not to sanctify her even while showing her kindness. She's naive, and that naiveté makes her both relatable and, at times, immature.
And still, time and time again, Corrin proves just why Diana became such a beloved phenomenon. She stages a duet with dancer Wayne Sleep to Billy Joel's "Uptown Girl" to surprise Charles for his birthday, which might have been exactly the wrong present for him but it's endearing in its awkwardness—and also really happened in 1985. (One of the funniest moments of the season is Queen Elizabeth asking the next morning, "Now, who is Billy Jo-el?") The same goes for her attempt to make up for it with a private performance of "All I Ask of You" from The Phantom of the Opera for their anniversary. Again, she did actually do that and Andrew Lloyd Webber was there to witness it.
Another wave of Diana appreciation was already coming before The Crown premiered on Netflix on Sunday, November 15. The popular podcast You're Wrong About has dedicated an entire series to her. Her incredible fashion moments are being replicated and put on sale. (Yes, you can buy a version of that "black sheep" sweater from Rowing Blazers. It will cost you nearly $300.) The Crown and Corrin, however, are doing their part to reignite a global obsession with a woman who remains endlessly chic and endlessly fascinating. Although it's bittersweet that Corrin won't be back next season, we're excited to see what Elizabeth Debicki (Tenet, Hustlers) does with the part, and Corrin's princess will always be the one that recaptured our hearts.
Need help finding something to watch? Sign up here for our weekly Streamail newsletter to get streaming recommendations delivered straight to your inbox.