What on Earth Is This Trailer for Netflix's New Goth Cooking Show?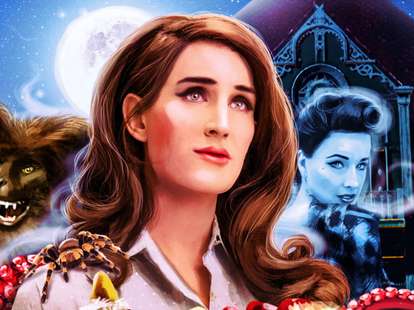 Netflix
Netflix
If you don't regularly find yourself at the intersection of baking goths, costume design goths, and Tim Burton goths on Instagram, you will probably be completely mystified by the trailer for Netflix's spooky new cooking show, The Curious Creations of Christine McConnell. Why is this lady chewing on candy spiders? Why is she talking to a menagerie of Labyrinth puppets about whether or not to kill a man? Why does she look like Dita von Teese?
McConnell is part of a softer branch of goth than you might think of when you think of baggy pantsed Marilyn Manson fans who go heavy on the eye makeup and the chain accessories. This is goth as in Victorian gothic, Gothic Revival-gothic. As in, Shirley Jackson-, Anne Rice-, Crimson Peak-type gothic. There's an element of whimsical historical fantasy that walks the precarious tightrope between Hot Topic and steampunk without tipping too far to either end, with a flair for the supernatural that often leads to content like this:
With its nostalgic Hocus Pocus aesthetic and out-of-this-world crafting ideas, The Curious Creations of Christine McConnell seems like exactly the kind of content fans of The Great British Bake-Off and At Home With Amy Sedaris will be craving this month. The entire first season of the one and only goth baking show will drop on Netflix on Friday, October 12.
Sign up here for our daily Thrillist email and subscribe here for our YouTube channel to get your fix of the best in food/drink/fun.
Emma Stefansky is an Entertainment staff writer at Thrillist. Follow her on Twitter @stefabsky.