'The End of the F***ing World' Is Netflix's First Great Surprise of the Year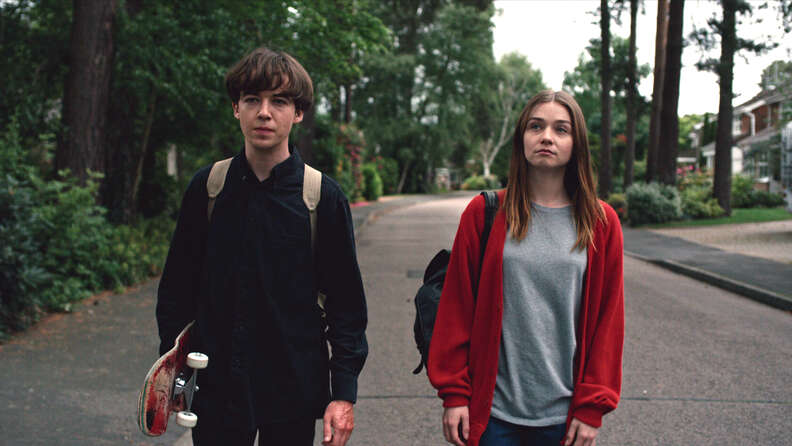 Netflix
Netflix
This post contains major spoilers from The End of the F***ing World.
"I'm James. I'm 17, and I'm pretty sure I'm a psychopath." So begins The End of the F***ing World, an adaptation of the popular Charles Forsman graphic novel and the first great hidden TV gem of the year. James is on a twisted journey of self-discovery, looking for his first human kill, and, more importantly, to feel something. The show might sound depressingly dark, but it leaves room for humor and heart, placing it somewhere between Twin Peaks and Juno. Not bad for a serial-killer-in-the-making premise.
"I like to build David Lynch-like worlds and then just let it rip with normal characters," showrunner Jonathan Entwistle tells Thrillist. "Without the weird performances." The pilot wastes no time introducing James (played by Alex Lawther, from Black Mirror's "Shut Up and Dance") to Alyssa (Penny Dreadful's Jessica Barden), another 17-year-old on an enlightening quest of her own ("I don't trust people who fit in"). While she thinks she could love James, he thinks he could kill her. So James steals his dad's car and, before you know it, the two misfits are embarking on a road trip across England, running away from their boring town, hoping to find something in each other.
Directed by Entwistle and Lucy Tcherniak, and written by Charlie Covell, the rest of TEOTFW's lean eight-episode run hews to the thrust of Forsman's book, giving James and Alyssa no dearth of obstacles. Among them: a car crash, a pervert, a professor who moonlights as a predator, and a murder. Though the couple face an unrelenting string of disasters, it's this murder -- James' first, in the name of self-defense -- that, oddly, becomes the best thing to happen to them. While Alyssa wonders whether she was complicit in a stabbing death or saved from sexually assault, James learns he doesn't enjoy killing humans. He just hasn't met any he likes. Until now.
A closer look at the show reveals a world populated not with numb or depraved characters, but lonely ones, many of whom are looking to connect. It's a particularly poignant theme, especially coming from a country that just appointed a Minister of Loneliness to address the concern. After the murder, when James tries to find his way in the world without Alyssa, he soon realizes she's protected him as much as he's protected her. As their road trip turns into an escape from authorities who believe the kids murdered the professor in cold blood, that epiphany becomes mutual: they need each other to survive.
It's a bit of a surprising turnaround from the pilot. You're no longer watching Dexter Jr., but a fucked-up teen love story sans the cliché six-packs and twee romances. It's closer to Julia Ducournau's cannibalism-heavy Raw than Riverdale, and fans and critics alike -- including this one -- have been unreserved about championing the show. TEOTFW, which first aired last fall on the UK's Channel 4 before finding a larger audience on Netflix at the beginning of the year, has maintained a high 97% on Rotten Tomatoes. The site lists it as its second-most-popular show of the year so far, behind the CW's newly released Black Lightning and right above Black Mirror's fourth season.
Part of what makes TEOTFW work so well is the creative vision, which has been gestating for close to a decade, ever since Entwistle discovered Forsman's comic in the trash on a street in London and began dreaming about adapting it. As Entwistle explains it, he wanted to create a specific tone, a weird world where mundane events could still occur.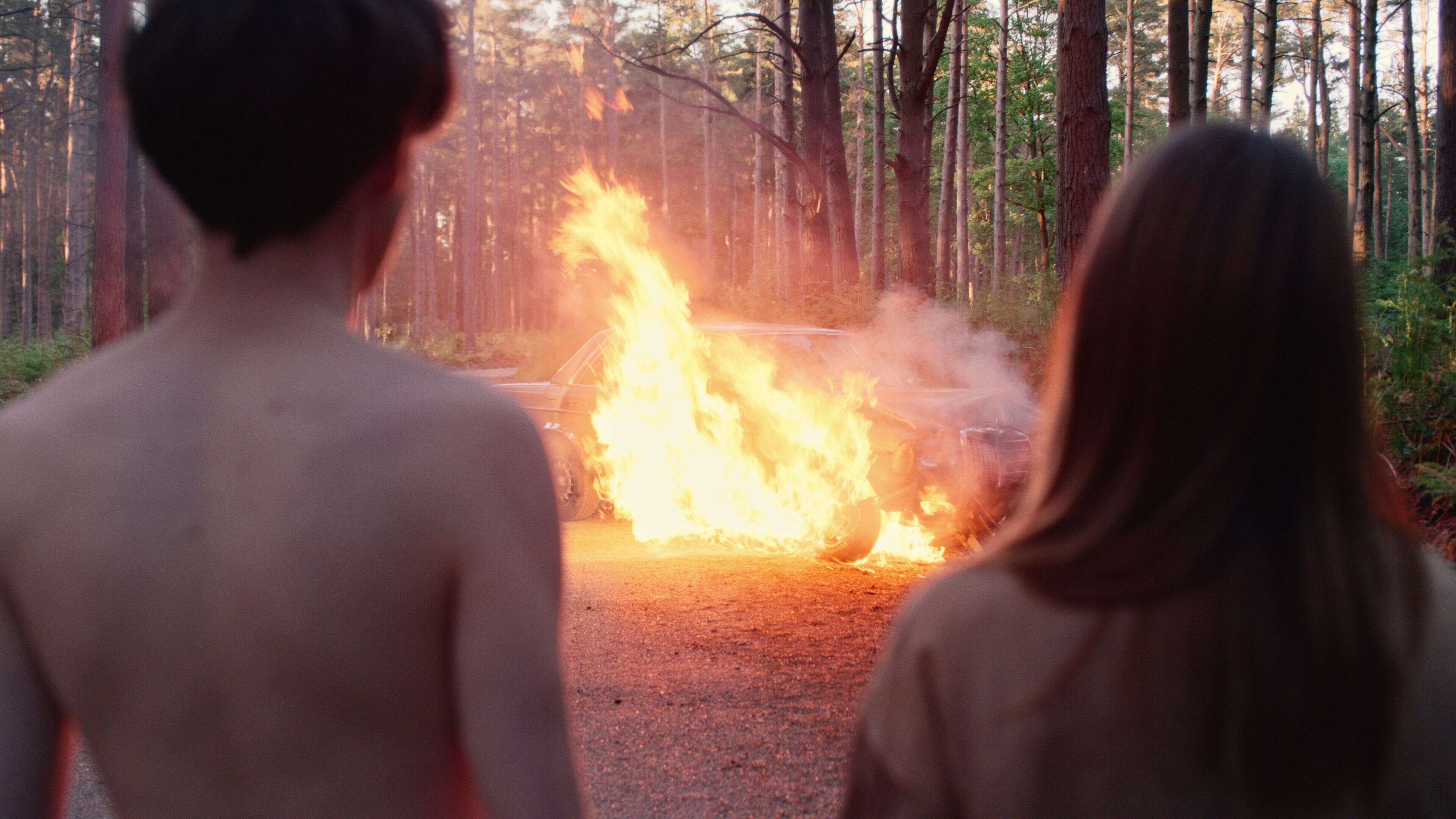 The spot-on casting helps, too. If Black Mirror's "Shut Up and Dance" didn't convince you of Lawther's power to portray "I'm fine on the outside, I'm screaming on the inside," his performance here will. Barden thrills as the no-bullshit rebel who revels in pushing people's buttons. And the supporting cast, from Gemma Whelan's lame British Columbo to Barry Ward's scuzzy deadbeat dad, feels far from contrived. Much of this character- and world-building is, of course, also thanks to the writer, Covell, who was adamant the creative team honor the source material as much as possible.
Fans of the graphic novel will spot occasional deviations -- the tweaked time span, the absence of the cult, the addition of Topher, to name a few -- but they'll likely be digestible. If there's one thing that's proven to be polarizing about this adaptation, it's the ending. The road trip ultimately finds James and Alyssa begging the latter's estranged father (Ward) for a hideout. He obliges, briefly, till he learns of a reward and calls the cops. With nowhere left to go, James orders Alyssa to tell the police he kidnapped her -- she didn't technically kill anyone, after all -- and he runs for his life. "I've just turned 18," an armed James says, zigzagging across a beach to dodge bullets, "and I think I understand what people mean to each other." Readers of the original will recognize the BLAM! that prompts an abrupt cut to black, raising questions about James' fate. Where the book gives answers in the form of an epilogue, the TV show opts for a potentially frustrating cliffhanger. "It's kind of nice that people are annoyed by the ending. I feel like it ends the way it started, where people are like, Who are these insane people?" Entwistle says. "I hope that it leaves the show open for expanding the world."
Though Entwistle and Covell are out of source material, such expansion isn't unprecedented. 13 Reasons Why similarly debuted wearing one-run camouflage and, after a surge in popularity, earned professional-grade fan fiction for Season 2. Some are already pleading TEOTFW not to go that route, but Entwistle seems intrigued. "For me, it's all about James and Alyssa -- I think that's what people have connected with," he says. "A Season 2 would have to involve James and Alyssa somehow. I just love the world of them out there on the road."
Sign up here for our daily Thrillist email and subscribe here for our YouTube channel to get your fix of the best in food/drink/fun.
Sean Fitz-Gerald is a staff writer at Thrillist Entertainment. Find him on Twitter: @srkfitzgerald.