The World Doesn't Actually End in 'The End of the F***ing World' Season 2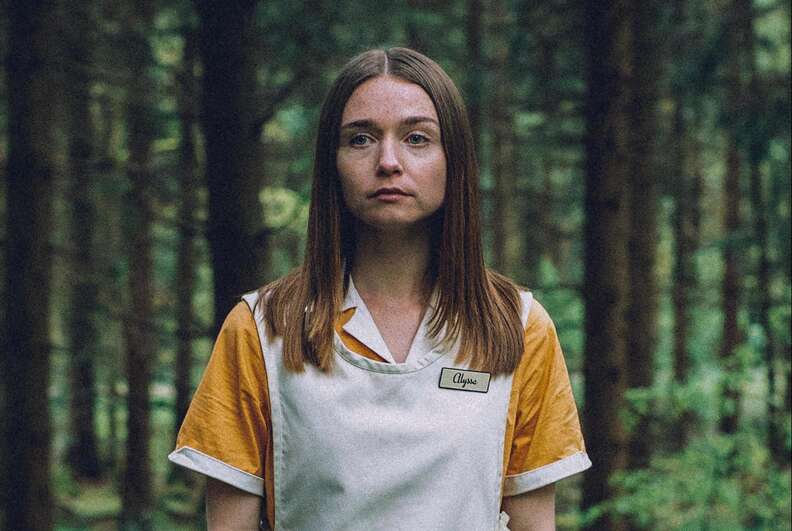 This post contains major spoilers for Netflix's The End of the F***ing World Season 2.
There's a moment in the seventh episode of The End of the F***ing World's second season that will undoubtedly make you cry. Okay, you might not cry, but even non-cryers will likely gasp at the several seconds (which feel like an eternity) when it appears that the season's antagonist, Bonnie (Naomi Ackie), has kills both James (Alex Lawther) and Alyssa (Jessica Barden). Bonnie, who'd been hunting them down for killing her boyfriend in Season 1, shoots both of them and they're shown lying dead in the diner where Alyssa works. Their blood is splattered against the wall.
If you weren't so shook that you abruptly stopped binge-watching, you'll learn that TEOTFW has pulled a fake-out, sort of like it did Season 1 -- only this time, we learn quickly that it was all a reverie and that James and Alyssa are still alive. These characters aren't going out that easily. They still have a lot of personal challenges to work through in the Season 2 finale.
The final two episodes of the second season throw your emotions and attachment for these two characters in the ringer. While James and Alyssa end up convincing Bonnie that she doesn't have to kill them, they're confronted by the issues they've been struggling with the entire season. James needs to focus on grieving his father's death, and Alyssa needs to accept that she is still traumatized from surviving her attack. Once they're given time to do that, the series comes to a comforting, deserving end.
At the end of Season 2, Alyssa impulsively runs away without James, leaving only a cryptic letter, frightening him into thinking she might be hurting herself. He eventually finds her at the source of her pain: Professor Koch's home, where she was assaulted and James committed murder to protect her. James interprets Alyssa's letter as a suicide note, which triggers memories of his mother's death and forces him to wrestle with the thought that everyone in his life has abandoned him. But Alyssa needs to take the first step toward facing her own trauma before she and James can reconcile. Once James finds Alyssa, they console each other, and the rest of the finale takes on a melancholic tone as James decides to spread his father's ashes (in what ends up being one of the funniest, most endearing moments of Season 2) and they make a pact to be there for one another.
With all of the loose ends tied up, and these two at peace for the first time ever, another installment seems unlikely. While we can't say that Season 3 isn't totally out of the realm of possibility, since the showrunners didn't actually kill off James and Alyssa, the pair is given a super-sweet conclusion. If TEOTFW does end up returning, the season could potentially focus on Alyssa getting the help she plans to seek out, but moving away from the series' on-the-run form could alter what have been two nearly perfect seasons. Now that James and Alyssa are at peace with themselves, each other, and the law, it turned out that the world didn't have to end. Let's hope it stays that way.