Everything We Know About 'The End of the F***ing World' Season 2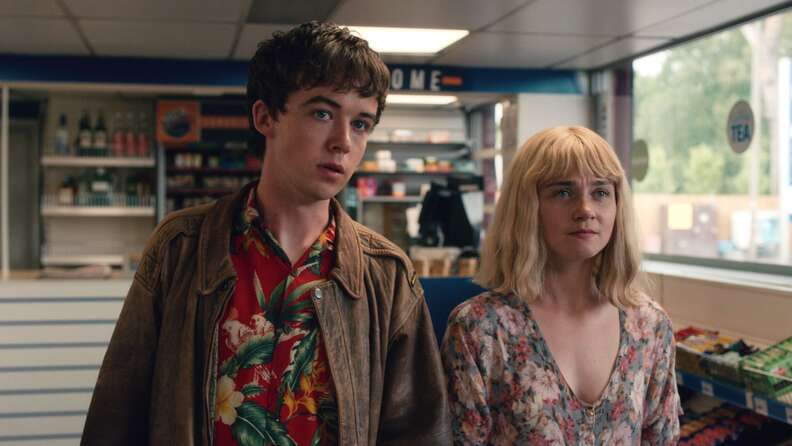 Alex Lawther and Jessica Barden in Season 1

| Netflix
Alex Lawther and Jessica Barden in Season 1

| Netflix
In January 2018, Netflix released The End of the F***ing World, a series produced with the UK's Channel 4 about a self-proclaimed teenage serial killer named James and his first potential victim, Alyssa, on an impromptu road trip that turns into a crime-filled run from the law. It became an instant hit for the streaming service, but with only eight, short episodes, and a shocking finale that cuts to black before you find out James' fate, questions surrounding a second season arose almost instantly.
While some fans argued that a new season shouldn't happen, given that Season 1 ends similarly to the Charles S. Forsman graphic novel it's based on, many others just want more of these incredibly angsty, twisted teens. So what's the status? Here's a rundown of everything we know about what's up with Season 2 so far.
Is Season 2 happening?
F*** yeah, it is, and critics of networks that renew shows that were initially intended to be one-off miniseries will just have to deal with it! In August 2018, the show tweeted a clip of Season 1's dramatic final scene, accompanied by the message, "We'll be f***ing back." Along with the news, Beth Willis, the head of dramatic programming at Channel 4, told Deadline, "We're so proud that this global success story began at Channel 4 and that a second series is on its way. [Writer Charlie Covell's] witty, wonderful world is back and we can't wait to see where she takes it next."
When will it be released?
In October 2019, Netflix shared Season 2 will drop on the streamer on Tuesday, November 5. They announced the news by posting the official poster to Twitter, showing Jessica Barden's Alyssa looking somber in a wedding dress, sitting in a diner across from an urn. While we don't want to speculate the contents of the urn, there's no denying it alludes to the fact that it's still unclear whether Alex Lawther's character James survived at the end of Season 1. The series itself also posted the same image, tweeting, "I'm Alyssa. I'm nineteen. And I thought I'd already had the shittest day of my life." Fingers crossed the shitty day to come isn't James' funeral -- but no matter what it is, it definitely looks like we're in for a bleak second installment.
Season 2 comes nearly two years after the series originally aired in the UK on Channel 4 in October 2017 before it hit Netflix in the US several months later in January 2018. While, according to Deadline, it was previously a point of contention with Channel 4 when Netflix would receive the rights to the show, the first two episodes of the upcoming season will air on Channel 4 on Monday, November 4, with the rest of the season uploaded to their streaming service All4 shortly after -- hitting Netflix just the following day. F*** yeah for that.
Who is set to return?
While that dramatic final sequence left many wondering what happened to James, EOTFW wouldn't be the same if the messed up, beloved leads didn't return -- so, it's inevitable Alex Lawther and Jessica Barden will reprise their roles as James and Alyssa, even if that just means flashback sequences for James. As for the rest of the cast, though, everything is still up in the air.
Aside from the core cast, Deadline reported that Charlie Covell who wrote the entire first season is set to write the next, as well as executive produce this time around, along with Andy Baker, Dominic Buchanan, Jonathan Entwistle, and Ed Macdonald.
Are there any new cast members?
While it still hasn't been technically confirmed if James is back and alive, new additions to the cast have been announced. Deadline reported that Tim Key (Alan Partridge) is set to appear as a motel owner named Gus. Aside from Key, Entertainment Weekly announced Naomi Ackie (Star Wars: The Rise of Skywalker) as another new face in Season 2. According to EW, she's set to play "an outsider with a troubled past and a mysterious connection to Alyssa." Could Alyssa be running from more than what she let on in Season 1? Will she seek refuge and hide out at Gus's lodging? It's all still anyone's guess where the new season's direction is heading, but it's intriguing nonetheless.
What will it be about?
Season 1 directly followed Charles S. Forsman's graphic novel, which ends by basically implying James' death -- but the TV adaptation left things a little bit up to our interpretation by never actually showing the character's fate. (And, in part, opening up the possibility for a second season.) Because the first season wasn't really the end of the world, it could be that Season 2 picks back up right on that SWAT team-infiltrated beach where we left the teenage rebels with James still alive. Perhaps the new episodes follows the legal bind that James and Alyssa are now in -- and since they're young runaways wanted for murder, it's possible they've become quite a high-profile case.
As James and Alyssa are little Bonnie and Clyde like "masterminds," they could be on the run still, too. Several photos released of Season 2 thus far indicate there are a few scenes of Barden sporting a wedding dress. It wouldn't be out of the show's impulsive realm of possibility for these crazy kids to get hitched, especially if James is going away to prison. Or, if James did die and he's only returning in the form of memories, if at all, Alyssa might be grieving in her own way this season and it'll give a look at her outlaw experience on her own.
It doesn't seem likely that James is gone for good just yet, though. Showrunner Jonathan Entwistle told us at Thrillist last year if the series were to continue, for him, "it's about James and Alyssa." He said, "I think that's what people have connected with. I think a Season 2 would have to involve James and Alyssa somehow. I just love the world of them out there on the road, doing something in a weird world. So for me, any story that we expand keeps them out there somewhere."
Alex Lawther implied the possible direction of the two facing consequences in speaking to NME. "What we are left with is very open-ended. It's just that gun shot and then fade to black," Lawther said. "A part of me thinks it's almost too perfect, too Romeo and Juliet if he died. I don't think James and Allysa would stand for that. They'd think they were more complicated than that. They're not hopeless romantics and life isn't like that. Life is not a Shakespearean tragedy, there's more mundanity. Given the tone of the series, it might be interesting if they actually had to deal with the consequences of their actions."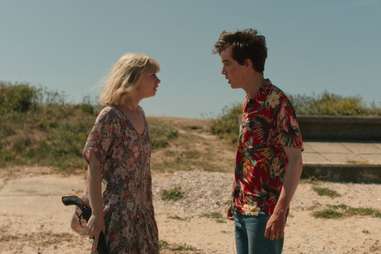 As for what the masterminds behind James and Alyssa are hoping for, Lawther told DigitalSpy his co-star wants Season 2 to kick off with an actual "everything is coming to an end" sequence, and even a number in a different direction for the series. "[Barden] was saying how she would like the second series to start with a musical on the beach -- taking a role in a musical version of The End of the F***ing World, which I would be completely up for!" This was later echoed by the series' writer Covell in speaking to Vanity Fair about Barden, saying she wants to "channel Liza Minnelli into Alyssa," which could be a fun side of the character, especially if she's now in the spotlight as an infamous killer.
While everything is speculation at this point, do expect to see a lot more of James and Alyssa's ride-or-die relationship -- in some form -- perhaps now more than ever if they finally have to come to terms with the very adult problems that they were trying to escape in the first place.
But still! That ending…
While fans have been critical of additional episodes since Season 1 aired because of, again, that ending, lack of source material, and the potential to ruin something near perfect to begin with -- it's possible to proceed with caution because the showrunners are taking any and all qualms with continuing into consideration! Entwistle explained to us, "I've seen the series of press and reviews from the slightly older viewers where they're like, You can't make a Season 2 because it would do this, this, and this. All these conversations are valid. So we're looking at what the people who loved the show are saying, to see how we can unpack that and how we could continue the tone of the show."
So, quit your bitching and just buckle up for Season 2.
Sadie Bell is the entertainment editorial assistant at Thrillist and she low-key wants to go on a road trip with James and Alyssa.