'The End of the F***ing World' Season 2 Is Back and It's Even More of a Sob-Fest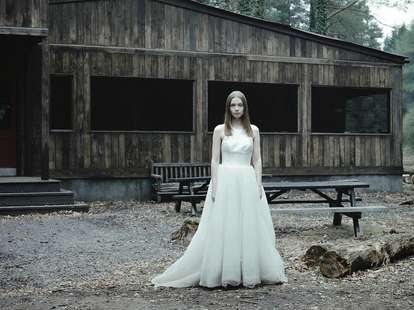 'The End of the F***ing World' Season 2

| Netflix
'The End of the F***ing World' Season 2

| Netflix
This post contains major spoilers for The End of the F***ing World Season 2.
Channel 4 and Netflix's co-production that adapts Charles Forsman's graphic novel The End of the F***ing World could have ended with the Season 1 finale, which is how the book concludes. Alex Lawther's self-diagnosed sociopathic character James could've died resisting arrest and the show could've had a tragic Old Hollywood-like ending. But since the dark comedy was such a surprise hit when it first premiered on Netflix in January 2018 -- largely due to the chemistry between Lawther and Jessica Barden, who plays Alyssa, his teenage partner-in-crime -- showrunners Jonathan Entwistle and Charlie Covell took to writing a continuation of their story.
Season 2, out now on Netflix, says "f*** that" and blows up the almost too perfect Season 1 ending by altering elements of the already disturbing teen series about murder, death, and abuse. The action picks up two years after the events of the Season 1 finale. In the second episode we learn that James did get shot and that Alyssa hasn't spoken to him since. He's been recovering and rehabilitating all that time, and his dad has died. Meanwhile, Alyssa thinks James hates her when he's really in love with her, and, on a whim, she's forlornly gone and married someone else. Oh, and we learn that Bonnie (Naomi Ackie), the former lover of the serial rapist they killed, is out to get them.
It's all very messed up -- but allows for the show to get to the core of what it's all about, or what's actually messed up about life and the way we process that trauma. Where Season 1 primarily focused on James' depression masked as apathy while grieving his mother's death, Season 2 turns to Alyssa to illustrate her struggle with PTSD from being assaulted. Even as the show manages to find a new batshit conflict for the pair to face, with Bonnie stalking them and planning to off them like they did her boyfriend, it's able to offer an honest look at trauma that feels even more realistic in its messy, no-holds-barred approach.
Sure, they unknowingly pick up a woman obsessed with murdering them and that's obviously earth-shattering in its own right, but the way the world is actually "ending" for the both of them hits even harder in its relatability. Alyssa finds it difficult to stay grounded in her day-to-day and relationships when she's continually reminded of being attacked, and James lost everyone in his life, even Alyssa, who he wishes could be "the answer" to his pain. Barden and Lawther's performances, down to their telling inner-dialogue, are tactful and poignant in portraying their issues that are a lot tougher than a case of teen angst. TEOTFW even finds complexity in Bonnie when she's about to kill them, revealing she's just as much of a victim struggling to rationalize how she was manipulated by the man she thought loved him.
In that climatic stand-off between Bonnie and James and Alyssa, she says that they deserved to be punished, and Alyssa spells out what the series has been conveying all along. She says, "You think we weren't? I'm always in that house. I'm always in that room. I can't get out." She, James, and Bonnie too, don't know what to do about their shared pain, but TEOTFW does a stellar job in its own sarcastic yet heartfelt way to explain that one can get through with time and the help of others.
It would've been pretty f***ing bleak if James had died in Season 1 and TEOTFW did end. It is a good thing, though, that Season 2 is bleak in its own way, revealing what they're going through. It makes a point to explain that Alyssa is and never was James' "answer," but they've got each other -- and with that, the world won't going to end.
Sadie Bell is the entertainment editorial assistant at Thrillist and this show makes her cry a lot. She's on Twitter at @mssadiebell.