Lulu Wang, the Director of 'The Farewell,' Explains That Surprise Ending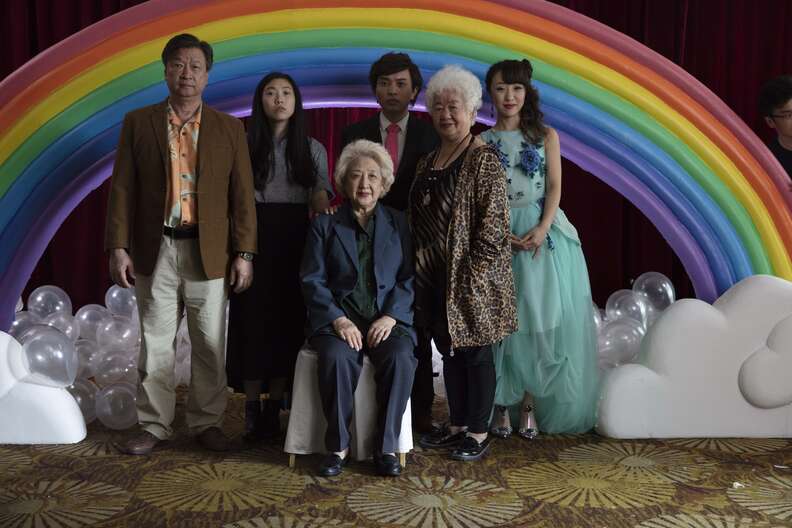 A24
A24
This story contains spoilers for The Farewell and also real life.
Can you spoil The Farewell? Lulu Wang's new film -- one of the best of the year -- is based on her own family's story, an "actual lie," as the opening suggests. When Wang's grandmother was diagnosed with cancer, her family traveled to China to say goodbye, but decided to keep the diagnosis from the woman she affectionately called Nai Nai. The lightly fictionalized film finds Awkwafina's character Billi in the same situation, grappling with her own impending loss and frustration with the cultural practice of secrecy. But there's a twist at the very end that comes in the form of a reveal after the breathtaking final shot, and Wang herself thinks it's worth keeping quiet about it. "When it played a the premiere everyone was like, [gasping noise]," she says. "You heard the gasp."
The coda tacks a little bit of joy onto the narrative: Wang's Nai Nai is still alive and still doesn't know that she was ever supposedly dying. This news won't be shocking to anyone who listened to Wang's This American Life episode from 2016 about the same subject, but it nevertheless acts as a welcome surprise given that the conclusion otherwise felt tragically cathartic.
To further complicate an already complicated situation: Wang eventually decided to shoot her film about Nai Nai's illness in Changchun, the city where Nai Nai currently lives. "On one level, I didn't want to shoot in my grandma's hometown because, um, we're trying to lie to her," Wang told the audience after the movie's Sundance premiere. "It makes it harder. But at the same time, when I talked to her like we might shoot in a neighboring town she was like, 'What the hell, you're going to come back in town and shoot a movie and not even do it here? So I can hang out with you?' That was the added bonus, to get to spend time with her." Wang's crew would even stop in her grandmother's apartment for bathroom breaks while scouting locations around the neighborhood.
Shooting around the real Nai Nai created an extra challenge for the cast and crew who had to make sure they didn't let anything slip. "We had to whisper scenes, it was real," Awkwafina explained during an Academy of Motion Picture Arts and Sciences screening I moderated. "They were originally going to shoot in Nai Nai's real apartment and then eventually realized that would be too much. She would come to set, give us all massages, and hand out food and stuff. She was so full of joy. She really became all our grandmas."
Wang hadn't been to Changchun since she was 6 years old, and when she returned to film The Farewell, she found her relationship with her surroundings evolve beyond her childhood nostalgia. It wasn't just that she could now frequent bars; she had a newfound agency. "I got to see the city in a different way because I think when you look back on places that you're from or the places where you spent a lot of time as a child, you are viewing it through a romantic lens and a nostalgic lens," she says. "Whenever I'm there with my family, I basically revert to a childlike state. You don't really have any agency. That's kind of also what Billi's character is [going through]. In New York, she's a strong independent person with a lot of agency, but then you go home and you have no agency and you're not even allowed to talk because you might spill the beans. But for me, going back and having agency allowed me to see the city as an adult. I went to bars -- I never went to bars as a 6 year old, obviously. And also the city's changed a lot. It's developed a lot more. So I feel like in a way, I now have an adult relationship with China, with the city."
As much as The Farewell is about confronting loss, it's also distinctly about place. The decision not to tell Nai Nai about what's ailing her is part of a Chinese cultural tradition Billi feels divorced from as someone who has grown up largely in the West. And, yet, as much as Billi disagrees with her family's decision, she also feels an inexorable pull toward the country in which she was born.
This is articulated heartbreakingly in a scene where Billi breaks down after telling her mom she wants to stay in China and take care of her grandmother. Sitting on the floor, Billi shares the isolation she felt when her parents left the rest of their family to move to America. That dialogue was inspired by a conversation Wang had with a friend who is American-born Chinese, unlike Wang who was born in China. "I said something that she responded to which was: 'In China, I felt whole because I had my entire family and then I came to the U.S.,'" Wang says, "She was saying she's never felt whole in her life. She's always felt like an outsider. And I said my brother went through that. My brother was born in America. He just thought he was weird and got made fun of. It wasn't until he went back to China for the first time when he was 4 years old that he was suddenly like, 'Oh, I come from some place. There are other people who look like me as a whole.' And somehow that just clicked for him and he became a lot less awkward and things made sense to him as a child. When I was explaining this to my friend she was like, 'Oh my god, that's the difference. You were whole once.'"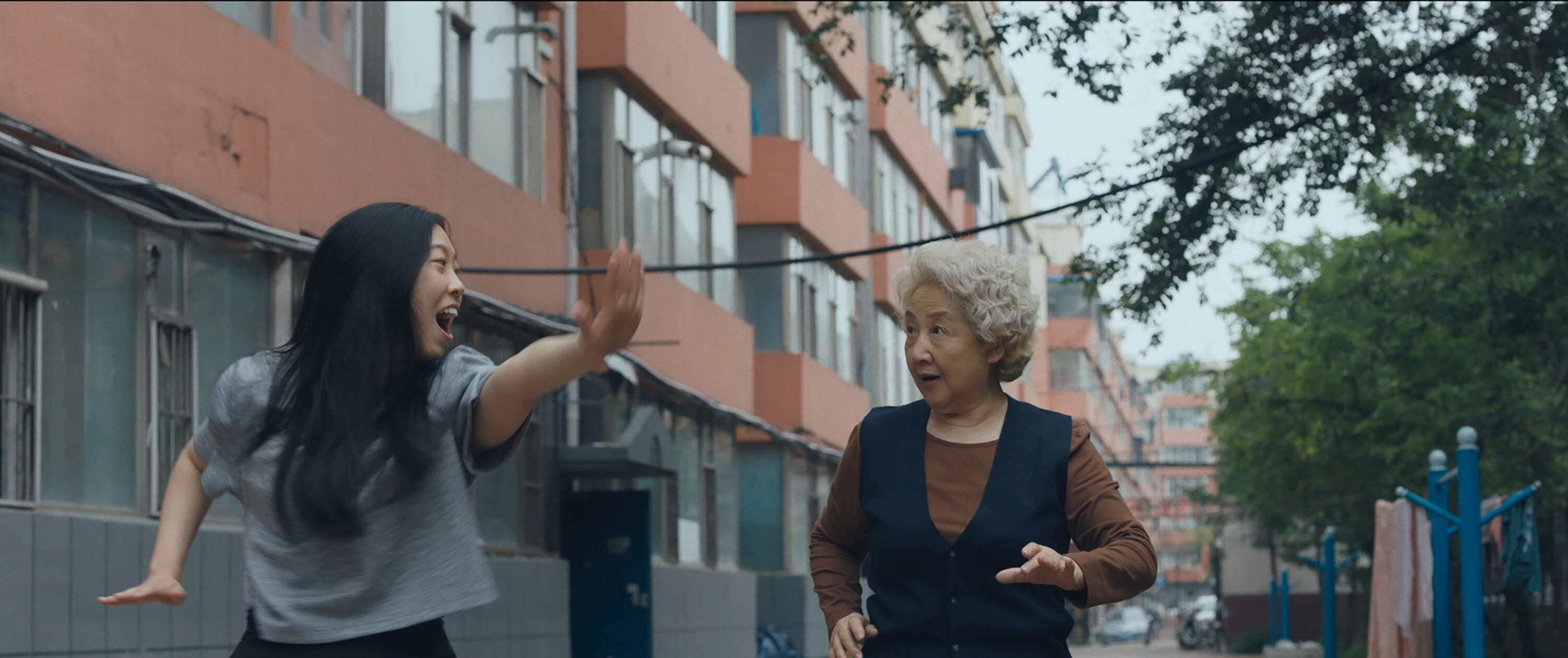 As we sit on a couch in Park City, Utah, a few days after the film's first screening, Wang's voice begins to crack as she explains how her life changed when her parents emigrated. "It went into this whole conversation where I was like, 'Yeah, [in China] I had my grandma and then my other grandma and uncles. My mom's a writer and my dad was a former diplomat and they would be in the apartment. They had all their friends over talking about literature and movies and culture and drinking and smoking, and I'm a kid and I would wake up in the middle of the night and they would be like, 'come join us,' and there was just a sense of community and family and friends, and it all made sense. And then we went to America and it was just the three of us," she says. "I'm saying it now, getting really emotional. And [my friend] was like, 'That's it.' I was like, 'What?' She said: 'And then it was just the three of us.' And so that was the moment for me that ignited the scene and what the climax of the movie was."
It's easy to summarize The Farewell as being about one young woman's internal culture clash, but there's a transcendence to the film easily summed up by the recurring image of the sparrow. The tiny creatures first appear in an early scene when one mysteriously breaks into Billi's Bushwick apartment. Later, she sees a similar bird resting on the windowsill of her Chinese hotel room. Wang was thinking about coincidences and strange out-of-body experiences when she incorporated the sparrow into the film, but a theme of connection was also on her mind: "The connection of these two countries that are across the world from each other, but that there is a connection even if it's not physical," she says. "There's a spiritual connection or energetic -- spiritual maybe sounds too whoop-dee-doo. There's energy. Things that we don't see. There are things that we don't see that are in motion that dictate our lives that we are not in control of."
At the end of the film, Billi returns to New York. Walking down a busy street, she stops and thrusts her arms outward giving a loud, energy-expelling "HA!" just like Nai Nai taught her. On the other side of the world, birds scatter from a tree near Nai Nai's apartment complex. Though much of The Farewell grapples with mortality, the point of Wang's piece is not what happens to Nai Nai, even though it's nice to know there's a happy ending. It's that this family are are linked across continents; their intangible bonds expressed perfectly in that final visual.
Sign up here for our daily Thrillist email and subscribe here for our YouTube channel to get your fix of the best in food/drink/fun.