Everything We Know About 'The Flight Attendant' Season 2
Kaley Cuoco's hit HBO Max series is officially coming back.
HBO Max's The Flight Attendant wrapped up its surprisingly strong first season in December 2020 pretty neatly. Sure, Rosie Perez's inadvertent North Korean spy Megan is absconding to somewhere in Italy, and Michelle Gomez's Miranda has made off with a whole lot of cash, but the finale basically completes the story of Kaley Cuoco's Cassie Bowden and the murder mystery surrounding her Bangkok one-night-stand Alex Sokolov (Michiel Huisman). Still, is there more to come? Here's what we know so far.

Has The Flight Attendant been renewed for Season 2 yet?
Yes! Despite having been initially promoted and conceived of as a limited, self-contained season, HBO Max pulled a Big Little Lies on us a day after the release of the finale that it had ordered a second installment of the Golden Globe-nominated series. Cuoco had previously told Andy Cohen on Watch What Happens Live that she wanted to do another season, and the show became been a bona fide hit for HBO Max, the fledgling streaming service in need of some original hits to pair with its massive library full of Warner Bros.-owned movies and shows.
"We are delighted that the show has resonated so strongly with audiences and critics," said HBO Max chief content officer Casey Bloys in a press release announcing the renewal. "We congratulate Kaley, Steve, Greg and Sarah, along with the rest of the incredibly talented cast, executive producers and our partners at Warner Bros. Television on all the success of the first season. I look forward to seeing where Cassie will go next."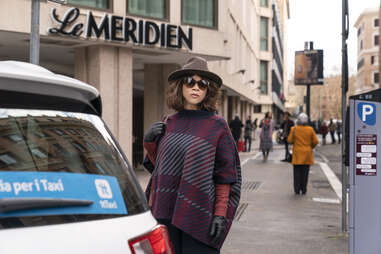 What will The Flight Attendant Season 2 be about?
It's unclear, but showrunner Steve Yockey told us, before the show was officially renewed, that he didn't want to get too deep into speculation, but did offer that he imagines Season 2 would involve a "new adventure for Cassie, but we would see old friends." In the last moments of the episode, Cassie has possibly been recruited by the CIA, thanks to her flight attendant pal Shane (Griffin Matthews), who also happens to be an undercover agent. Plenty of fodder there—imagine Cassie, trying to stay sober, spying on people. Fun!
What Yockey is implying is that you shouldn't expect a straight continuation of the murder plot involving Alex and the mysterious Lionfish corporation. That said: There are plenty of surviving Season 1 characters who could cause more chaos for Cassie. She and Shane didn't kill crazy assassin Buckley/Felix (Colin Woodell), for one thing, and Miranda is off running around with tons of money.

Which cast members are coming back for Season 2?
Cuoco, who is an executive producer on the show as well as its lead, is on board. Yockey is also set to return, according the press release announcing the renewal, and mentioned in our interview that he would be remiss if a potential Season 2 didn't involve Rosie Perez as Megan, whose story ends with a lot left up in the air. Where is Megan going? How is she going to get out of the pickle she got herself into by stealing secrets off her husband's computer and giving them to North Korean spies? We need to know.
As for the rest of the Season 1 cast: Well, perhaps Matthews' Shane becomes Cassie's CIA handler, and it definitely wouldn't be the same show without Cassie's pal Annie (Zosia Mamet) in the mix. Yockey has implied in an interview with TV Line that Huisman will not be back as Alex, but that Cassie's "mind palace" will be.
Has Season 2 started filming?
Yes. Cuoco posted an Instagram in September revealing that she was back at it and Cassie's adventures have taken her to Berlin.

When will Season 2 of The Flight Attendant premiere?
Hopefully sometime in the spring of 2022, WarnerMedia CEO Jason Kilar said on an investor day call in March 2021. Fingers crossed!
Need help finding something to watch? Sign up here for our weekly Streamail newsletter to get streaming recommendations delivered straight to your inbox.