Matt Damon's Accent in 'The Great Wall' Is Goofy as Hell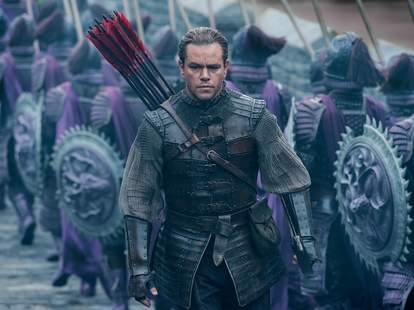 The Great Wall is a ridiculous movie about Matt Damon joining an army of Chinese soldiers to fight off dragon-like creatures rapidly encroaching on their shit. It's getting mostly negative reviews and is expected to be a box-office disappointment in the U.S. If you've heard about the $150 million international co-production at all, it's probably because of the criticism the film has faced for perpetuating a white savior narrative seen in countless adventure stories like Avatar, Dances with Wolves, and The Last Samurai. But there's one aspect of the film that hasn't faced as much public scrutiny: Matt Damon's hilarious accent.
Playing a grizzled mercenary named William Garin, Damon lowers his vocal timbre throughout the movie, perhaps as a tribute to Hollywood swashbucklers of the past, reading his lines in a way that oscillates between English warrior, Irish pub-dweller, and very gruff American dude who may or may not be a doomsday prepper. It's not quite up there with Kevin Costner's Robin Hood: Prince of Thieves accent or Cameron Diaz's attempt at an Irish brogue in Gangs of New York, but it's worth pointing out. And laughing at.
Or with -- depending on how much credit you want to give Damon. Watch the trailer below and try to pick up on what I'm talking about.
As a movie, The Great Wall is often goofy and occasionally breathtaking; it's more swashbuckling and spry than the trailers suggested, and it contains enough inventively staged battle sequences, clever lines, and striking images to make it watchable. The film's director is Zhang Yimou, the mind behind classic mid-'00s wuxia films like Hero and House of Flying Daggers, and he finds visual poetry in computer-generated monster battles. (One sequence involving whistling arrows is particularly evocative.) As a document of Hollywood's tricky financial relationship with China, The Great Wall is a fascinating curio. As a movie about Matt Damon doing a weird accent, it's a masterpiece.
And, unsurprisingly, critics have taken notice. In his review for New York, David Edelstein notes that Damon plays a character who is "either English or Irish -- I think Irish." Buzzfeed's Alison Willmore aptly describes Damon's performance as "unplaceably-accented." In USA Today, critic Brian Truitt sniffed out some Scottish in there and a hint of "original-recipe Damon." Slate's Sam Adams was even more succinct in his assessment: "the accent, whatever it's meant to be, comes and goes."
The people who have seen this movie can't stop talking about the accent. It's not just something being picked on by fussy critics; everyday moviegoers -- or at least the type who went to see The Great Wall the night it came out -- are also noticing it. There's already a Reddit thread mocking Damon's vocal tics. One user deemed it the "this movie is going to buy me a bigger house" accent. Another called it "PhoningItIn." If you've seen this movie, you want to joke about the accent.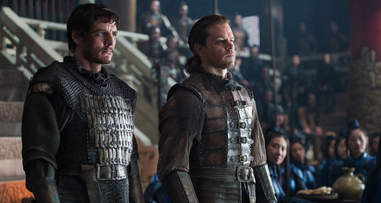 Universal
What makes it so funny? It's not that Damon hasn't done accents before -- he received mixed notices for his South African accent in Invictus but he nailed an exaggerated version of his own Boston baritone in The Departed -- but this one feels so uncommitted. So generic. So silly. It waffles not just from scene to scene, but from line to line. The only consistency is how consistently bizarre it is.
No one else in the movie is doing this particular accent. As Damon shares the screen with Game of Thrones scene-stealer Pedro Pascal, who plays his wisecracking Portuguese sidekick, and Jing Tian, who plays the badass Commander Lin Ma, he switches up his intonation at a moment's notice. It's not even that Damon is bad in the movie -- he does a decent job selling the movie's ludicrous conceit -- but once you start paying attention to the accent, it's all you can think about. It becomes more distracting than your 3D glasses.
The strangest part? Apparently, this was all by design. In a recent interview with Yahoo, Damon discusses the character's accent, which he created with acclaimed Hollywood dialect coach Tim Monich. "The accent we made up," he says in the clip. "It had to be understandable. It couldn't be modern English. And then [Monich] made rules for it -- the way he does with any dialect we're working on -- so we kinda cobbled it together that way." Congratulations if you can figure out what those rules were.
"Have you ever seen anything like this?" asks Damon at one point in the movie. After a quick dramatic pause, Pascal puts on his best awestruck face and says, "Incredible." In the scene, the two are marveling at the stunning military might of the Chinese, which includes color-coded uniforms, giant flaming catapults, and a squad of women who jump off the wall with fancy bungee cords. But they just as easily could've been talking about Damon's accent, too. We've never seen anything like it. And it's incredible.
Sign up here for our daily Thrillist email, and get your fix of the best in food/drink/fun.
Dan Jackson is a staff writer at Thrillist Entertainment and he thought the Crane Troop was pretty cool. He's on Twitter @danielvjackson.