Based on the classic Margaret Atwood novel of the same name, The Handmaid's Tale first hit Hulu like wildfire on the heels of an election that made its disturbing dystopian content suddenly and hauntingly relevant. It tells the story of a woman named June (Elisabeth Moss), who lives in a frightening, fascist version of the United States called Gilead, where fertility is a both a blessing and a curse. June is re-named Offred, now "belonging" to her commander, Fred Waterford (Joseph Fiennes), a high-ranking Gilead official who -- like the other commanders -- uses the bodies of young, child-bearing women called handmaids to repopulate the society they helped destroy. June's refusal to stay subservient is The Handmaid's Tale driving narrative focus across the two seasons, and the show's portrayal of Atwood's text earned Hulu its first Emmy for Outstanding Drama Series in 2017.
Season 2 was a more polarizing affair than the decorated Season 1, as the grimness of June's reality (and its prescience mimicking the real world) overwhelmed some viewers and critics. Despite this, Hulu announced that Season 2 had double the audience of Season 1, noting that overall engagement on the platform has grown by 60 percent since the show launched. It also pulled off an impressive nine Emmy nominations for Season 2, after winning five for its first. All of this means that a Season 3 was all but guaranteed, and given the big cliffhanger at the end of Season 2, we're even more anxious about where The Handmaid's Tale will pick up when it comes back. Here's a rundown of everything we know about Season 3 so far.
Recommended Video
Everything We Know: 3 Biggest Reveals Leading to 'Avengers: Endgame'
When does The Handmaid's Tale Season 3 return?
In May 2018, Hulu surprised no one by renewing The Handmaid's Tale for a third season. Season 1 was released on April 26, 2017, and Season 2 on April 25, 2018, so fans were hoping for a late spring release. But possibly to avoid Game of Thrones mania, Hulu announced on February 11 that The Handmaid's Tale Season 3 will begin airing on June 5. Which is fitting, given Offred's real name.
We do know that the third season went into pre-production in June of 2018 and that some filming took place in Ontario in October. Moss also shared a picture on Instagram with herself and Yvonne Strahovski in December, thanking the HFPA for the show's recent Golden Globe nominations, and implying they were filming together that day.
Is there a trailer?
Hulu forked over the big bucks to drop an enticing teaser trailer for Season 3 during the coveted Super Bowl ad slots. The new clip may be short, but it features a handful of new footage that gives insight into the forthcoming season. At first, the teaser looks like a piece of propaganda from Gilead exclaiming, "It's morning again in America. Today, more women will go to work than ever before in our country's history" -- but reality quickly sets in, and as the sound of Offred's voice says, "Wake up, America, morning's over," it appears as if the season is setting the women up for rebellion.
Who's coming back?
Season 2 ended with the fate of a few characters still up in the air. For one, Aunt Lydia (Ann Dowd) was brutally stabbed by Emily (Alexis Bledel). But according to showrunner Bruce Miller, Lydia will indeed be back for Season 3.
"Aunt Lydia doesn't die. I don't think Aunt Lydia can die," Miller told IndieWire. "I don't think there are forces in the world strong enough to kill Aunt Lydia. And by extension the incredibly strong, fabulous Ann Dowd -- I think she is with us for a long, long time as well." Considering that Dowd won an Emmy for the role, she's rightfully insured going forward.
Bradley Whitford's Commander Lawrence will also return for Season 3 after making quite an impression last year. Despite having a hand in the creation of Gilead, he played a part in June and Emily's escape. Miller referred to Lawrence as an "Oppenheimer character. The man who designed an atomic bomb and then saw what it could do. [...] He is a mass of contradictions and dangers, so you never know what he's willing to do, what he's not willing to do." We will apparently learn "a ton" about him going forward.
Those were the only main characters whose fates on the show weren't fully confirmed. Everyone else -- including Samira Wiley's Moira, Yvonne Strahovski's Serena Joy, and Max Minghella's Nick -- survived and will presumably return for round three.
Will Margaret Atwood's book sequel influence the show?
In late November, Atwood announced that she was working on a sequel to The Handmaid's Tale, a decision inspired by current events. According to Penguin Random House, the book's publisher, the story would be told by "three female characters," though they didn't say who those characters might be.
It's unclear if this follow-up novel will feature Offred, or if it will tell new stories about other Gilead women. It's also unclear if it will impact the storytelling of the TV series -- which Bruce Miller maintains is influenced by the original novel's epilogue -- or if it will do its own thing, enriching the world-building without impeding on the story we already know. Perhaps its not even set in Gilead times at all, but in a new timeline entirely, long before or after Offred's time.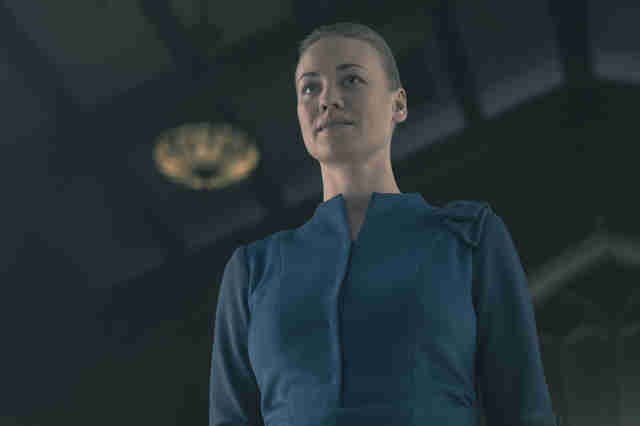 What will the plot be?
A lot happened in Seasons 1 and 2, so we can expect an equally intense Season 3. The biggest question on everyone's mind: What will happen to June?
Season 2 ended with a whopper of a cliffhanger. June and the baby she conceived with Nick were about to escape to Canada where they could finally find refuge. Commander Lawrence also drops Emily off at the escape van where she is reunited with June. Right as they're about to find freedom together, June makes the hasty decision to stay behind, likely to find her daughter, Hannah, that she had with her husband Luke before Gilead was established, and with whom she was briefly reunited in Season 2.
That controversial ending prompted many to question the characterization of June, who was so determined to find salvation that it seems absurd she'd turn her back on freedom. Was she motivated by the underground network of Marthas, pledged to rebellion? Or was she merely a grieving mother who couldn't bear to find safety while her firstborn suffers in an abusive household? Probably a combination of the two, but we won't know for sure until Season 3. But at a Season 2 finale screening, Elisabeth Moss said, "I hope [June is] going to go back and fuck some shit up."
Where the rest of the plot is heading is hard to say. The show has far surpassed the source text, which ended right where Season 1 did. There's an epilogue in the novel that takes place 200 years after Gilead is overthrown, where we learn June had something to do with that outcome. We never learn her exact role in the rebellion, but that's the story Miller plans to tell, saying that he doesn't see the show as surpassing the book so much as elaborating on the mystery of that 200-year gap. "We're just covering territory [Atwood] covered quickly, a bit more slowly," he told The Hollywood Reporter.
In addition to June, we'll learn the fate of Lawrence, Serena Joy, and Nick who helped her and Emily escape and may be dealing with the repercussions. Emily's attack on Lydia all but sealed her fate until Lawrence intervened, and his part in her escape -- which, he admitted in the finale, would get him into "deep shit" -- will probably be widely suspected. After the execution of his wife and going head-to-head with Fred, Nick is also sure to face wrath in Season 3. Serena Joy can probably lie about her own encounter with June and the baby, who she let go free, but she's in a precarious place with her husband and Gilead, after her finger was cut off when she read the Bible in a public demonstration.  
They may be facing trouble, or they may be fellow conspirators -- along with June -- in the coming revolution. We'll be following Season 3 developments, so check back for regular updates.
Sign up here for our daily Thrillist email and subscribe here for our YouTube channel to get your fix of the best in food/drink/fun.