Everything We Know About 'The Handmaid's Tale' Season 4
Blessed be the fruit: New episodes are almost here.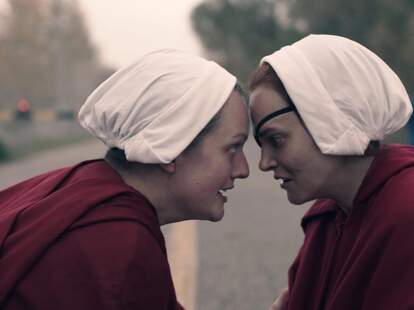 The Handmaid's Tale, Hulu's flagship original series, is gearing up for its fourth season, expanding the dystopian universe that Man Booker Award-winning novelist Margaret Atwood created in her 1985 novel of the same name. The series takes place in a near-future America, now called Gilead, where the autocratic government assigns its female citizens to strict societal roles based on their wealth and fertility. Over the past several years, given how eerily prescient it all feels, The Handmaid's Tale has become so integrated into real-life American political discourse that it's not uncommon to see women dressed as handmaids at congressional hearings and other political events.
Hulu announced during the series' third season that The Handmaid's Tale had been picked up for Season 4—not much of a surprise, given its dedicated fanbase and popularity. While we approach the release of the upcoming installment, we're taking a look at what to expect from the acclaimed series. Here's everything we know about The Handmaid's Tale Season 4.
When will Season 4 premiere?
Fans are officially headed back to Gilead on Wednesday, April 28. The first three episodes will hit Hulu that day, followed by a weekly release for the remainder of the season. Although June's dystopian world seems like a literal nightmare, we couldn't be more excited to return to it—considering the series was originally supposed to air in fall 2020 and endured many delays due to the pandemic.
Is there a trailer for Season 4 of The Handmaid's Tale?
Yes! Hulu dropped full-length trailer for Season 4 in late March, a little less than a month out from the premiere date. It shows the resistance efforts that have been percolating for awhile are about to get very real now that June is a full-blown rebel leader. The clip teases that her plans to smuggle a plane full of children across the border was the tipping point for both the revolutionaries to commit to the cause and gear up for a war, and those on the other side like Aunt Lydia and the Waterfords to try to find June and put a stop to her. Basically, it looks like the new installment is going to be intense as hell.
Plus, if you're desperate for as many glimpses at the long-awaited season as you can get, another teaser was released in late February, which you can check out here.
How many episodes will there be in The Handmaid's Tale Season 4?
This season will be seeing slightly less of June and Gilead than we're used to, as the show is cutting back from 13 episodes to 10. It's not totally unheard of for the series since its first season launched with 10 installments. (That's probably fine, anyway, since it'll probably save us from a few of those ruminating episodes that fans complained about in Season 3.)
Joseph Fiennes and Yvonne Strahovski

| Hulu
Who will return for Season 4?
The Handmaid's Tale is, at its core, June's story—so Elisabeth Moss will obviously be back as June. Showrunner Bruce Miller even told Vanity Fair, "When June dies, our guide dies, and our show dies," so don't worry about her fate just yet.
The rest of the cast will be back too, including Alexis Bledel as Emily, Joseph Fiennes as Commander Fred, Yvonne Strahovski as Serena Joy, Samira Wiley as Moira, Madeline Brewer as Janine, O-T Fagbenle as Luke, Max Minghella as Nick, Ann Dowd as Aunt Lydia, Bradley Whitford as Commander Joseph Lawrence, Clea DuVall as Sylvia, and Amanda Brugel as Rita. Sam Jaeger who portrays American representative in Canada's US-Government-in-Exile, who last season spent a great deal of time with Serena when she was in Canada before he ultimately arrested her, has also been upped to a series regular.
What about the showrunners?
Showrunner and executive producer Bruce Miller is again leading the series, along with Warren Littlefield, Daniel Wilson, Fran Sears, Eric Tuchman, John Weber, Frank Siracusa, Sheila Hockin, Kira Snyder, and Yahlin Chang. Elisabeth Moss will again executive produce, but
THR
announced she'll also step behind the camera to make her directorial debut this season. She's said to be directing three episodes.
Will there be new characters in Season 4?
It sounds like a handful of new faces are set to join the cast for Season 4. Elisabeth Moss told
THR
, "We have six regular [characters] in Canada now … we spent the whole Season 3 with June in a new house with Bradley Whitford as Commander Lawrence. Obviously, June's going to need to find a new fucking place to live. I don't think she's going back to that house! It's an opportunity for a new location, a new world, a new part of the world to show and new characters."
Considering she was last seen successfully transporting dozens of children out of Gilead and into Canada, but shot and injured in the process—we can assume she'll meet some sort of new protectors, allies, or enemies trying to get her back in line. Bruce Miller told THR that we'll see a great deal of these new faces to kick off the season as June's on the run, calling into question who she interacts with and who she can trust.
It seems one of the strangers she's bound to interact with is played by McKenna Grace (The Haunting of Hill House, I, Tonya). Deadline announced her casting in September 2020 and said the 14-year-old actress is taking on Mrs. Keyes, "a sharply intelligent, teenaged wife of a much older Commander who rules her farm and household with confidence. She has a rebellious, subversive streak, and is calm and pious on the outside with turmoil, even insanity, on the inside." While this is just speculation, she definitely sounds like someone June meets while out and about, and someone to collude with.
It's safe to say that we'll meet new people on the Canadian side, too, with people gearing up for the resistance and helping the children that made it safely across the border. One of which being portrayed by Zawe Ashton (Velvet Buzzsaw), who Miller told THR is playing Moira's girlfriend and a Toronto-based aid worker. He also noted that Reed Birney (The Blacklist, House of Cards) is joining the cast, but didn't reveal who his character is exactly.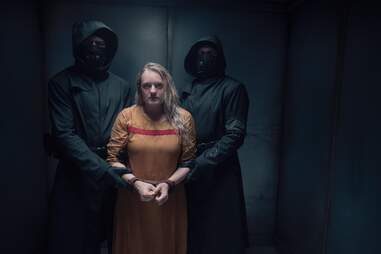 Hulu
What do we know about the plot of Season 4?
According to Bruce Miller, put all of your predictions of this season to rest, because what's to come "couldn't be more different" than what we've seen from the show thus far. It sounds like at first we'll find June where the series left her: free, but seriously injured. Miller explained to
THR
that "June has a taste of freedom now, and we're going to follow her." He said that because the season doesn't start with June "under the thumb of Gilead," it will be about her navigating her newfound agency and deciding what to do with it, since working for her cause almost got herself killed.
Aside from just where June is at in Season 4, it's possible that her efforts in Season 3 will finally lead others on the show towards the rebellion that fans of the series have long predicted is inevitable. In Season 3, June and others were just planting the seeds for their rebellion—but this time around, it sounds like there's no holding back on either side of the issue. Miller told THR, "Gilead, from their point of view, under their set of codes, is going to be ready to go to war over this." It's hard to say what that looks like right now, like whether they'll build out an army or not, but June's act of resistance of getting children across the border will probably not go over well with Gilead. Plus, now that the Waterfords are set to go on trial in Canada and potentially be held accountable for their actions, there's even more reason for the nation to seek some sort of retaliation.
Since those kids are now safely in Canada, we'll also likely see a bunch more of what's been going on in the north this season. Miller told TV Guide that "the people in Toronto are as much a part of the story as the people in Gilead." Season 4 will likely see Moira and Luke dealing with the realization that June was the one who orchestrated the children's escape, as well as Fred and Serena on trial for their war crimes.
Also, it finally looks like Season 4 will also give Nick more time in the spotlight. Miller said to TVGuide that they had planned to develop Nick's role more during the third season, but were unable to do so due to time constraints. Now, it seems that we'll be learning more about him and his relationship with June.
Is this the last season of The Handmaid's Tale?
Praise be: We already know that Season 4 won't be the last of
The Handmaid's Tale
.
Season 5 was confirmed
well before a release date was even announced for the next installment. It's hard to say what Season 5 will be about, or if it'll be the last one of the series—but now well past the path Atwood explicitly laid out in her novel, the plot possibilities are endless.
Hulu already picked up the rights for a separate adaptation of Atwood's recent The Handmaid's Tale sequel, The Testaments. So, there's more than enough content set in the world of Gilead potentially coming your way.