Everything We Know About 'The Handmaid's Tale' Season 4
Blessed be the fruit.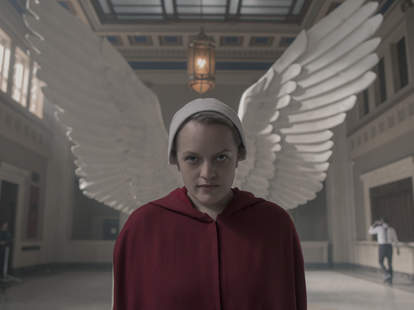 The Handmaid's Tale, Hulu's flagship original series, is on its way to a fourth season, expanding the dystopian universe that Man Booker Award-winning novelist Margaret Atwood created in her 1985 novel of the same name. The series takes place in a future nation called Gilead, where the autocratic government assigns women to strict societal roles based on their wealth and fertility. Over the past several years, The Handmaid's Tale has become well and truly integrated into the zeitgeist, to the extent that it's not uncommon to see women dressed as handmaids at political events. 
Hulu announced during the series' third season that The Handmaid's Tale had been picked up for Season 4 -- not much of a surprise, given its dedicated fanbase and popularity. While there's a good deal of time before the fourth season hits screens, that doesn't mean we don't know anything about what to expect going forward. Here's everything we know about The Handmaid's Tale Season 4.
When will Season 4 premiere?
If you've managed to remain hopeful throughout the coronavirus pandemic and were still hoping Hulu might come through with a late 2020 release, it's unfortunately time to give up on that wishful thinking because the streamer confirmed the show is now slated for a 2021 release. They made the announcement at a June 2020 presentation but didn't specify when exactly in 2021 to expect a premiere date, as reported by Variety. By the time Hulu shared the news in late June, it seemed pretty obvious that the show wasn't going to be able to follow through with its original plan to return in fall 2020, considering they were in production in March 2020 for only two weeks before they shut down as the pandemic became more serious in the United States. 
Elisabeth Moss did tell Deadline that the writers are finishing up the season remotely, but with everything being uncertain right now, it's hard to say when production will resume. Once it does, however, it sounds like they still have just about the entire season to shoot, so when you consider that, as well as post-production, it seems like the earliest in 2021 we'll return to Gilead is spring.
Is there a trailer for Season 4 of The Handmaid's Tale? 
The Handmaid's Tale may not have gotten to shoot Season 4 in its entirety back in March before production shut down, but they were able to get enough in to give fans their first glimpse of the new season with a teaser that dropped in June. (How appropriate!) The clip may not be totally new, pieced together with shots from previous seasons, but it certainly implies where the highly anticipated fourth season is headed. At one point June says, "We're just getting started," which sounds about right, as the trailer reveals June's ploy last season to get children across the border into Canada was only the beginning of their movement. Now, it looks like she's trying to rally other handmaids and allies to take back their lives and country. "Change never comes easy. This war isn't going to win itself," she says. 
How many episodes will there be in The Handmaid's Tale Season 4?
According to IndieWire, this season will be seeing slightly less of June and Gilead than we're used to, as the show is cutting back from 13 episodes to 10. It's not totally unheard of for the series since its first season launched with 10 installments. According to showrunner Bruce Miller, the cutback is intentional. "From my point of view, [the decision] was 100% creative." Meaning, they're probably going to leave us with some sort of big cliffhanger intended to set up the following season that will probably be green-lit. (It's also probably meant to save us from a few of those ruminating episodes that fans complained about in Season 3.)
Joseph Fiennes and Yvonne Strahovski

| Hulu
Who will return for Season 4?
While we haven't seen any official casting announcements yet, it's pretty reasonable to expect most of the series regulars to return. The Handmaid's Tale is, at its core, June's story -- so assume Elisabeth Moss as June/Offred will be back. Showrunner Bruce Miller even told Vanity Fair, "When June dies, our guide dies, and our show dies," so don't worry about her fate anytime soon. Moss added in a July 2020 interview with TVLine that no one should be concerned about her demise: "It's funny, because sometimes people will say to me, like, 'How is she still alive? She's committed the worst atrocities out of any of the handmaids, and yet somehow, she's survived. And my answer is usually, 'Yeah, because… I'm the lead of the show. They're not going to not have me in the show. So that's why I keep surviving.'" 
The rest of the cast should be surefire bets too, including Alexis Bledel as Emily/Ofglen, Joseph Fiennes as Commander Fred, Yvonne Strahovski as Serena Joy, Samira Wiley as Moira, Madeline Brewer as Janine/Ofwarren/Ofdaniel, O-T Fagbenle as Luke, Max Minghella as Nick, Ann Dowd as Aunt Lydia, Bradley Whitford as Commander Joseph Lawrence, Clea DuVall as Sylvia, and Amanda Brugel as Rita. Sam Jaeger who portrays American representative in Canada's US-Government-in-Exile, who last season spent a great deal of time with Serena when she was in Canada before he ultimately arrested her, has also been upped to a series regular. 
What about the showrunners? 
Showrunner and executive producer Bruce Miller is again leading the series, along with Warren Littlefield, Daniel Wilson, Fran Sears, Eric Tuchman, John Weber, Frank Siracusa, Sheila Hockin, Kira Snyder, and Yahlin Chang. Elisabeth Moss will again executive produce, but The Hollywood Reporter announced she'll also step behind the camera to make her directorial debut this season. You'll be able to check out her directing chops in the third episode of this season.
Will there be new characters in Season 4?
Details are sparse right now, but it sounds like a handful of new faces are set to join the cast for Season 4. Elisabeth Moss told THR, "We have six regular [characters] in Canada now … we spent the whole Season 3 with June in a new house with Bradley Whitford as Commander Lawrence. Obviously, June's going to need to find a new fucking place to live. I don't think she's going back to that house! It's an opportunity for a new location, a new world, a new part of the world to show and new characters." 
Considering she was last seen successfully transporting dozens of children out of Gilead and into Canada, but shot and injured in the process -- we can probably assume she'll probably meet some sort of Gilead protectors and/or a new family set on keeping her under control. While June is in that world, it's safe to imagine we'll meet new people on the Canadian side, too, with people gearing up for the resistance and helping the children that made it safely across the border. 
Ann Dowd and Elisabeth Moss

| Jasper Savage/Hulu
What do we know about the plot of Season 4?
Before Season 3 premiered, many fans predicted that it would be the season when a revolution finally erupted in Gilead. It turned out that June and others were just planting the seeds for their rebellion -- but this time around, it sounds like there's no holding back on either side of the cause. Showrunner Bruce Miller told THR, "Gilead, from their point of view, under their set of codes, is going to be ready to go to war over this." It's hard to say what that looks like right now, like whether they'll build out an army or not, but June's act of resistance of getting children across the border will probably not go over well with Gilead. Plus, now that the Waterfords are set to go on trial in Canada and potentially be held accountable for their actions, there's even more reason for the nation to seek some sort of action. 
Considering the lengths June has already gone, it doesn't seem like she'll stop any time soon, making her revolution even more realized. "[June] [became] somebody who would do absolutely anything for a cause, absolutely anything to save those kids and get them out. Nothing could get in her way," Moss told THR. "How do you wipe the blood off your hands? How do you become someone who can live in a normal society? Do you not? She's changed forever. I don't see it going any other way. But I do think there's some humanity that will have to come back."
Since those kids are now safely in Canada, we'll also likely see a bunch more of what's been going on in the north this season. Miller told TVGuide that "the people in Toronto are as much a part of the story as the people in Gilead." Season 4 will likely see Moira and Luke dealing with the realization that June was the one who orchestrated the children's escape.
Also, it finally looks like Season 4 will also give Nick more time in the spotlight. Miller told TVGuide that they had planned to develop Nick's role more during the third season, but were unable to do so due to time constraints. Now, it seems that we'll be learning more about him and his relationship with June.
Is this the last season of The Handmaid's Tale?
The short answer: probably not. The real answer: who knows! Now well past the path Atwood explicitly laid out in her novel, the plot possibilities are endless. Realistically, The Handmaid's Tale will probably keep running as long as Hulu decides to keep paying for it. Hulu CEO Randy Freer told Variety in 2018, "Look, I hope, as success goes, there's 10 seasons of The Handmaid's Tale."  
Even if it does wrap up before 10 seasons, Hulu already picked up the rights for a separate adaptation of Atwood's recent Handmaid's Tale sequel, The Testaments. So, there's more than enough content set in the world of Gilead potentially coming your way. 
Need help finding something to watch? Sign up here for our weekly Streamail newsletter to get streaming recommendations delivered straight to your inbox.