Netflix's 'The Haunting of Bly Manor' Is the Saddest Ghost Story Ever
Mike Flanagan's horror has always been entwined with grief.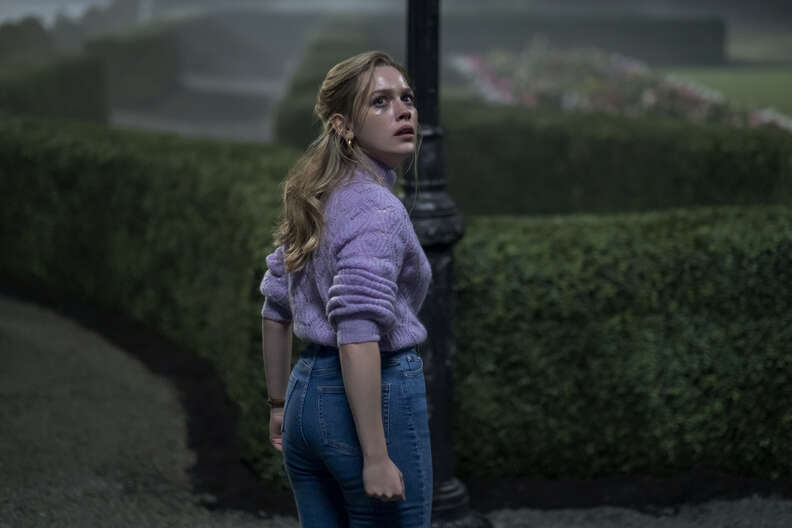 Netflix
Netflix
When you think about it, there are very few advantages to being a ghost. You can walk through walls, sure, and appear in doorways out of nowhere, and invisibly move objects around a room, and… that's kind of it. You can pass the time scaring people, but what if the people you're scaring are loved ones, or perfectly nice strangers? Being a ghost, when you get down to it, watching the seasons pass and the living grow older while you're stuck in time, trapped in the place you died, is, simply, quite sad.
The Haunting of Hill House, which debuted on Netflix in 2018 and was directed by horror auteur Mike Flanagan, unearthed the roots of a family's trauma using the very spirits that haunted them as children, living in a mansion that was like flypaper for people's souls. Compared to that season, the latest installment of what has become an anthology show, The Haunting of Bly Manor, is barely frightening at all -- but that's far from a criticism. There are plenty of ghosts in this season, more than you may think after the first few episodes, but the show spends less time on crafting its (very effective) scares, and more on exploring what force could possibly be powerful enough to turn a dead person into a ghost. Death is a tragedy; a soul unable to move on even more so.
Bly Manor is based, this time, on Henry James' gothic mystery novel The Turn of the Screw, in which a governess, hired on at a wealthy family's estate, comes to believe that her two young charges are being possessed by the ghosts of two lovers who had died on the grounds before she arrived. Where James' novel is pointedly obtuse when it comes to whether the governess is right about there being ghosts or not, this adaptation is much more direct. There are, indeed, ghosts at Bly, including those of a man and a woman who were in love before they died, but there's a lot more to the story than that.
Dani Clayton (Victoria Pedretti, returning along with a few other cast members from Hill House), a sweet, if a little high-strung, young woman enters the employ of Henry Wingrave (Henry Thomas), a wealthy uncle to two precocious children in need of schooling. Their parents tragically died in a car accident months earlier, and the boy, Miles (Benjamin Evan Ainsworth), was kicked out of his boarding school for vaguely violent misbehavior. Dani finds the house staff, including housekeeper Hannah Grose (T'Nia Miller), and cook Owen (Rahul Kohli), kind enough, and strikes up a friendship with the estate's gruff gardener Jamie (Amelia Eve). Miles and his sister Flora (Amelie Bea Smith) seem sweet enough ("perfectly splendid" as Flora would put it), but Flora does seem oddly focused on the little dolls she's housed in her dollhouse, including one that resembles a dark-haired lady with no face. Dani, meanwhile, sees a tall, dark specter with a pair of glowing glasses every time she looks in a mirror.
It's tough to explain just what this story does with its ghosts that makes it so original without spoiling most of the show, but, like all ghost stories, Bly Manor uses the supernatural to investigate the fears, desires, and hidden grief of the living. It's tough to even call Bly Manor a ghost story; it's somewhat more along the lines of how Edith Cushing, the heroine of Guillermo del Toro's gothic horror movie Crimson Peak, describes her work: "A story with a ghost in it." Though the show delves deep into the undead lives of its ghosts, too, digging up hidden revelations and episode-long expository background that rivals the shocking midseason episode of Hill House, in which the connection between one of the characters and her unwelcome spirit was revealed to be even closer than she could imagine.
What sets Bly Manor apart from shows and movies like it is the remarkable empathy it has for its ghosts, some of which are nearly demonic in their distance from the humans they used to be, and others that are so close to the living they forget what they really are. It's hard, sometimes, for a ghost to accept that they're a ghost, profoundly cut off from the world of the living forever, which makes the ultimate realization that much more heartbreaking. The spirits of Bly Manor are, like the ghosts in any story, searching for something, some need to complete a final task they left undone when they were alive. To love, to be loved, and to be accepted by those around you are desires powerful enough to keep the dead clinging to a life just out of reach.
Need help finding something to watch? Sign up here for our weekly Streamail newsletter to get streaming recommendations delivered straight to your inbox.
Emma Stefansky is a staff entertainment writer at Thrillist. Follow her on Twitter @stefabsky.