The Most Messed Up Serial-Killer Movie in Years Keeps Finding Ways to Piss People Off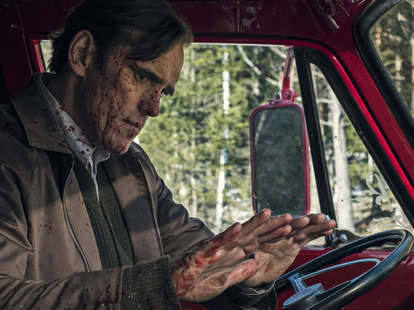 Lars von Trier's upcoming movie seems tailor-made to ignite the ire of the #MeToo era. The House That Jack Built stars Matt Dillon as a serial killer who recites platitudes about how each of his crimes are akin to a piece of art, all while mutilating and murdering women in increasingly gruesome ways. It's the kind of provocative content that's no surprise to see from the director of Nymphomaniac, Melancholia, and Antichrist, who was outright banned from setting foot on the Cannes Film Festival red carpet for six years after making some ill-advised comments about Hitler at a press conference.
Earlier this year, he returned to the festival, his new psychological horror movie having charmed the jury members into ending his exile -- though critics were significantly less enthused. With a series of new posters for the movie, The House That Jack Built leans into the controversy while contorting its cast into a series of increasingly uncomfortable yoga positions and tied up with what seems to be wire fencing.
Uma Thurman, Siobhan Fallon Hogan, Sofie Gråbøl, and Riley Keough round out the list of victims (uhh, spoiler alert), referred to as "Incidents" 1, 2, 3, and 4, and Bruno Ganz appears as Jack's mysterious companion "Verge."
Von Trier even impishly included himself in the series of posters as "Director."
Lars von Trier's movies aren't necessarily easy to enjoy, nearly all of them containing some element of psychosexual horror or extreme violence, and The House That Jack Built is no different, gleefully baiting whoever watches it to take issue with the blood and gore and objectification. None of the female characters even have names except for Riley Keough's, a hapless dumb blonde referred to only as "Simple."
Because the #MeToo era coincided with a general fear of censorship in the media, this year's Cannes Film Festival saw the return of the Danish provocateur touting a film that reads as a two-hour-plus "U Mad Bro?" face. Von Trier even harkens back to his original Cannes controversy, giving his main character an extended speech about the technological elegance of German World War II Stuka dive bombers. Look at how much unsavory stuff happens in just the trailer:
Around a hundred audience members walked out of the premiere of The House That Jack Built, a reaction that made von Trier feel, "very relaxed." ("It's quite important not to be loved by everybody, because then you've failed," he told Cineuropa.) With generally mixed press out of Cannes and no American release date in sight, there's no telling when the rest of the world will be able to see the film. For another director, a movie like this would be considered a shockingly ill-advised choice while the entertainment world is still mired in various sexual harassment and assault controversies. Von Trier, though, seems like a no-publicity-is-bad-publicity kind of guy.
Sign up here for our daily Thrillist email and subscribe here for our YouTube channel to get your fix of the best in food/drink/fun.
Emma Stefansky is a staff entertainment writer at Thrillist. Follow her on Twitter @stefabsky.