Although The Jim Gaffigan Show is funny, it expresses a lot more emotional vulnerability than the comedian typically explores in his stand-up. It's not afraid to give its characters room to breathe, even if the main character chooses not to because breathing means less time for eating.
In large part this honesty is thanks to Ashley Williams, who undertakes the bizarre task of playing Jim's real-life wife Jeannie (as scripted by Jeannie, no pressure there) with a natural ease. She connects his comedic zingers to the chaos in their apartment with a reality that balances Gaffigan's self-caricature.
None of the grounding stops the show from getting surreal whenever it feels like it; Macauley Culkin cameos with alarming variety to weird out Jim. But since the show's strengths are both its sincerity and its sarcasm, here are the best of both: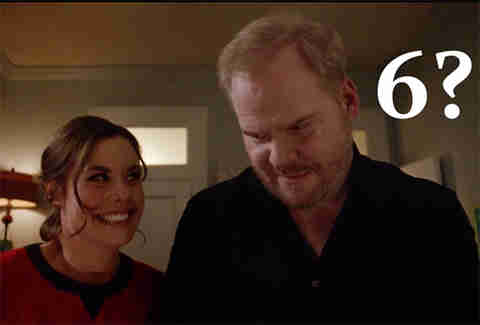 PILOT
To stem the tide of Gaffigan children, Jim ponders a vasectomy he doesn't really want. He can't back out though, because he'll prove Jeannie right.
BEST LINE:
Amid all the sniping between Jim and Jeannie's ex-turned-gay-best-friend Daniel (a vicious Michael Ian Black), the title character pleasantly detonates this bomb while noshing on a pretzel: "No, I think she just decided she didn't want to be with a snide, nasty bitch."
BEST MOMENT:
Jeannie's maniacally happy grin when she tells Jim she's pregnant for a sixth time. The proud mother doesn't blink for ten seconds as all hope of peace drains from his already pale face.
RED VELVET IF YOU PLEASE
Jim's shame at eating an entire cake is treated as an act of infidelity, since Jeannie asks very little of him other than that he stay alive to watch their kids grow up. He tries to check his appetite, but no good deed goes unpunished, along with several bad ones.
BEST LINE:
Jim prevents cake vandalism only to be blamed for it by the existential bawl of little Zoey the birthday girl: "My gake is bwoken!"
BEST MOMENT:
The moment that really takes the cake (hey-o!) is when Jim's dam of self-control bursts and he marauds through a picnic. That's when the always-terrific Wai Ching Ho excoriates him so badly she doesn't chew the scenery so much as run it through a wood chipper.
A NIGHT AT THE PLAZA
Jim exerts himself to show Jeannie a romantic evening, but their sexy anniversary in midtown turns into a French farce with numerous comedic mix-ups thanks to the scumbag behavior of his mopey comedian friend Dave (Adam Goldberg).
BEST LINE:
"You want me to pretend my wife's a prostitute on our anniversary."
"It's a lot less sad than hiring a prostitute and pretending she's your wife."
BEST MOMENT:
The comedic confusion unfolds fully when Jeannie returns at the crux of Jim, Dave, Dave's half-naked girlfriend, and her ex the MMA fighter, all yelling at each other.
IN THE NAME OF THE FATHER
Daniel's father Marty takes the gang out for steak and scotch. So, so, so much scotch. Their whirlwind tour of NYC ensnares more and more people into a great time, despite Daniel's sulking. Dave's approach vector on a beautiful woman swoops into a wide sine wave when she turns out to be a cougar.
BEST LINE:
"Yesterday he told the kids my head was originally a case for carrying regular-sized heads. You think that's funny? Now I have to go stuff foods in my mouth until the feelings stop."
BEST MOMENT:
The finest vignette in this episode isn't comedic, it's when the whole gang coalesces at Sardi's thanks to the power of scotch and terrific character actor Larry Pine as Marty. Even Daniel's resistance wears out here, and this scene plays real enough to win the worth of his honest conversation with Marty.
SUPER GREAT DADDY DAY
A bad mixup while submitting his daughter's application to an elite private school leaves the Gaffigans on the hunt for a missing dirty picture.
BEST LINE:
A standoffish security guard embodies everything wrong with casual comedy-goers: thinking he's part of the show, mistaking Jim for someone else, and erecting a scaffold of mistaken memory as he keeps escalating Jim's alleged insult against his girlfriend:
"Yeah, we were heckling -- like you're supposed to -- and you couldn't handle it […] and you called her a fat whore. It was her birthday, too. And her sister had just died three years earlier. You should not have called her a fat, dumb whore."
BEST MOMENT:
After dodging any penance for Jim's many mistakes, Jeannie is elated that they escaped discovery… right up until a street brawl erupts by the return of the "fat, dumb" girlfriend. Don't provoke a mother of five -- especially when she's got a lot of tension yet to be released.
GO SHORTY, IT'S YOUR BIRTHDAY
Jeannie keeps Jim in a perpetual state of uncertainty whether she really wants him to celebrate her birthday or not. Also, it's Dave's birthday, which means he's doubly the worst.
BEST LINE:
Jeannie finding yet another reason to reject a wonderful apartment:
"What a view. You can see all of everyth -- hold on a second. Do you guys see that? In that window? The shape of that building makes it look like there's devil eyes? Like staring at us? Like it would be like staring at our children? Like in the morning? While they eat cereal? We can't live here. We gotta go!"
BEST MOMENT:
Despite a parade of top comedians, this episode's really at its best when Jim finally confronts Jeannie for an honest answer about what he should do. The scene mixes sentimentality, sadness, and silliness in a potent combination. It's a cocktail of comedy and candidness.
MY FRIEND THE PRIEST
Jim finally books The Tonight Show, but Jeannie invites Father Nicholas (Tongayi Chirisa) to go along as an audience member. The pastor's relentless enthusiasm for Jim's comedy murders any laughs from other audience members, as nobody can relax around a priest. His booster efforts for Jim always end with a proud "And I am his priest!"
BEST LINE:
The padre has seen some terrible things, man.
"You may be exposed to some harsh language and sexual content."
"I think I can handle it, Jim! When I was eight years old I saw soldiers burn down my village."
BEST MOMENT:
Kind of a toss-up, since we don't get to actually see Father Nicholas play ping-pong with Julianne Moore, and it's impossible to choose between Bill Burr's patronizing of Dave Marks or ?uestlove's amused bafflement at the folks in the Green Room. So: wild card! Father Nicholas saying hello to literally everyone on the street is such a perfect characterization.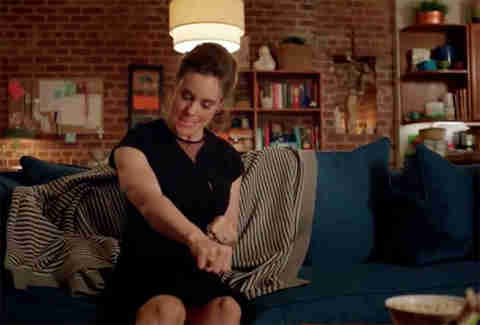 SUPERDAD
After Time Out New York hails Jim as the hard-working patriarch of Clan Gaffigan, Jeannie endures the fog of other people's cluelessness normally reserved for Jim. Even Father Nicholas fails to recognize her frustration. Jim, to his credit, keeps trying to give Jeannie hers.
BEST LINE:
A rare moment of decency from Dave is fleeting: "Listen, I'm not jealous of you and I don't want your life, but -- MOM! More salsa!"
BEST MOMENT:
Jeannie tearing up the issue of TONY is alright, but it's her kung fu finish when it's all over that says a lot with just a pose. When the kids cry for her and refuse Jim's help, she throws in a couple chambered strikes. Is this the birth of a new form of acting told entirely in martial arts moves?
THE BIBLE STORY
Photographed with a massive Bible he was delivering from Father Nicholas to Jeannie, Jim becomes the subject of nationwide speculation and assignation from everyone with an axe to grind. Dredging himself up from the mire of media speculation, Jim tries to keep his nose to the grindstone, but he barely touches the mic before the audience starts bickering. Everyone's so busy arguing about what Jim means that nobody listens to what he actually says. "I just wanted to talk about avocados," he sighs.
BEST LINE:
"A Bible from a priest? Sounds like a regift."
BEST MOMENT:
It all culminates in a low-speed chase of Jim fleeing his critics (and children) for the crime of disagreeing (or not).  A lengthy channel-surf shows just how many talking heads are aware of the problems with their industry but will do anything for extra screen time.
MARIA
When Dave Marks sets his sights on Jeannie's little sister, all the warnings in the world can't keep her from giving him a shot. But neither can Jeannie let it lie, so the Gaffigans go on a whirlwind tour of NYC nightlife to ninja-chaperone them.
BEST LINE:
"Turns out I have a Samsung."
"…Of course you do."
BEST MOMENT:
Jeannie's single-minded fury at Dave Marks leads her to accidentally dicker Hannibal Burress into giving Jim a primo spot on his comedy show, and she doesn't even notice. Jim, of course, takes the spot. Burress's fear and frustration make this scene funnier every time.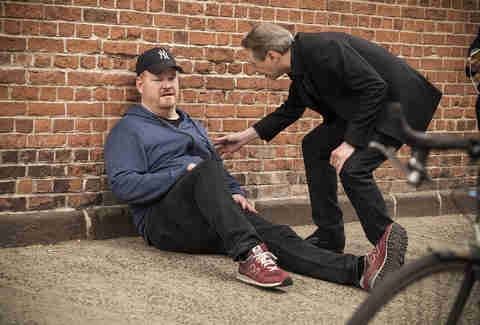 WONDERFUL
A concussion sends Jim It's a Wonderful Life-ing to a world where he never got married and had five kids. Celebrity guest appearances abound.
BEST LINE:
"You look like an evil weatherman."
BEST MOMENT:
Jim saves Steve Buscemi from a pack of hipster cyclists as the beloved character actor bends over to pick up a quarter while jamming to "Call Me Maybe" in blissful ignorance. Is there a greater portrait of NYC than this?