Any true crime junkie is going to be all over The Keepers, a seven-part Netflix series about the unsolved murder of a Baltimore nun in 1969. If they're legitimate fans, they'll revel in the appearance of forensic pathologist, Werner Spitz. Midway through the sixth episode, Spitz's assistant rattles off the cases he's worked on: the assassinations of John F. Kennedy and Martin Luther King Jr., the murder of JonBenet Ramsey, plus the trials of O.J. Simpson, Richard Ramirez, Phil Spector, Casey Anthony, Michael Petersen, the West Memphis Three, and the Norfolk Four. This who's who of true crime documentary subjects appear in a montage lumping them together as a kind of monument of murder mystery. If Spitz is involved, you know the story is significant.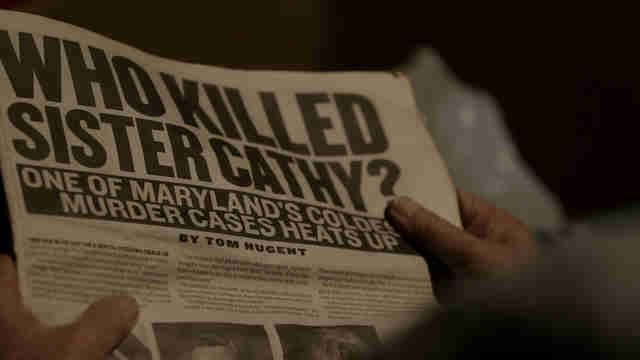 The Keepers reveals that the case of Sister Cathy Cesnik, while not very famous, is actually bigger than most of those referenced. Initially, the story does seem like just another singular whodunit situation. As the series goes on, the micro tik-tok of one woman's death expands to the macro investigation of a Catholic Church cover-up with a side of possible police corruption. Suspects range from the random to the personal to the political, as connections are made between the murder of Cesnik, a teacher, and the alleged ring of sexual abuse that was secretly going on at the high school where she worked -- an operation run by the school's chaplain that sometimes pimped young girls out to unidentified uniformed police officers. The main question posed by director Ryan White (The Case Against 8), and one we may never have a firm answer to, is whether Cesnik was killed because of what she knew.
Most true crime documentaries focus on small stories. They may deal in big ideas, such as capital punishment or the criminal justice system or race or media exploitation, but they focus on one act of murder by one person or group. The Keepers is on another level, tying in another unsolved murder and then a system of statutory rape, more elevated than some sexual abuse cases because the complicity ascends to high-ranking officials of the Church. The way the series escalates in scope is more reminiscent of the feature documentary Mea Maxima Culpa: Silence in the House of God, in which a seemingly small-scale story of four deaf men who'd been raped by a priest in the 1960s turns into a broad examination of clerical sexual abuse that leads all the way to the Vatican.
With true crime documentaries and shows more popular than ever, especially on Netflix, home of Making of a Murderer, there may be some need to top what's already out there with bigger breadths. Even the smallest stories can be extended to show more background and more aftermath for various contexts -- the sort of substance that makes O.J.: Made in America so remarkably fulfilling. A tighter film or series could have been made about the Cesnik murder that doesn't go so deep into conspiracy theory, let alone a moment when clips of the 2014 Ferguson unrest are featured during a tangential discussion of law enforcement misconduct and injustices. Some of the places it goes might prove one day to be irrelevant red herrings, but for now, for the documentary, it provides plenty of shocking twists and a compelling magnification of plot.
The Keepers isn't that consistent as far as what levels of the story it wants to concentrate on, however. The first episode is a slow and minuscule look at simply the known circumstances of the murder, as presented through the work of two amateur sleuths, women who'd been Cesnik's students almost 50 years ago. Later episodes are more filled with revelations, and then others are more character oriented, centered on emotional individuals impacted by either the murder or the abuse or both. Yet it also repeats a lot over the seven episodes, reiterating points and presenting the same photos multiple times.
The Keepers probably could be half as long and not lose any of what it wants to say or show. Stories with deep levels of complexity don't necessarily require such protracted offerings. Bigger or longer doesn't necessarily mean better.
Sign up here for our daily Thrillist email, and get your fix of the best in food/drink/fun.