Netflix's 'The Last Thing He Wanted' Is a Confusing, Star-Studded Thriller
When the tell-all history of Netflix's multi-pronged, money-powered foray into Hollywood filmmaking gets written, The Last Thing He Wanted will make for a fascinating chapter. When it was first announced in 2017, this star-studded Dee Rees-directed historical thriller, adapted from a 1996 Joan Didion novel about a dogged journalist caught in a Central American arms dealing scheme in the mid-'80s, looked like yet another award-seeking arrow in Netflix's quiver of prestige projects. But the finished product, which premiered to largely dismissive reviews at the Sundance Film Festival this year and dropped February 20 on Netflix, is a bizarre miscalculation, the type of ambitious mess that makes you want to know what went wrong.
The idea makes sense as a highly-clickable option in the feed: A paranoid, bullet-ridden tale of reporting and gun-running with high-brow source material starring Anne Hathaway and Ben Affleck, two genuine stars with adventurous taste. Add a filmmaker coming off Mudbound, an Oscar-nominated Netflix drama, and you've got the perfect companion piece to an evening of binging shows like Narcos or The Spy. If it's pulled off correctly, this could be the type of pleasurable, exciting genre exercise that weary critics like to say "no one makes anymore." Even the janky poster has a throwback to another era vibe, like a VHS you'd pick out of the Blockbuster bargain bin.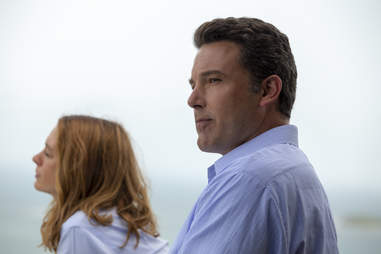 Laura T Magruder/Netflix
At some point in the making of The Last Thing He Wanted -- either in the writing, the filming, or the editing process -- this movie almost certainly got away from its makers, wandering down a path of confusion and obfuscation. The problems are apparent right from the jump, as the film introduces its embattled protagonist, Elena McMahon (Hatthaway), with some frantic cross-cutting and the pounding sound of a keyboard. Didion's spare and elliptical prose, which can often be gripping on the page, doesn't exactly lend itself to voice-over, but the script, written by Rees and Marco Villalobos, appears to draw heavily from the text. In attempting to mimic a fragmentary novel, the movie risks incoherence at multiple points. By the end, it's difficult to assign motive, intent, or purpose to almost any character in a given scene. 
The plot has a relatively straightforward, pared-down premise. McMahon's long estranged father Richard, a sunglasses-sporting Florida wildman played with typically teed-up energy by Willem Dafoe, is facing medical problems. He recruits his daughter, who has been reassigned from her corruption-chasing Central America beat to cover the 1984 presidential election, to help him carry out one last job, which she takes out of an ill-defined mixture of familial loyalty and political curiosity. (The fictional intrigue plays out parallel to the real-life Iran-Contra scandal, which was recently dramatized in the more flee-footed Tom Cruise thriller American Made.) McMahon has weathered a divorce, a battle with breast cancer, and the Reagan campaign. What's a little illegal weapons trading?
When McMahon arrives to finally make the exchange, which doesn't occur until over 40 minutes into the nearly two-hour runtime, the drop off goes haywire. This leads to a series of clumsy suspense sequences, shootouts, and escape attempts that often feel disconnected from one another. Even as the locals change, shifting from Nicaragua to El Salvador to Costa Rica, the editing manages to be both listless and jagged, rarely settling into a steady rhythm.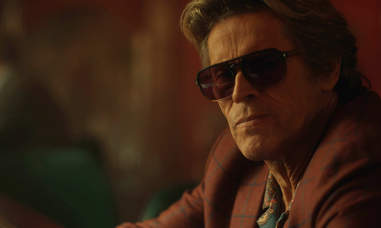 Laura T Magruder/Netflix
It's normal for characters in espionage yarns and journalism dramas to have hidden agendas: moles double cross each other, sources sell out one another, and whiskey-sipping government bureaucrats pass manila folders back and forth in smoke-filled rooms. But the characters here are often unreadable. Occasionally, Rees and her collaborators locate the right tone, allowing Hathaway to play off the swirling chaos around her with her cutting intelligence and empathetic presence. Even in the movie's most bewildering scenes, like a passage involving a resort owner played by Toby Jones, she holds your attention. The same can't be said of Ben Affleck, who struggles to find a read on his cypher-like suit.
In brief moments and stray shots, like in Hathaway's phone calls with her daughter at boarding school, you can get a sense of the stronger movie possibly lurking in this material. Rees, who also directed 2011's queer coming-of-age narrative Pariah and 2015's HBO blues biopic Bessie, remains a gifted visual stylist, and if a recent New York Times Magazine profile is any indication, she has no shortage of possibly brilliant, provocative ideas. Again, it makes you wonder what happened here. The Last Thing He Wanted is more frustrating than bad and more puzzling than bland. It's the type of big swing that makes you wish you were on set watching the filmmaker and the actors work instead of watching the actual movie they ended up releasing.
Need help finding something to watch? Sign up here for our weekly Streamail newsletter to get streaming recommendations delivered straight to your inbox.