The Linda Lindas Are the Next Great Punk Band
The teenage band is determined to inspire change with their infectious pop punk.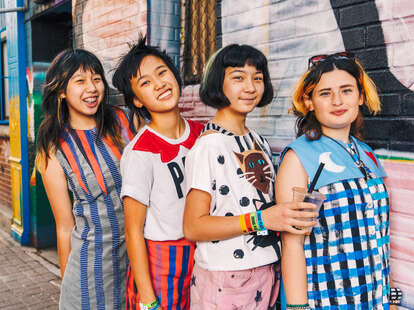 The coolest band in the world is hours away from playing their first-ever headlining show in NYC and there's only one thing at the top of their to-do list. Before they sound check, they are determined to get bubble tea. Luckily, Lazy Sundaes in the Lower East Side is just a few blocks away from Mercury Lounge where they are playing.
Trying different boba places on every tour stop has become a ritual for the latest punk band you need to know, The Linda Lindas. Well, it's become their sole tour ritual—the LA-based four-piece made up of 11-, 14-, 15-, and 17-year-old teenage girls just played their first slate of shows outside of their home state, following the March release of their debut album Growing Up. The group has made the rounds in the LA scene for the past few years and gained support from other musicians like riot grrrl pioneer Kathleen Hanna of Bikini Kill, but ever since a video went viral in spring 2021 of them performing their original song "Racist, Sexist Boy," and landing a record deal with alternative purveyors Epitaph Records shortly after, they've been well on their way to rock stardom.
"We get boba all the time—all the time," says guitarist Bela Salazar. "Our goal for when we travel is in every place we have to find two boba places to try."
"If they have it," adds bassist/vocalist Eloise Wong. (As the group features two sisters, a cousin, and a lifelong family friend, the close quartet frequently finishes each other's sentences.) Salazar continues, "This is the first run at it. We were staying in the desert and we did not find any. We did get ice cream, though." San Francisco, they say, was a success. And so is New York, where they visited Tiger Sugar in Koreatown and now Lazy Sundaes.
"We haven't been to this place before, so this is exciting," says guitarist/vocalist Lucia de la Garza. "I wanted to get the Korean Shaved Ice." She did, and it looks so sugary and delectable that, before she even has a sip, her younger sister, drummer/vocalist Mila de la Garza, says, "You have to let me have some of that." (Mila herself got a Thai Iced Tea, Salazar ordered a Rose Matcha, and Wong went with a hot Jasmine Green Tea.)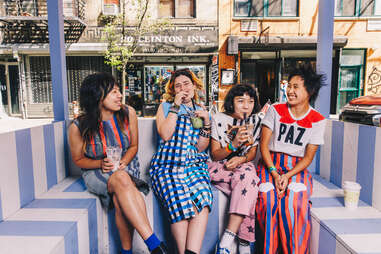 Homework, on the other hand, doesn't get as much attention from the middle and high schoolers. "I'm so behind on my homework," Eloise groans, as the rest of the group responds with a collective, "Same!" while they drink their tea and discuss what a whirlwind their week-long, first trip to NYC as a band has been. When there's four nights of shows to play with '90s punk legends Jawbreaker, homework can be hard to get to, even if school resumes as soon as they head back to LA. But, hey, that's pretty punk—and The Linda Lindas seemed destined to be the next generation's punk icons, already feeling fully formed with smart, hook-heavy pop punk songs and a plan to change the world before most of them can drive.
The Linda Lindas began as a one-off live project before the four-piece decided to write their own music (or, for some band members, even really learn how to play their instruments). The group came together when some of their parents, who are involved in the LA arts scene, heard that the event Girlschool LA was looking for an all-kid band to back Kristin Kontrol of Dum Dum Girls for a performance. A series of other gigs followed, so naturally they became an official band. Just months later in 2019, they ended up opening for their idols, Bikini Kill. That caught the attention of longtime Bikini Kill fan Amy Poehler, who asked the teen group to appear in and record music for her Netflix film Moxie. Eventually, they also caught the attention of the entire internet when "Racist, Sexist Boy" blew up.
The song was written after Mila experienced an incident at school when a classmate told her that his father instructed him to avoid Chinese people. It struck audiences not only because of how matter-of-fact and relatable its lyrics about facing bigotry were, but because of how defiantly they declare, "We rebuild what you destroy."
"It seemed like all of these things were coming to light then," Lucia says of the time they were inspired to write the song, when hate crimes against AAPI people were on the rise and they had become more familiar with the Black Lives Matter movement. "I think a lot of things aren't talked about, a lot of things are normalized and brushed over," she adds. "[Society tends to] ignore oppression, and that's really frustrating."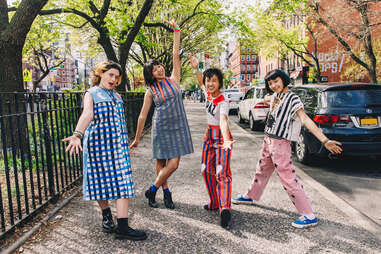 That frustration, compelling them to speak out, is why they continue to make music. Eloise says, "The songs that we write are a reflection of how we're feeling and the world around us. [Songwriting is] a good outlet to express feelings in, otherwise these thoughts and emotions would all be bottled up inside." It's punk they turn to specifically—not only because the more unadulterated and riotous, the better—but because, to them, "punk is about amplifying your voice when no one else will." It's something the band is known to say, "doing it yourself, doing what you want, and doing what matters to you," as Eloise explains. Like other punk bands before them—from the Sex Pistols' political disillusionment to riot grrrl's feminist message—they're expounding on the genre's political history, just as much as they pull from it sonically, being influenced heavily by early punk acts like The Go-Gos and contemporary ones like Paramore.
You can sense how much they're students of punk in their politically charged anthems like "Racist, Sexist Boy" or the album track "Fine," but that rebellious fervor is on their other songs, too. Much of Growing Up explores the anxiety surrounding adolescence ("Talking to Myself") and the weight of being just one person trying to take a stand ("Oh!"). But within all of those songs is a hint of optimism—especially in their title track where they exclaim, "We'll sing to people and show / What it means to be young and growing up."
Bela says, "During the time we wrote the album, there was a lot of negativity in the world, and it was nice to write something positive. I mean, sometimes life sucks, but there's always positives, and it's just about trying to find those things and celebrate them, even if they're small."
At their sold-out Mercury Lounge show, everybody was dancing—from leather jacket-clad adult punks to kids in light-up shoes, who the band invited to the front row. Their jokes about putting off their homework were a hit among the grown-ups, but you couldn't help but notice how much of an impact their songs must've had on young fans in the crowd. The band even stopped playing for a moment to ask the crowd to let a young girl through so she could get a better view, and girls with brightly dyed hair in their tweens sang every word to songs from the new record, despite it being out for only a few weeks. They say it's one of their favorite things to see kids singing along because, among their aims to inspire people in general, they especially want to inspire kids to do "whatever they want to do."
"A lot of the time as a kid, you feel really helpless or you don't see yourself in the media," Lucia says. "You can't see yourself doing anything that you might want to do, and it's hard. I think that we still feel that way—figuring out how to be kids, but also be in a band." Nevertheless, they hope that kids see them on stage and decide to be a catalyst for change, too—whether that's by picking up an instrument and starting their own band, or however they see fit.
"I think anyone can change the world if they want to," says Eloise.
It just happens to be through music that they're starting conversations and a youth riot of their own. "Music is really a connective art that can be anything. It's more than words—it's like a piece of somebody, and a way of relating to people and letting them know that they're not alone in what they're feeling," Lucia says. "A lot of people need to know that their story matters and they have the right to feel like they matter."
On their song "Remember." Lucia sings, "Maybe tomorrow will be / bigger, better, bolder / Maybe today was just the / Calm before the storm." Whether you see it in their live show or hear it on their record, you get the sense that these four and their music absolutely have the power to create something that's "bigger, better, bolder."
It feels like "the calm before the storm" of their career, too. This summer, they'll be playing shows with Yeah Yeah Yeahs—checking another dream group to play with off their wish list. They still call their dreams of playing with Debbie Harry and Joan Jett a "reach," but despite that, they seem very confident in their larger goal that their music can inspire change. Between the homework that they neglect, finding boba in every city they go to, and trying different spicy snacks, they've got a world to save.