Everything We Know About 'The Mandalorian' Season 2
Where Baby Yoda and co. are headed in another season of the Star Wars TV series.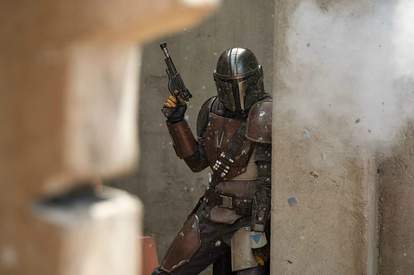 The Mandalorian was basically reason number one for any Star Wars-head worth their Craitian salt to subscribe to the new Disney+ streaming service, and as the most notable franchise-based original series so far, it's the biggest original show Disney+ has right now while we wait for the upcoming Marvel shows. It's also really, really good, and after its short but sweet eight-episode first season was over and the show had dropped its season finale twist, everyone wanted to know when we would be getting more. The good news is that the show will return in 2020. We've got answers to all your questions about the new season right here. 
Has The Mandalorian been renewed?
Yes, it has -- Disney gave it a two-season commitment out of the gate. On the same morning that the Season 1 finale hit the streaming service, creator Jon Favreau posted the Instagram above that featured a green-skinned Gamorrean and announced that filming for the second season was underway. We might be meeting a few more classic Star Wars aliens in the new season.
What's the Season 2 release date?
Sooner than we thought! While Favreau's original post saying "Fall 2020" was vague about details, Disney chairman Bob Iger confirmed on an earnings call that Season 2 would be coming in October of this year. Better start planning your Baby Yoda-including Halloween couple's costume early.
Production had wrapped by March, according to this Instagram post from Gina Carano, so it looks like nothing needed to be delayed because of the pandemic and Season 2 is on track for October. Exciting!
Who will be in the Season 2 cast?
The cast hasn't been announced officially, but it's safe to say that Pedro Pascal will be back under the helmet as the title character (real name: Din Djarin), along with recurring co-stars Gina Carano, who plays Mando's buddy Cara Dune, and Carl Weathers, as bounty-hunter guild leader Greef Karga. And, yes, obviously Baby Yoda (we will never call him "The Child," sorry, Disney) will be back for more fun and memeing, too.
As for recurring antagonists, you'd have to bet that Giancarlo Esposito, who plays the evil Moff Gideon, will return, given that he was last seen wielding his insanely cool Darksaber. It's unclear whether Fennec Shand, the bounty hunter played by Ming-Na Wen in Episode 5, survived, but theoretically she could still be in the mix. Not so, Werner Herzog's dead-as-an-unnamed-doornail "The Client," who hired the Mandalorian to recover Baby Yoda.
There will be a number of new characters in the mix -- well, new to The Mandalorian, but not new to the Star Wars canon. In March, Rosario Dawson confirmed she will be playing Ahsoka Tano, a Togruta jedi who was once Anakin Skywalker's Padawan. If the name doesn't immediately throw you into fits of excitement, you might want to check out The Clone Wars, which just aired its final amazing season on Disney+. And that's not all: Katee Sackhoff, who voices the character Bo-Katan Kryze in The Clone Wars and Star Wars Rebels, will be playing her character in live-action on The Mandalorian. In both shows, Bo-Katan was at the center of a big plot surrounding the Darksaber, so we can probably assume Season 2 will have a loooot to do with that. 
Sci-fi legend Michael Biehn (Aliens, The Abyss) has been cast as a so-far unnamed bounty hunter from Mando's past, and Timothy Olyphant (Justified, The Santa Clarita Diet) has been added to the show as a mysterious, unknown character. 
Will they finally stop trudging through desert planets? 
Probably not, but we can hope. 
Need help finding something to watch? Sign up here for our weekly Streamail newsletter to get streaming recommendations delivered straight to your inbox.
Emma Stefansky is a staff entertainment writer at Thrillist. Follow her on Twitter @stefabsky.