Upon its 2017 debut, The Marvelous Mrs. Maisel, a series from whip-smart showrunners Amy Sherman-Palladino and Dan Palladino (Gilmore Girls) about a '50s Jewish housewife-turned-stand-up-comic, quickly became a popular hit and critical darling for Amazon. In just two seasons, the series starring Rachel Brosnahan has racked up awards, winning two Golden Globes and five Emmys for Season 1, and two more Emmys from five nominations at the recent 2019 Emmy Awards. Simply put, fans can't get enough of the witty, strong-willed Midge Maisel, her bold brand of comedy, and her tumultuous family life. 
So it made sense that the tech giant confirmed a third season back in May 2018, well before Season 2 had even aired. With the latest installment (that may be part of a four- or five-season arc) officially green lit and production already underway, here's what we know about Season 3 of The Marvelous Mrs. Maisel. 
When is the The Marvelous Mrs. Maisel Season 3 release date?
In August 2019, Amazon announced Season 3 will be released on Friday, December 6. 
Is there a trailer?
Amazon shared the first full-length look at the upcoming season in mid-October. It features shots of Midge Maisel (Rachel Brosnahan) and Susie (Alex Borstein) embarking on Midge's first-ever comedy tour, or what she calls "the first of a million tours." She's shown cracking jokes at what looks like a handful of grand venues, as well as hot Havana-inspired clubs, and is said to be hitting the road to LA, Chicago, and Miami. It definitely looks like this season will be the show's biggest yet, and sounds like Midge is controlling her own fate even more than ever. She says in the clip, "I am for the first time in my life taking charge of my own destiny," and it's hard not to believe her and feel the excitement of what's to come. 
How many episodes will there be in Season 3?
TVLine reported that Season 3 will feature eight episodes. That's the same number of episodes as the show's debut season, but two shy of Season 2's 10. That means there may be fewer quippy lines to savor like your favorite Carnegie Deli sandwich, but it's all in Sherman-Palladino's hands, as she said with the "flexibility" that Amazon's given the series, they're not trying to rush their ideas and hope "everything good gets on screen."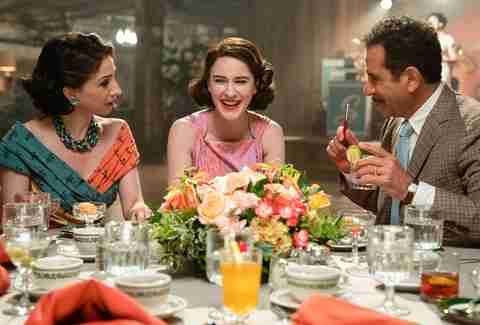 Who is in The Marvelous Mrs. Maisel Season 3 cast?
The show obviously would be nothing without the titular funny lady, so star Rachel Brosnahan is reprising her role as the beloved Midge Maisel. Other key characters, including Alex Borstein's Susie Myerson, are confirmed to return, along with family members like Michael Zegen's Joel, Tony Shalhoub's Abe, Marin Hinkle's Rose, Kevin Pollak's Moishe, and Caroline Aaron's Shirley. 
As for last season's heartthrob Zachary Levi, who played Dr. Benjamin Ettenberg, the doctor Midge fell for in the Catskills, it's unclear whether or not their flame will continue to burn into Season 3. It hasn't been announced if he'll be back, although Levi told The Hollywood Reporter, "If there's an opportunity to come back and wrap [Ben and Midge's] storyline up, I would love to." Season 2 left the Upper West Side doctor's relationship with Midge at a crossroads, having had his proposal turned down as she decided to leave him in New York in order to go on tour -- but since he's supportive of her career, there could definitely be room to tie up any loose ends between them. 
Are there any new cast members?
In April 2019, Deadline announced that Sterling K. Brown (This Is Us, Black Panther) joined the cast as a recurring member, set to appear in three episodes. Little is known about his role, other than it's likely he'll be sharing the screen with Brosnahan because when the actor took to social media to share he'd been added to the cast, he said, "I'm getting together with Midge and it's going to be awesome." In fact, Brosnahan herself may have had a hand in getting the Emmy-winning actor on the series, as she's made it very clear she's a fan and went so far to interrupt a 2019 SAG red carpet interview to beg him to appear on the series. 
Variety reported in late May that Cary Elwes (The Princess Bride, Robin Hood: Men in Tights) and Stephanie Hsu (The Path, Set It Up) are also new additions to the show, but like Brown, their roles are being kept under wraps, and it's unclear how often they'll appear. 
What will Season 3 be about?
At the end of Season 2, Midge was presented with the potentially life-changing opportunity to join musician Shy Baldwin (Leroy McClain) on tour as the opening comedic act, a gig she felt compelled to take. This sets up Season 3 to follow her on this new adventure, and as Sherman-Palladino told Variety, it means The Marvelous Mrs. Maisel is now becoming "a bigger show because the story has to push out." She added, "[Midge's] journey this year that we've set out for her is it's the first time she's setting out as a road comic, it's the first time she's getting paid for this, it's the first time she's going to have consistency, and she's dealing with audiences that aren't her people… That is going to bring its own story twist to it, we're definitely going to some different places in Season 3."
Family dynamics have always been at the core of the series, and will continue to be a part of the plot. While Midge's parents, the Weissmans, have been wary of her career path up until now, Rose still has yet to see her daughter perform and Abe is just now learning how serious she is, so their attitude might see a change. Those two also have another grandchild on the way, as their son Noah (Will Brill) and his wife Astrid (Justine Lupe) are expecting -- which should be interesting, given the recent reveal that Noah works for the CIA. 
We do know that one romantic relationship won't continue to develop in the forthcoming season. Midge may have spent one night with her ex, Joel, before setting off on tour, but Brosnahan stressed to Variety that this was based in "comfort" and wasn't meant to imply the two will rekindle their relationship in the future. Michael Zegen, who plays Joel, also reiterated to Town & Country that despite the history between them, "he would be holding her back" were they to get back together. Will she come back to Dr. Ettenberg, meet someone on the road, or remain ingle and stay true to the series' feminist form?
Where is Season 3 set?
The New York-centric period piece will still find itself in Manhattan's Upper West Side and its iconic comedy clubs (and delis), but the show is also headed south for at least part of Season 3. Season 2 found Midge in Paris and the Catskills, and it sounds like her comedy tour is now taking her to Miami, according to ET. Tony Shalhoub (Abe Weissman) let it slip back in February 2019 before filming began that there were plans to take production to the Sunshine State, saying, "I think I've heard that we're going to Miami in June… I don't know what that [entails]. It's about [Midge's] tour, but that's all I got."
With Midge's tour seemingly a large focus of Season 3, it can also be assumed that a couple other eclectic stops will be featured in the upcoming installment. But Midge wearing incredible tropical patterns and performing in Floridian '50s clubs? Yes, please!
We'll have to wait to see if that's what we can expect from The Marvelous Mrs. Maisel's third season when it arrives likely sometime later this year. In the meantime, though, continue to check back, as we'll update this post as more information is announced.