The Masked Singer is easily one of the more deranged shows on network television, a space already full of deranged shows. Recreated from its wildly popular Korean counterpart, the Fox mystery-singer series, where celebs don ridiculously labor-intensive (and no doubt expensive) costumes that reflect their inner non-publicized turmoil, captured audiences last year, crowning The Monster, aka T-Pain, its first ever American victor. Now it's back for Season 2 with more impressive celebrity singers and more elaborate costumes, while the judging panel -- Robin Thicke, Jenny McCarthy, Nicole Sherzinger, and, punching bag for the rest, Ken Jeong -- remains as loathsome as ever.
We at Thrillist love a deranged TV property, and so this year, we're going all in on our predictions for The Masked Singer with this official Power Ranking. We'll tune in each week, track and rerank our favorite vocalists, explain who got the boot, and generally spend far too much time mulling over who remains in maximum security lockdown behind those goddamn freaky masks.
Recommended Video
'Last Week Tonight' Writer Josh Gondelman Takes Shots, Talks About Working For John Oliver
11. Ladybug
The Ladybug gives us a lot to unpack, to be honest. The look of the costume is slightly menacing, what with its Queen of Hearts aesthetic and blank eyes, and yet the Ladybug herself seems sweet, almost meek, beneath all of her finery. Clearly, getting up on the Masked Singer stage was an emotional experience for her, and her intro references all sorts of drama in her past. But then to make matters even more confusing, she has a powerful belt that serves her well when interpreting the likes of Bonnie Tyler and Pat Benatar. The judges have pinned her as possibly the scion of a famous Hollywood family, which sounds about right. But the truth is: The Ladybug is a mystery we have yet to fully unravel. 
Costume: 7/10, love the evil Queen of Hearts look!!!!
What they've sung so far: "Holding Out for a Hero," Bonnie Tyler, "Hit Me With Your Best Shot," Pat Benatar
Who we think they are: Noah Cyrus?
Judges' guesses: Lily Collins, Willow Smith, Lindsey Lohan, Jaime Lynn Spears
10. Tree
When you think of a tree, you probably think of a trunk, branches, green leaves, maybe some flowers if you're feeling wild. You probably don't think of the Masked Singer's version of a tree, which is essentially a cone-shaped layered costume made of tinsel and pink tights inspired by the kind of thing you can buy in your local Michael's around Christmastime. As a matter of fact, something having to do with the holiday season is one of the Tree's clues, as is the fact that she might be a television cooking personality. Like a bunch of contestants this season, she hinted at the fact that singing live may not be what she's really known for. Whoever she is, she's got a great voice but keeping up with the remaining contestants is only going to get tougher.
Costume: 1/10, low-budget party hat stack
What they've sung so far: "High Hopes," Panic! At the Disco
Who we think they are: Rachael Ray?????
Judges' guesses: Beverly D'Angelo, Zooey Deschanel (nooooo), Rachael Ray, Wendi McLendon-Covey
9. Penguin
The Penguin, for all her clues about a possible comedian whose career was deemed over at some point, gives us very little to go off of. Compared to the rest of the costumes, hers is quite discreet without many flourishes outside of the silver dome on the top of her bird head, which makes us think of tin foil hat truthers. One thing that's really bugging us: Pinned to her dressing room mirror are two pictures of unidentified white ladies -- perhaps the same unidentified white lady -- that we feel strongly might be a big indicator as to who this could be, for some psychotic reason. Anyway, she's probably not a trained singer, but she does have tons of flamboyant stage presence, which could take her far in this show. 
Costume: 5/10, like their first song
What they've sung so far: "The Middle," Zedd, Maren Morris & Grey; "Worth It," Fifth Harmony
Who we think they are: Literally no idea!!!!
Judges' guesses: Melissa McCarthy, Megan Mullally, Kathy Griffin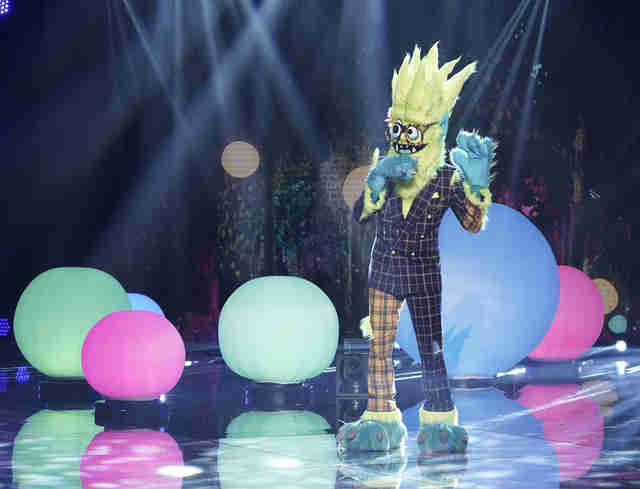 8. Thingamajig
Thingamajig immediately attracted our attention by virtue of being a giant green furry monster wearing a plaid suit and cool glasses, and being this season's tallest contestant, it makes us think he's an off-season or retired sports man. Identity aside, Thingamagjig started the show strong, wooing the judges with his strong vocal performances. He might have a real shot at this thing if he keeps it up.
Costume: 5/10, I don't understand it and it makes me uncomfortable
What they've sung so far: "Easy Like Sunday Morning," Lionel Richie; "Rainbow," Kacey Musgraves
Who we think they are: Kevin Garnett promoting Uncut Gems, Magic Johnson
Judges' guesses: Michael Strahan, Dennis Rodman
7. Flower
It's always the ones you don't expect. After the Flower stepped out gingerly onstage and delivered her clues on her first night -- cooking? fashion? Empire? -- she proved she could hit the high notes with a rousing Dolly Parton cover. And, excuse us, were those whistle tones?? She sounds like a trained singer, but maybe she's someone we haven't seen onstage for a while and the timbre of her voice makes us think, maybe she's Macy Gray??? But the chef and fashion clues are throwing us off. Whoever she is, we love all the glitter.
Costume: 8/10, very gorgeous, seems hard to live in
What they've sung so far: "9 to 5," Dolly Parton
Who we think they are: Macy Gray
Judges' guesses: Tina Turner, Angela Bassett, Taraji P. Henson, Patti LaBelle, Jessie J, Bjork (ha ha ha)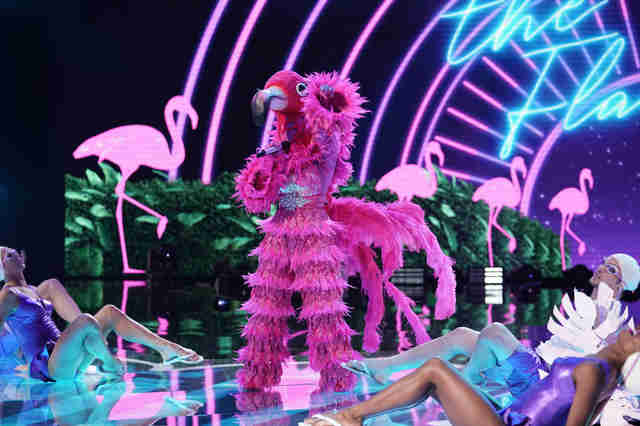 6. Flamingo
Flamingo is yet another tricky one in this year's batch of singers. From her clues, she's seemingly cultivated a space for herself online -- YouTube? Instagram? Vine?? -- in maybe the makeup or wellness space. That could very well be a diversion as glittery as the Flamingo's bird nose; someone like YouTuber Jenna Marbles got her big viral break parodying makeup tutorials, so who's to say it's not someone poking fun at that, or another celeb with a massive online following? (Though she's too energetic a performer to be a Kardashian.) We literally have no good guesses who's behind this mask, even after her second performance and clue package -- triple threat? she went to a medical training program??? -- but we admire their presence on stage, which certainly takes up a whole lot of space.
Costume: 9/10, feather pants, large tail!!!!
What they've sung so far: "Sucker," Jonas Brothers; "Footloose," Kenny Loggins
Who we think they are: Jenna Marbles, Lele Pons, Miranda Sings aka Colleen Ballinger
Judges' gusses: "Someone from Danity Kane," Olivia Jade, Kandi Burruss, Tia Mowry, Fantasia, Adrienne Bailon
5. Mr. Fox
There is something deeply upsetting about the steampunk Fox's performance. Maybe it's the steampunk lady doing the robot as he sings. Maybe it's the fact that he chose Maroon 5's "This Love," a song which I'm not sure anyone has listened to unironically since 2003 or 2004, as his debut performance. Maybe it's his Phantom of the Opera energy. Anyway, his voice is good so he's definitely in this for the long haul. 
Costume: 5/10, why is it steampunk…?
What they've sung so far: "This Love," Maroon 5
Who we think they are: If you look at YouTube comments below the video of Fox, there's a consensus: It's Wayne Brady of Whose Line Is It Anyway? Right? Honestly, it would make complete sense. Now, where the fuck is Drew Carey? 
Judges' guesses: Leslie Odom Jr, Anthony Mackie, Tyrese Gibson, Jamie Foxx
4. Leopard
The Leopard is a real head-scratcher, thanks to an intro that was entirely misdirect. Cloaked in a regal gown and using a British accent, the Leopard gave the impression that he was a fallen from grace (female) celebrity. But when he sang he came out with a booming, low voice that had the judges screaming some variation of: "It's a guy!!!!!!!!" Now here's the thing: I don't really expect The Masked Singer to be sensitive, but there was something a little bit gross about this whole gambit to me. Of course, I shouldn't have expected Jenny McCarthy to give a lecture on how gender is not a binary. What was I thinking? Anyway, the Leopard is one of the most interesting performers, a true talent who is clearly having fun with this whole thing. 
Costume: 10/10, beautiful and stunning
What they've sung so far: "Somebody to Love," Queen; "Respect," Aretha Franklin; "Stitches," Shawn Mendes
Who we think they are: Honestly, no idea. Reddit has posed Seal as a possibility. Sure, why not! 
Judges' guesses: Billy Porter, Robbie Williams, Jamie Foxx
3. Black Widow
It's a time-tested fact: when you want to be seen as super edgy, go to Hot Topic and get yourself some spiderweb tights. The Masked Singer's Black Widow takes this advice to an extreme, dressing up in a full-body spider costume, complete with spider-head crown and distressingly proportional spider abdomen, to show us all that she's a lot darker than we might have imagined. Having been "packaged" her entire life, according to the clues, Black Widow is about to bust out with some surprises that aren't what we expect from her, including twerking all over the stage. 
Costume: 9/10, edgy and weird, kinda gross but in a cool way
What they've sung so far: "I Wanna Dance With Somebody (remix)," Whitney Houston; "Before He Cheats," Carrie Underwood
Who we think they are: Raven Symoné -- known Sagittarius! 
Judges' guesses: Amber Riley, Yvette Nicole Brown, Sherri Shepherd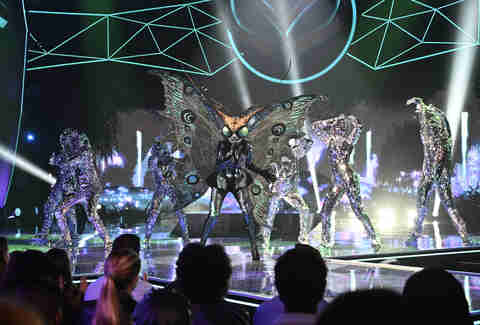 2. Butterfly
Here's the thing: Butterfly definitely seems like she's a singer. After all, she opens up with a song like "Bang Bang," originally performed by heavy hitter vocalists Ariana Grande and Jessie J. Her clues are confounding, though. She's probably British, given that she calls London her home; she's also possibly religious given that her intro had a reference to "church." (Or maybe she has a song that refers to "church"? Is she Hozier???) The butterfly costume also implies she's gone through some kind of metamorphosis. We want more Butterfly!
Costume: 10/10, very intricate, looks heavy
What they've sung so far: "Bang Bang," Ariana Grande, Nicki Minaj, Jessie J; "Livin' on a Prayer," Bon Jovi
Who we think they are: Duffy???? Estelle???? 
Judges' guesses: "definitely a singer," Cara Delevingne, Mel B, Fantasia, Diana Ross (???), Patti LaBelle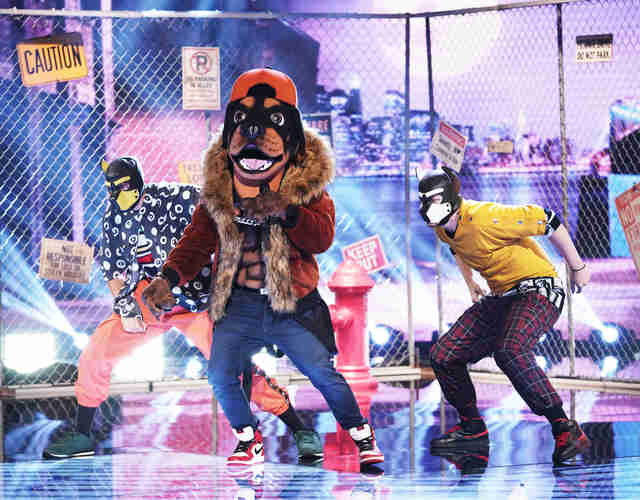 1. Rottweiler
The whole point of The Masked Singer is to be pleasantly surprised by any given contestant's secret skill at popping those high notes, but none of last night's signers was as pleasantly surprising as the Rottweiler, who busted out onstage with "Maneater," flaunting his fur-trimmed jacket and shiny chain and pretty much bringing the house down in less than a minute. His voice (especially that bold vibrato) sounds SO familiar -- almost like American Idol winner Chris Daughtry, who, if you think about it, does line up pretty well with the clues Rottweiler has given us so far. He was in a competition… he rose to fame nearly "overnight"... he even referenced Daughtry's hit "It's Not Over." We might have this one cracked.
Costume: 10/10, spray-painted six pack, I'm horny
What they've sung so far: "Maneater," Hall & Oates
Who we think they are: Chris Daughtry
Judge's guesses: Russell Wilson, Brian Littrell, Nick Lachey, JC Chasez, "Fall Out Boy, Incubus, Bruno Mars"
Who was eliminated?
Unmaskings and therefore spoilers ahead.
Skeleton, aka Paul Shaffer
Skeleton, we're sorry to see you go before Halloween! But the spooky bones with a tophat was unmasked on his second performance, revealing himself to be Paul Shaffer, David Letterman's former band leader. The clues were kinda: On the first night of competition we discovered that the skeleton costume is probably largely in reference to the fact that this competitor is likely pretty old. No shame! He's still got plenty of moves. He's likely not a natural singer, but he knows how to sell a tune, and he gave off comedian vibes. We'll miss the Skeleton's chaotic energy.
Costume: 7/10, very Dia de los Muertos
What they've sung so far: "Rapper's Delight," Sugar Hill Gang; "Hard to Handle," The Black Crowes; "Are You Gonna Be My Girl?" by Jet
Who we think they are: Seth Macfarlane???
Judges' guesses: Martin Short, "like a Jason Alexander," Jon Cryer, Nathan Lane, Dana Carvey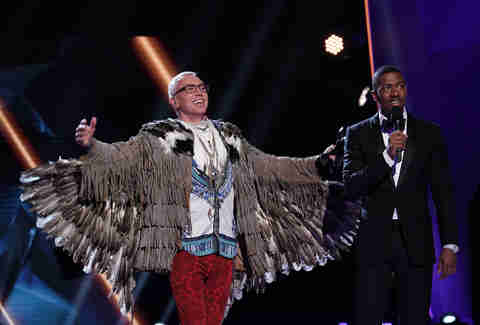 Eagle, aka Dr. Drew
Even before Season 2 started, the Eagle seemed at a disadvantage. What's with the all-American getup? In 2019? We weren't in love with with the aesthetic, and when we got to his package his clues -- he's a genius who's spent his life listening to people, he's breaking out -- and broke into a Meat Loaf song with a semi-operatic voice, it upended our suspicions that this could be someone like Kid Rock. But we did NOT see TV psychologist Dr. Drew Pinksy coming. 
Costume: 1/10, not a visionary
What they sang: "I Would Do Anything for Love," Meat Loaf; "These Boots Are Made for Walking," Nancy Sinatra
Who we thought they were: Like, Kid Rock or some shit. 
Judges' guesses: Bret Michaels, Pauly Shore, Howard Stern, Adam Carolla, Jeff Foxworthy
Panda, aka Laila Ali
The Panda -- as adorable as her costume was -- never seemed like a real competitor. Her singing just wasn't that strong. It was immediately clear she was someone who wasn't as famous as her dad who she looks up to dearly, since that was what her intro was all about. Robin Thicke quickly pinpointed Laila Ali as the one behind the mask before she even picked up her mic, and for once we gotta say: Good job, Robin Thicke.
Costume: 8/10, cute jacket and pom hat
What they sang: "Stronger (What Doesn't Kill You)," Kelly Clarkson; "All I Do Is Win," DJ Khaled
Who we thought they were: Laila Ali seemed like an obvious choice.
Judges' guesses: Laila Ali, Martha Stewart, Venus Williams, Ronda Rousey, Queen Latifah
Egg, aka Johnny Weir
In our Slack chat the day of the premiere, we all voiced our biggest fear at the same time: what if Egg, who has swiftly become the much-memed face of this season's competition, gets booted in the very first episode? Unfortunately, that's exactly what happened. No more Egg -- a tragedy! The judges picked up pretty quickly that he was probably some kind of professional skater -- ice skater -- thanks to his clues, which referenced skating and "going for the gold." Plus, his love of fashion and crystal-studded outfit made it pretty clear that we've definitely seen his like in the rink once or twice. Weir is an Olympian, a fashion designer, and a television commentator, who has talked up ice skating competitions at the Winter Olympics, the red carpet at the Oscars, and the Kentucky Derby with co-commentator Tara Lipinski. And he can actually sing pretty well! Is there anything Johnny can't do??? (Win The Masked Singer, I guess)
Costume: 10/10, Egg is still king
What they sang: "Just Dance," Lady Gaga; "One Way or Another," Blondie
Who we thought they were: The second coming, TONY HAWK BABY, Shaun White, Adam Rippon
Judges' guesses: not Tony Hawk, Johnny Weir, Adam Rippon, Jonathan Van Ness, Christian Siriano
Ice Cream, aka Ninja
We could sense something was wrong with the Ice Cream from the beginning, and it did not take long to discover what illness plagued him: He's a gamer. Ice Cream was revealed at the end of episode 1 to be Tyler Blevins, aka Ninja, one of the most-watched Twitch (and now Mixer) streamers rose to gaming superstardom through his Fortnite livestreams (though he started off as a pro Halo e-sports player). He's gamed with Drake, Travis Scott, and NFLer Juju Smith-Schuster on his livestream, which has attracted its share of controversy for his stance against gaming with women ("out of respect for his wife") and dropping a racial slur. Despite Ninja's massive audience, it boggles the mind that a Fortnite guy with a book out about how to game real good made it onto network television.
Costume: 4/10, cool idea but head too big
What they sang: "Old Town Road," Lil Nas X; "Whip It," Devo
Who we thought they were: Logan Paul
Judges' guesses: Rob Dyrdek, PewDiePie, Diplo, Calvin Harris, Evan Spiegel????, Marshmello, Deadmau5