'Narcos' Creator's New Netflix Series 'The Mechanism' Goes Nowhere on Purpose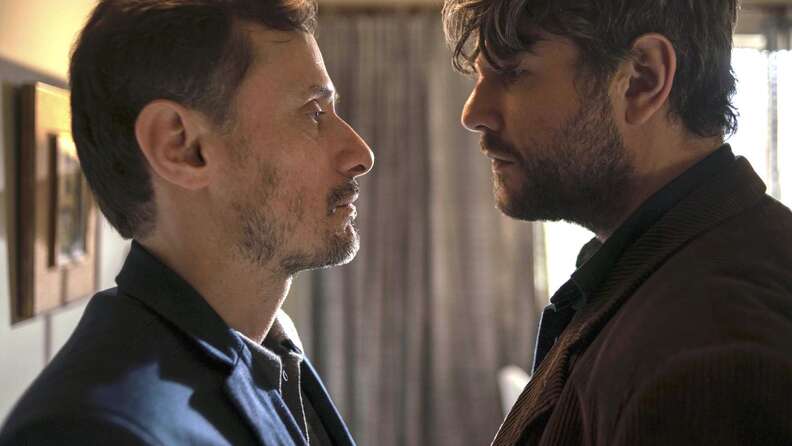 This post contains minor spoilers for The Mechanism.
On the surface, The Mechanism, from Narcos creator Jose Padilha, has everything a crime drama fanatic like myself craves: corrupt politicians, cocky criminals, and completely unhinged law-enforcement officers. But after watching a few episodes of this new Netflix series, I started questioning my own sanity when I realized the plot just repeats itself over and over again like a bad song on loop. By the end, you find out it's intentional, an (unsuccessful) attempt to illustrate the absurdity of a case that has no end in sight. There is never enough evidence to nail master criminal Roberto Ibrahim (Enrique Diaz), so the government keeps releasing from prison. By the end of the series we're told that that is the so-called mecanismo, a broken system serving the country's most villainous men. To illustrate this, The Mechanism takes eight episodes to go nowhere.
It's unfortunate because the premise is intriguing (even if it's not all that original): Set in Brazil and "loosely based on actual events," the plot begins in 2003, at the onset of federal agent Marco Ruffo's (Selton Mello) meltdown. When we find him, he's just made a major breakthrough in the aforementioned case, discovering $39.6 million dollars in currency fraud linked to Roberto, a grade-A criminal, and his longtime enemy from high school. Marco has dedicated years to the case. He nearly lost his wife and child to it when they were ran off the road by one of Roberto's men. He doesn't bother hiding his satisfaction as he sits across from Roberto when he was being hauled off to prison -- despite Roberto's smugness.
So, when Marco brings the mounting evidence of bank statements -- meticulously pieced together after being shredded -- to his superior, he thinks he has finally taken down the mobster. But Roberto evades sentencing with a plea bargain, revealing the names of all his cohorts. Marco loses... and loses it. He quite literally flips tables and breaks office equipment in the middle of the hearing, resulting in a 6-month suspension that soon turns permanent. Afterwards, he narrates his own downfall to the effect of "20 years in the police force and all I get is a rusty used car and a ranch in the countryside." Add to that, his social security isn't enough to support his family. The show jumps ahead 10 years: After sinking into a deep depression and surrounded by a wall of documents in his basement tracing Roberto's every move, Marco attempts suicide. Thankfully he's unsuccessful, but even after waking up from a coma all he could think about is that Roberto is still a free man.
That's when it hit me. The Mechanism isn't about the futility of an open-ended case (because that's corny AF anyway). It's about a grown-ass man who can't get over his high-school enemy. Roberto was the guy who dated Marco's wife Regina (Suzana Ribeiro) first. He was the guy who was too cool for school, so he dropped out and made his first million at a young age. He was also the man who could get away with anything -- and Marco can't rest until he finally puts an end to all of Roberto's good fortune. We've seen shows in which the male lead character can't let go of something that happened way back in high school (Al Bundy, I'm looking at you), but this is a whole new level of pitiful obsession.
It's so bad that Marco encourages his protégé Verena (Caroline Abras) to resume the case from the inside (since he is technically out of the game and presumed by many to be dead) and feed him information so he can continue to obsess over Roberto's case from his dark, basement man cave. At this point, Roberto, ostracized after selling out his crew, has moved on to money laundering schemes with public officials.. Watching him thrive, Verena wanted to finish what Marco started. But after a few years she begins to adopt the obsessive habits of her mentor, even sacrificing her health to try to take down Roberto, despite his many cronies being one step ahead of her every time. Yet again, we're back in this tedious cycle where nothing gets resolved. It is remarkable that a show this short feels like a lifetime to get through because the plot is essentially a hamster wheel.
In fact, we also see Verena sitting across from Roberto in a cop car after one of the several times he's arrested. Like Marco, she too is self-congratulatory. And like before, Roberto is far from worried. He knows he will be free again, and we will all end up in the exact same place at the end of the series that we started. But this time, it's Verena who is suspended after completely going rogue in the case and -- surprise! -- it's Marco who visits her in the hospital after she experiences a health crisis. All of this can be traced back to Marco's high-school hang-up.
We can't even enjoy Abras's great performance or the fact that a woman federal agent is leading a major team in one of the biggest criminal cases in the country, taking down 12 of the 13 perpetrators in the process. Instead, Marco's personal pettiness consumes the plot, "like a cancer," as he repeatedly describes the case throughout the series.
It's too bad, because the book upon which the series is based, La Jato: Judge Sergio Moro and The Backstage of O by journalist Vladimir Netto, sounds far more interesting as it's filled with scandalous accounts of the politicians and contractors involved. Plus, it provides context that highlights this period in Brazil's history, therefore adding significance and a sense of urgency leading to the exposure of the country's biggest corruption case. A 90-minute film would have better served the narrative instead of eight episodes. We really didn't need a full series, especially since it wasn't going to end with a resolution anyway. Netflix could have spared us this one.
Sign up here for our daily Thrillist email and subscribe here for our YouTube channel to get your fix of the best in food/drink/fun.
Candice Frederick is an award-winning journalist and editor (Essence Magazine), founder of Reel Talk Online, podcaster, and freelance TV and film critic. She also serves as a pop culture panelist on the ABC News Digital show, "Real Live." You can find her on Twitter or Facebook.