Reese Witherspoon and Jennifer Aniston's New Apple Show Is Addictive but Frustrating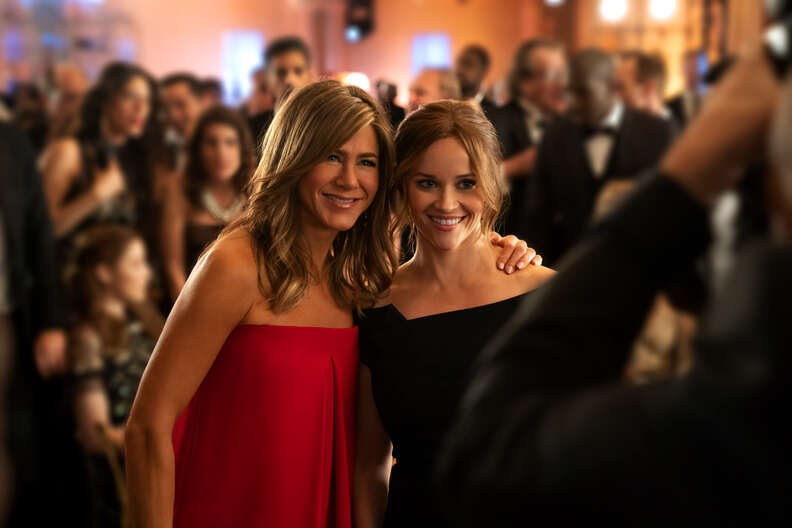 Morning TV shows feel like an anachronism. At this point no one really needs their news served to them by cheery faces on a broadcast network, since most people who are awake have already gotten the day's headlines on their cellphones by the time Good Morning America and Today start broadcasting. But the drama of morning news is eternal. Morning anchors are pitched as "families" to the public, which makes their divorces and turmoil all the more addictive. When Michael Strahan ditches Kelly Ripa for GMA, it's like watching a nasty breakup unfold. More serious transgressions -- like charges of sexual misconduct against Charlie Rose and Matt Lauer -- are framed in the media as betrayals of the public's trust. These are people with whom audiences have shared breakfasts. Apple TV+'s flashy series The Morning Show aims to capitalize on the bizarre loyalties people have to the infotainment they addictively consume over coffee.
Addictive, but frustratingly so, is also a good way of characterizing The Morning Show, which, in the three episodes given to critics, is both maddeningly eye-roll-inducing and also compulsively watchable. I audibly groaned on several occasions, but by the time the third hour ended I found myself eager for more. Inspired by Brian Stelter's book Top of the Morning and run by Kerry Ehrin, The Morning Show uses high-wattage star power and some ripped-from-the-headlines narratives to examine upheaval at a fictional network.
Jennifer Aniston is Alex Levy, a Katie Couric stand-in who in the series' opening moments learns that her beloved co-host Mitch Kessler (Steve Carell) has been fired overnight for sexual misconduct. As Alex's day gets worse in New York, somewhere in West Virginia a spitfire reporter working for a conservative network goes viral when she tells a man what's what at a coal mining protest. That spitfire is Bradley Jackson, played by none other than Reese Witherspoon, for whom the word "spitfire" was coined. Bradley is eventually invited to do an interview on the titular "Morning Show," and eventually, though some labored plot mechanisms, finds herself tapped to replace Mitch.

For a series that would seemingly ride or die on the chemistry of its two leads, The Morning Show keeps Aniston and Witherspoon separated for most of the early episodes. It is, for now, fun to see Aniston in this mode. Her public appeal has always been her likability, but even in her most famous role, Friends' Rachel Green, she exudes a spikiness that she rarely gets to fully explore. As Alex she's trading on both sides of this persona, while also offering some meta commentary on life as a woman in the public eye. Here's hoping the scripts allow her to slow down a little; Alex is in crisis, and that crisis is rarely exhibited in quiet moments.

It's Witherspoon who seems more oddly matched to Bradley, who's a broad collection of tics that feel plucked from her repertoire but don't quite gel together. It's hard to lose sight of the fact that we're watching Reese Witherspoon up there, partially because she seems so ill at ease in the role of neophyte.
The Morning Show ostensibly has a lot to say about the times in which we live, but what it doesn't reveal exactly what the message is in the first three episode. The sticking point in the entire narrative is Mitch, who is clearly a piece of shit but may not be the worst piece of shit in the grand scheme of things. His obvious parallel is Matt Lauer, the once genial-seeming Today host who has been accused of disgusting abuses of power. In one scene, there's even a visual reference to Lauer's infamous button that could lock women in his office.

But Mitch insists he's not as bad as the worst of the wave of sexual harassers that have been exposed, even claiming that he's no Harvey Weinstein. Viewers are subjected to multiple scenes in which Mitch is allowed to voice all of his issues with the #MeToo movement in that familiar "Steve Carell is yelling" tone. It eventually starts to feel suspiciously sympathetic to the #MeToo naysayers, despite the fact that the writers are clearly setting up the other shoe to drop, with Mitch likely exposed as a predator on the same level of as the rest of them.

And yet I'll probably keep watching just to see what it's like when Witherspoon and Aniston finally get to interact more, and to see what random celebs pop up for guest stars and cameos. Mindy Kaling plays a rival anchor! Martin Short is a disgraced famous director! Marcia Gay Harden is a New York magazine reporter! I don't think The Morning Show will reveal anything about network news or the challenges for women in the workplace that I don't already know, but, just like a cooking segment, it has sucked me in.