The Most Important SXSW Moments Ever
Heather Kennedy/Getty Immages Entertainment
Hard to imagine, but true: the annual South by Southwest festival was once a very small, laid-back event. In 1987, the festival touted 15 panels, 15 venues, and 177 showcasing artists. Small stuff.
In 2016, SXSW will boast music, movies, TV, sports, and technology programming, more than a hundred venues, and over 72,000 attendees. Key and Peele will debut a movie. Charli XCX will debut a new EP. There will be tattoo artistry and lucha fighting. President Barack Obama delivered this year's keynote speech. How far the fest has come. How did it get here? Let's look back at the festival's biggest milestones.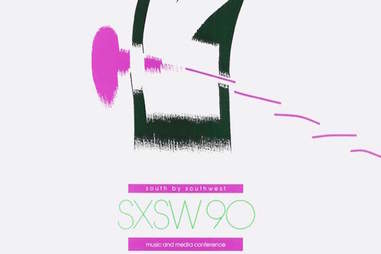 SXSW
1990: SXSW hosts hip-hop showcases for the first time
It's hard to imagine a major music festival without rap and hip-hop in the present day. But in its fourth year, SXSW was still a small regional festival, and hip-hop was poking through to the mainstream culture. Groups such as Def IV and the Ultramagnetic MC's changed the festival forever.
1994: Johnny Cash delivers a musical keynote speech
In the current state of SXSW Music, this doesn't sound like such a big deal. But the Man in Black showing up to a local music fest took SXSW to a whole new level of legitimacy in the eyes of the industry and the general public. Also on the bill that day at Emo's: a little-known one-man band named Beck.
Gal Csilla/Shutterstock
1995: Film and Multimedia (later Interactive) split into two separate festivals
In 1994, SXSW added a "film and multimedia" festival to its existing regional music programming. It was a modest success -- with 600 attendees -- but even Hugh Forrest (still director of Interactive to this day) admits in a recent oral history, "I was designated to head this multimedia thing but didn't have any idea what we meant by the word 'multimedia.'" A year later, the decision was made to split this festival into two new events, with Interactive spotlighting the convergence of media and technology, a slate often referred to as "geek spring break."
Advertisement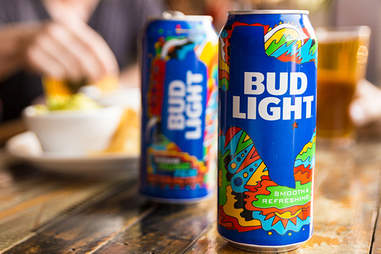 Feeling thirsty? Grab one of these limited-edition Bud Light SXSW cans at bars around town for 16 ounces of ice-cold art. So go ahead, Austin, raise one to right now.
1997: The Flaming Lips Parking Lot Experiment #4
What are now called the Parking Lot Experiments began 1996, in the parking garage of an Oklahoma City mall. Wayne Coyne, lead singer and chief creative mind behind The Flaming Lips, gave each person a unique tape and asked them all to play them in the tape decks of their cars at the same time. Coyne brought this same experiment to SXSW in 1997, calling it "Parking Lot Experiment #4." This particular parking lot experiment consisted of 30 cars and more than 1,000 onlookers. This type of unusual performance art became a staple of the band's concert style, and signaled a turning point in their sound, evidenced by their return performance at SXSW 2006.
1997: Alamo Downtown opens early to be part of the festival
Once upon a time, the Alamo Drafthouse was a small, unassuming venture in Austin, TX. Its first location was a one-screen house on 4th and Colorado St dubbed "the Alamo Downtown." Construction wasn't quite completed in March of 1997, but owners Tim and Karrie League still wanted to be part of the SXSW action. So, they made the place as ready as it could be -- a screen and seats being priorities -- to squeeze in as an official venue of the film festival. Today, it's hard to imagine SXSW without the Alamo. Three of its locations are venues, and the Alamo projection staff lends its services to every official film venue.
2002: First outdoor stage performances at Auditorium Shores
In the new millennium, SXSW was no longer just a regional music festival. There were 1,035 showcasing artists, 63 panels, and 49 venues and stages. Auditorium Shores, a large section of Town Lake Park on the shore of Lady Bird Lake, quickly became a prized spot. This park alone is used to host entire small music festivals, so its adoption meant major artists were going to be a regular thing at the annual event. The Shins, Spoon, Coheed and Cambria, The Flaming Lips, and The Strokes have all played Auditorium Shores since its fest-changing debut.
2005: Mumblecore is born
Austin's filmmaking scene grew in tandem with SXSW, even birthing its own genre. "Mumblecore," a genre known for low production value, an emphasis on dialogue over plot, and naturalistic acting, started as a result of a group of very talented filmmakers who converged at SXSW 2005. Joe Swanberg, Andrew Bujalski, Jay & Mark Duplass -- now running an indie empire with deals at HBO, Netflix, and several movie studios -- all had films in the festival which were linked by this distinctive style.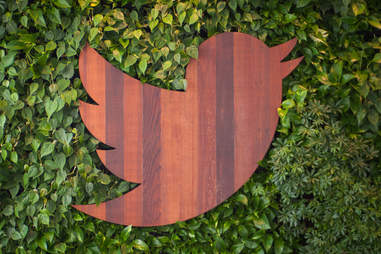 Twitter
2007: Twitter blows up at Interactive
Twitter's debut at Interactive is SXSW lore. It didn't actually happen; officially, the social platform launched nine months prior to the yearly tech event. But as Twitter co-founder Evan Williams muses, "SXSW just chose to blow it up." The company spent serious money filling Austin Convention Center's many corridor flat-screens with demos of the now-ubiquitous social networking platform. These walkways are where makeshift meetings inevitably wind up. Twitter's choice to advertise in the hotspot paid off big time.
Universal Pictures
2007: Knocked Up puts SX on the map as a place to bring adult comedies
SXSW gave a big push to a movie directed by Judd Apatow, who had recently had a hit with his directorial debut, The 40-Year-Old Virgin. This was before Seth Rogen, who had appeared in Apatow's cancelled TV show, Undeclared, was a star, and before Apatow was considered a comedy master. Knocked Up played at the 1,200-seat Paramount Theatre, the festival's largest venue, to a packed crowd. It blew the roof off (I was in attendance for this one, so I promise I'm not mythologizing). The Hollywood get put SXSW on the map as a place to debut and workshop major (mostly R-rated) comedies. Post-2007, SXSW has been the host to films such as Forgetting Sarah Marshall, Harold and Kumar Escape from Guantanamo Bay, The Ten, Bridesmaids, 21 Jump Street, Trainwreck, and as of this week, Keanu.
2007: Amy Winehouse attends the fest in true Amy Winehouse fashion
As the previous two entries attest, 2007 was a big year all around for SXSW. One shining star of the international music scene was Amy Winehouse. Still on the rise in March of that year, SXSW did its bit in propelling the English singer to superstardom. See why in the above video.
2010: Lena Dunham rockets to stardom with the world premiere of Tiny Furniture
Certain talent become synonymous with the film festivals where they blew up. Kevin Smith will always be linked to Clerks debuting at Sundance. Robert De Niro wanted a New York indie haven, so he started Tribeca Film Festival. Lena Dunham is forever linked with SXSW in this way. Her first film at the festival was the (barely) feature-length film Creative Nonfiction, which played as part of the Emerging Visions section in 2009. The next year saw Tiny Furniture, her big breakthrough. She was awarded Best Narrative Feature and became a media darling. Her HBO series Girls would become of the festival's first television premieres.
Bloomberg/Getty Images
2014: Edward Snowden Skypes into SXSW Interactive
One of the biggest international news stories of 2013 was Edward Snowden leaking classified documents to WikiLeaks. Snowden's whistleblowing brought up the United States' security standards, and the ever-shrinking notion of American privacy. Snowden (perhaps unknowingly) sacrificed his ability to return freely to the US with his actions. That didn't stop him from Skyping into a packed conference hall at SX Interactive in 2014. The announcement of the panel prompted one Kansas congressman, Mike Pompeo, to write to the organizers of the event and ask them to rescind the invitation.
2014: Kanye and Jay Z perform for 3,000 people
In 2014, Kanye West and Jay Z, two of the biggest personalities in the music world, teamed up to create an unforgettable night at SXSW. Performing atop a pair of 12ft-tall video cubes, a setup similar to the one built for their 2011-2012 Watch the Throne tour, the two whipped the crowd into a frenzy with their greatest hits from the album. The set included one track done three times in a row, all the way through. The 3,000 people filling the soon-to-be-demolished Austin Music Hall lost their minds.
2015: Interactive adds SXstyle
Interactive surpassed both Music and Film in attendance years ago, thanks to limitless flexibility. In 2015, SXSW solidified fashion-focused meet-ups, a fest staple since 2010, as SXstyle, a section exploring the relationship between the fashion industry, culture, art, and technology. It's part pf SXSW's Convergence Track, which also serves fans of food (SouthBites), sports (SXsports), and comedy (SXcomedy). While some thought it strange for the fashion industry to become folded into the Interactive banner rather than Music or Film, SXstyle has been a smashing success, featuring panels on innovative design, wearable technology, and fashion apps.
Sign up here for our daily Thrillist email, and get your fix of the best in food/drink/fun.
Stephanie Huettner is a regular contributor at Film Autonomy. Find her: @steps_huettner.