The 10 Most Infamous Nightclubs in New York's History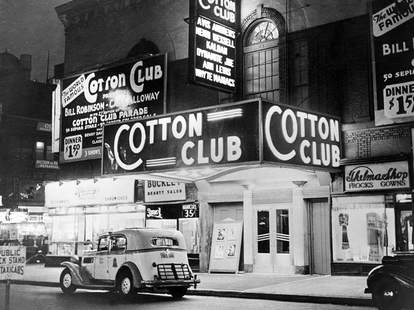 In the city that loves to boast about how little it sleeps, the nightclub has been the center of the universe since Jazz Age hipsters started desperately flocking to the Cotton Club in the 1920s. From the days of all-night jazz jams and hangover cures at the Plaza, the club scene in New York has undergone evolutions of pop, disco, punk, rock, trance, EDM and anything else that provides a sufficiently loud musical backdrop for sex, scandal, and the occasional bout of mayhem. Above all, these ten clubs mastered the art of debauchery and earned a place in nightlife history.
The Cotton Club
Owned by an English gangster whose nickname, "The Killer", was as intimidating as it was unsubtle, the the apex Jazz Age nightclub made nightly violations of the Volstead Act as elaborate a spectacle as possible. Owner Madden opened the club in the heart of Harlem, establishing a boozy destination for downtown white folks who wanted to hear the new Jazz craze sweeping the streets above 100th. Every night, caravans of upper crust clients would flock to the Cotton's plantation decor and old-South, white-gloved service, ignoring Prohibition with gusto as Duke Ellington led the house band. Each night was an out-and-out Bacchanal, with Cab Calloway, Ellington, Louis Armstrong and others soundtracking the vice emporium with songs like "Reefer Blues," "Kicking the Gong Around" (20's slang for using opium), and "Kokey Joe."
Richard Drew/AP Photo
Studio 54
At 254 West 54th Street, Steve Rubell and Ian Schrager converted a former opera house into the most notorious nightclub of the disco era. Rubell's maxim: "The key to a good party is filling a room with guests more interesting than you" -- which meant Rick James, David Bowie, Andy Warhol, and hundreds of people you've never heard of, but who were living very weird lives in the late 1970s. Rubell always made certain that those interesting people always returned for another party, whether that meant building a corral in the middle of the club for equine-enthusiast Dolly Parton, plying Bianca Jagger with a flock of white doves, or giving Warhol a steel barrel full of cash. How all of this was financed might be the best Studio 54 story of all: when the IRS shut things down in 1979, it was because they'd found garbage bags of money (and drugs) stashed throughout the club.
Stephanie Chernikowski/Michael Ochs Archives/Getty
Max's Kansas City
Rock stars and artists treated Max's like their own personal living room. Warhol reportedly held court in the club's private back room almost nightly, with substances and strip teases always on the docket. The famous flocked there to rock (Bruce Springsteen famously played there in 1972), work (Debbie Harry waitressed there), hang out (Tom Waits and William Burroughs were regulars), and… well, one time Jim Morrison apparently couldn't make it to the restroom, so he urinated in a wine bottle all night and then handed it to his waitress. Other stories range from pure chaos -- Sid Vicious getting thrown in jail for attacking Patti Smith's brother -- to pure, weird boredom: David Bowie recalled meeting Iggy Pop there, describing it as "Me, Iggy, and Lou Reed at one table with absolutely nothing to say to each other, just looking at each other's eye makeup."
Mary Altaffer/AP Photo
CBGB
The brick Bowery building where the neat and orderly John Varvatos store currently resides, used to be CBGB, the grimy, smelly, sweaty, occasionally puke-covered epicenter of underground rock. Patti Smith, The Ramones, The Talking Heads, and dozens of other avant-garde, head-smashing and crowd-punching punk acts made this club -- which closed in the mid-aughts after giving The Strokes one of their biggest boosts. But CBGB's was not for the faint of heart, fights and substance-fueled violence were a regular occurrence, including Dee-Dee Ramone who reportedly had frequent jealous battles with his groupie girlfriend (picture broken beer bottle threats and smashed windshields). Even Emmy-award winning actor Peter Dinklage has a scar to remember (from his neck to his eye-brow to be exact) after getting kneed in the temple while rocking a bit too hard on stage with his former band, "Whizzy," which ironically became good practice for his future on Game of Thrones.
Yale Joel/The LIFE Picture Collection/Getty
Palladium Dance Hall
The epitome of old-school New York Latin class, Palladium Dance Hall hosted everyone from Celia Cruz, the most famous Cuban songstress of all time, to Desi Arnaz to a parade of jazz greats so long it would have put a New Orleans funeral to shame. From 1948 to 1966, Palladium was home to the best suited, most unbelievably cool people in the world. As told by Steven Joseph Loza, in the book, Tito Puente and the Making of Latin Music, Sammy Davis Jr. and Jackson Pollack could regularly be found on the dance floor, while Marlon Brando could be seen on the bongos. And if that wasn't enough of a draw, every Wednesday night, the club hosted a contest, from pie-eating and singing challenges, to "best legs" competitions between its famous dancers and attractive clubgoers.
Advertisement
Courtesy of STARZ
Drugs, deals, and the wildest parties you can imagine. It all goes down at Truth, the hottest fictional club on cable, set in New York City. Download the STARZ app to catch up on Power now, and don't miss the Season 3 premiere on Sunday, July 17 at 9pm on STARZ.
Mario Ruiz/The LIFE Images Collection/Getty
Nell's Nightclub
A reaction to the giant, airplane hangar-esque discos that had permeated the city during the 1970s, Nell's was a Jazz, Reggae and Hip-Hop dance club with a capacity of just 250. Even the most famous personalities in the city weren't guaranteed entry into the exclusive venue. Nell's is probably most famous to younger readers, though, as a regular hangout of American Psycho's fictional character Patrick Bateman. Nell's was the epitome of the exclusivity-obsessed 1980s, that not even the rich and famous could get into. Cher was notably denied entrance, because -- as owner/namesake Nell Campbell recalled in the Times, she didn't have "the right look." And Nell herself took her partying very seriously, as Michael Musto once recounted seeing her "voguing naked on top of [one of Nell's] tables." A stark contrast to the club's Victorian grandeur decor.
SZ Photo/Alamy
Club El Morocco
Founded by Italian immigrant John Perona as a speakeasy on 52nd street in 1931, El Morocco would become famous for its ostentatious zebra print interior as well as parade of the glamorous people (including Marilyn Monroe) who sought an escape from Prohibition. All though this club was all about breaking the rules, there was a distinct order to things. Nanette Fabray, a Tony-winning Broadway leading lady of the 40's, recalled in the Times, "Oh, it was a ritual…. One entered, and there was a hierarchy of where one sat…. You didn't dare go unless you were perfectly turned out." And no one could be better suited for the elegant glamour than Jackie O herself, who visited the club with both her husbands. However, JFK reportedly preferred the quieter Champagne Room, a private dining area in the back of the club.
Suzanne Vlamis/AP Photo
Danceteria
A four floor nightclub, Danceteria was the multiplex of the club kid world. Rather than seeing one performance, one group of attractive people, or one bartender doing flip-tricks from Cocktail, they could see four at once. Madonna didn't just party there, but the first time she performed live was at Danceteria in 1982, during her "shock the world" days. The list of incredible acts that also got their starts here includes The Cure, Depeche Mode, The Beastie Boys, and Billy Idol. Even LL Cool J worked the elevators. What made Danceteria such a perfect mess was the fact that the club received after-hours runoff from every type of club imaginable, from Studio 54 to CBGB to hip hop clubs to gay bars. That melting pot of madness is the stuff legends are made of.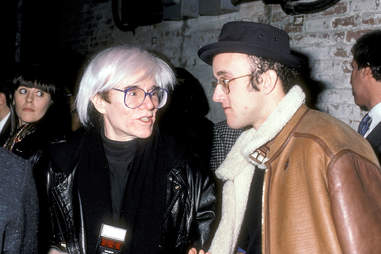 Ron Galella/WireImage
The Tunnel
The Tunnel might well have started the trend of making the most popular clubs in New York a) in Chelsea, b) in historic buildings ironically co-opted for neon graffiti 1990s-type purposes and c) enormous. Featuring dance cages and several private rooms dispersed along its distinctive narrow length, The Tunnel was a mecca for club kids of all types who flooded to its specialty rooms designed like Victorian libraries, S&M dungeons, and other whimsical locales, including a separate gay bar in the back of the tunnel. In the ultimate party move, the club was shut down in 2001 by the liquor authority after years of negative attention from Mayor Rudy Giuliani as part of his "quality of life" campaign and the owner was deported to Canada in 2003.
Waring Abbott/Getty
Le Clique
Studio 54 took its disco very seriously, Le Clique was all about the Moulin Rouge. Clowns, burlesque artists, acrobats, punks and strippers ran wild in the club, which was never located in the same place twice, moving from space to space in Manhattan and using any suitably large venue. Strippers were dispatched throughout the club to help encourage some serious debauchery. Le Clique, with its gold-painted dancers and anything-goes atmosphere, was a tiny slice of Ancient Rome for New Yorkers (those who could find its latest location, of course). One of its most legendary parties, besting even the infamous pajama party and "Lovers and Other Strangers" theme, was "The Greatest Show on Earth," a Barnum-esque debauch featuring everything from ringleaders to trained animals to acrobats—all naked.