Apparently, where you live has a lot to do with your emoji choice, and Nevada has eggplant ON. THE. MIND.
SwiftKey, the maker of a free, popular IOS and Android keyboard app, looked at over one billion emoji sent by its users to find out what the most popular emoji is in every US state.
Some of the results are obvious -- Hawaii uses the surfer emoji the most, and New Hampshire loves the leaf emoji. California is big on the taxi emoji, which is likely linked to the popularity of Uber and Lyft. And New York uses the Statue of Liberty emoji the most, which is honestly just pretty obscene. 
SwiftKey notes that Nevada's most-used emojis "can be interpreted as quite debaucherous" -- the state frequently uses the eggplant, open mouth, key, and video camera emojis. You keep doing you, weirdos of Nevada.
But Nevada's weird emoji usage can't hold a candle to Rhode Island's: the state is apparently a big user of the tan heel emoji, which is really just preposterous. Why is that coming up in conversation so often? Did a freak accident cause an Ann Taylor Loft truck to spill thousands of weird tan heels into the streets of Rhode Island? Please let us know, we are concerned. 
Check out the full map below: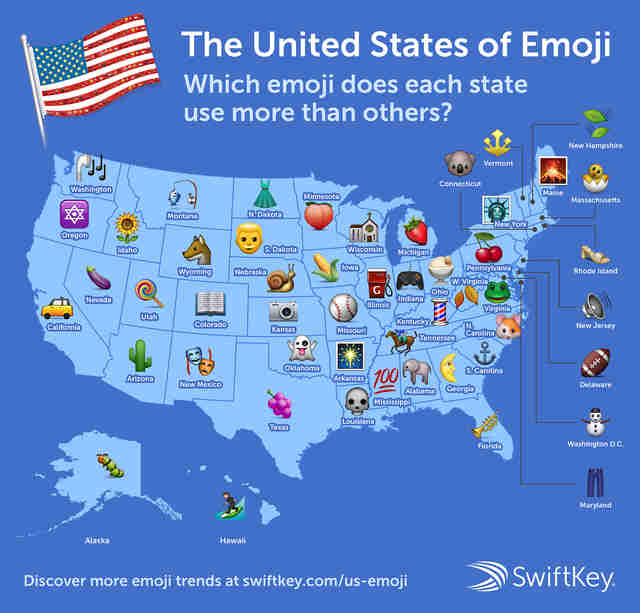 Lucy Meilus is a staff writer for Thrillist and will forever use the salsa dancer at inappropriate moments. Follow her on Twitter at @Lucymeilus and send news tips to news@thrillist.com.