The Big Reason Tom Cruise's 'The Mummy' Flopped in America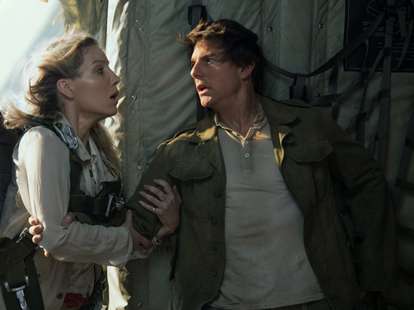 Tom Cruise is cursed. That's both a major plot-point in his latest action blockbuster, the reboot of Universal's The Mummy franchise designed to kick off the studio's "Dark Universe" of monster movies, and a recurring motif in stories written about the 54 year-old actor. This weekend, Variety published an article about his "slow-motion career meltdown" and the box office news has been similarly brutal: The Mummy scarred up only $32.2 million domestically, which is less than any of the entries in the Brendan Fraser version of the series. Even The Rock-led spinoff The Scorpion King had a better opening.
The good news for the beleaguered Cruise? Like the entirely forgettable Pirates of the Caribbean sequel from a couple weeks ago, the movie has performed well overseas, where the idea of watching Tom Cruise fight a mummy is presumably more of a draw. In fact, The Mummy is Cruise's biggest international opening ever, taking in $141.8 million across the globe, which should slowly but surely haul in enough to recoup the movie's reported $125 million production budget.
In the coming weeks, you'll probably see a lot of chin-scratching about the fall-out of Cruise's latest flop, which arrives in a summer filled with underperforming IP-peddling titles like King Arthur: Legend of the Sword, Alien: Covenant, and Baywatch. There's also a growing sense that Cruise has lost his way as a performer, chasing franchises instead of working with adventurous filmmakers.
I've got my own theory: The Mummy is bad. Let me explain.
Tom Cruise doesn't typically make movies as bad as The Mummy. That's not to say that he hasn't starred in his fair share of crap -- never forget Rock of Ages -- but even the more forgettable ones, like last year's NCIS-episode-stretched-into-a-movie action flick Jack Reacher: Never Go Back, feel like they've been labored over by the famously hands-on star. Like he's keeping a sinking ship afloat through pure charisma.
That ability to perform creative damage control on his own projects has served him well over the years, even as many fans soured on his public persona following the creepy Scientology stories and the Oprah couch incident. As a producer, he's guided the Mission: Impossible series to new critical and commercial heights in recent years. It's unsurprising to read that Cruise was in the editing room "trying to save" The Mummy. You can picture him sweating in an edit bay. Caring too much is baked into the Cruise persona.
It's not that you don't pick up musty whiffs of that trademark intensity in The Mummy. As ex-military adventure boy Nick Morton, Tom Cruise gets his ass kicked in this movie. Looking like a toy fresh from an unboxing video, he gets tossed around in a free-falling airplane, shot out of a truck, beat up by Russell Crowe, and stabbed in the chest by Sofia Boutella's undead title character. If you like watching Cruise's limbs flop around, in between bouts of fussed over exposition, there are worse ways to spend 107 minutes.
But this might be the first time that Cruise's ability to bend the blockbuster apparatus to his will has been completely overwhelmed by the grueling and increasingly globalized concerns of the market place. Director Alex Kurtzman, who co-wrote the first two Star Trek and Transformers movies, shoots the whole film in a gray haze that never allow the elaborate stunt scenes to pop. Judging from this movie, he doesn't have the eye for action that Transformers auteur Michael Bay brought to his scripts or Star Trek director J.J. Abrams's ease with character.
Similarly, the three credited screenwriters -- Christopher McQuarrie, David Koepp, and Dylan Kussman -- provide Cruise's protagonist with an enjoyable "scoundrel finds a heart" arc, but unlike the actor's 2014 vehicle Edge of Tomorrow, which followed a soldier on the path to self-awareness, the writers don't pair him off against a worthy adversary like Emily Blunt. He's adrift here. Digging for treasure that's not there.
But there's reason for hope. Even if Universal wants him to be the Iron Man of the Dark Universe, which seems unlikely given the film's tepid reception, there's still reason to believe that Cruise, one of our most hard-working movie stars, will rediscover his mojo. Later this year, he's starring in American Made, a drug-trafficking thriller that re-teams him with Edge of Tomorrow director Doug Liman. It might not lift the curse, or save the Dark Universe, but it should give him a chance to crawl out of the tomb-like hole he's currently in.
Sign up here for our daily Thrillist email and subscribe here for our YouTube channel to get your fix of the best in food/drink/fun.