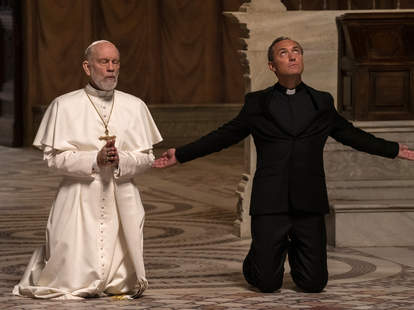 HBO's 'The New Pope' Finale Embraced Mystery After a Surprising Papal Face-off
True to its defiant spirit, The New Pope ended with an unruly child blowing a raspberry in the face of papal authority. Seen only from a distance -- perhaps via a stray meme or leaked set photos of a buff Jude Law walking through rows of volleyball-playing models in swimsuits -- Paolo Sorrentino's religious drama could be viewed as a exercise in cheeky provocation, like the prestige TV version of the famous Piss Christ photo. Make no mistake: The New Pope, like its predecessor The Young Pope, pursued blasphemy with winking brio. But in its followup season, the series also continued to ask thoughtful, profound questions even while sticking its tongue out. 
Those tensions played out in the remixed opening title sequence of the finale, which edited images of Law's Pope Pius XIII strutting his stuff on the beach with John Malkovich's Pope John Paul III moving through the halls of the Vatican as "All Along the Watchtower" blared over the soundtrack. John Paul, embattled following public scandal and personal struggle involving his drug use, and Pius, empowered after rising from the dead, walked in opposite directions and with varying degrees of confidence; still, they were headed to the same location. In the end, the two popes weren't as different as they perhaps first appeared.
HBO
After wrapping up much of the behind-the-scenes drama in the penultimate episode, providing Cardinal Voiello (the great Silvio Orlando) with a chance to take down his many rivals and closing the loop on the (often confusing) financial corruption plotline, Sorrentino shifted his gaze back to Pius and John Paul III. This season was all about delayed gratification: Pius spent multiple episodes in a coma, only making the occasional ghost-like intrusion on the action, and, even after he returned, he didn't meet John Paul III until the very last episode. Having waited so long, you might expect some real fireworks when the two finally confront one another and vie for power.
The stage was set for a knock-down, drag-out fight. With the Church facing an international crisis, Pius arrives in John Paul III's chambers dressed in a priest's simple black garb while the sitting Pope sports the more opulent uniform of his office. Instead of an explosive exchange, Pius -- or let's just call him by his given name here, Lenny -- quickly got the upper hand from the more diminutive John Paul III, who offered up his ring to be kissed and was immediately rebuked. Lenny is a man of action and he insists that they find a way to rescue the young students and teacher being held hostage on the island of Ventotene. "We have six children and a priest to save," says Lenny. "This is not a job for the police. This is a job for the church."
To convince John Paul III of his power, Lenny reveals that he heard what the older pope said at his brother's grave. Again, it's an acknowledgement that Lenny does possess a saint-like gift; there's nothing ambiguous about his supernatural abilities. But he's not a completely flawless, egoless Superman-like figure either -- even if he does end up rescuing the children in Ventotene by simply showing up, causing the terrorists to reveal their true identities. No, it's not Islamic fundamentalists. It's Esther and the other members of the Lenny-obsessed group that waited outside the hospital for weeks while he was in his coma. They only wanted to catch a glimpse of their savior, which he had withheld from the public since his first days of taking the papacy.
With that ticking time-bomb of a plot issue resolved, the episode is free to do normal New Pope things, like having characters give lengthy public speeches and partake in wordy exchanges about matters of faith. Of those scenes, Lenny's address to the public, which includes an acknowledgement that "God has the answers," and his subsequent Christ-like crowd-surfing, has the most visual and thematic potency. The way the music ended and the scene continued, the rustling of outstretched hands providing the only soundtrack, perfectly encapsulates the appeal of Sorrentino's heightened dramaic style. 
HBO
With the season now over, Lenny walking into the sea and John Paul III leaving the office to finally make peace with his parents, it's safe to say that The New Pope was an often gripping, occasionally maddening experiment. Did Esther's journey really amount to anything? Was it wise to make John Paul III such a cypher for much of the season's run? Will Marilyn Manson return for Season 3? (Will there be a Season 3?) Toying with ideas about fanaticism and compromise, the writing occasionally felt less confident than the direction, which continued to stun with surreal touches and pleasing compositions. Even when it was frustrating, The New Pope was a joy to pour over and dissect. 
Mostly, it just needed more Lenny. Law's performance as the character was a big part of what elevated the first season, and while it was fun to see actors like Orlando and Mark Ivanir, who plays the mysterious string-puller Bauer, get more room to shine here, the show often felt like it was missing its star. Particularly in the middle of the season, the drama grew repetitive. Always game to chew scenery and stare down his fellow actors, Malkovich did his best with a role that required him to keep his distance from certain volatile emotions and play his true intentions close to his vest. His John Paul III never quite found a way to fill Lenny's flashy red shoes.
So, it's not surprising that the best episode of The New Pope, the only episode that equalled the greatness of the first season, was Episode 7, a parable-like chamber drama that focussed on Lenny's return and his attempt to cure his doctor's son of a fatal illness. That episode was haunting, beautiful, and achingly sad. Despite some grand gestures and winning flourishes, the finale never quite achieved the same moving effect, settling instead for the type of melancholy "life goes on" note that many shows hit as they draw to a close. It turns out The New Pope needed the young pope all along. 
Need help finding something to watch? Sign up here for our weekly Streamail newsletter to get streaming recommendations delivered straight to your inbox.