The 30 New Rules of Summer
<a href="https://flic.kr/p/6URieP" rel="nofollow" target="_blank">Olivier Engel/Flickr</a>
As a certain TV character might say, "Winter is coming." Always. It's one of 5,000 reasons not to waste the golden opportunities of summer, when going outside is a pleasure, not a soul-sucking ordeal, and just about every activity -- decency laws permitting -- could and should involve a patio. To help you make it to fall with zero regrets, we've compiled 30 commandments that will keep you on track for the summer you imagined, not the summer that just, kind of… happened.
<a href="https://flic.kr/p/5Hn8rG" rel="nofollow" target="_blank">J. Stephen Conn/Flickr</a>
1. Leave the state you live in
A road trip is always an option, but at the very least, there's zero excuse for staying within the confines of your state all summer long. Get crazy and cross a line or two.
 
2. Eat at patio restaurants only
You have fall, winter, and what passes for spring to sit inside, so why stare forlornly out the window when al fresco dining is finally possible?
 
3. Climb *something*
Tree, mountain, the stairs instead of the elevator for once… Flip the bird to the nigh fatally slippery stairs of winter and do something Instagram-worthy.
<a href="https://www.facebook.com/CelebrateBklyn/photos/a.10152275879989209.1073741867.22563989208/10152275880099209/" rel="nofollow" target="_blank">David Andrako/Celebrate Brooklyn/Facebook</a>
4. Go to at least one outdoor concert every week
Summer is the season of free stuff, so don't be the guy who whines about ticket prices for 3/4 of the year then "just wasn't that into their last album." Similarly…
 
5. Don't avoid the public outdoor movie just because there are like a million other people going
Just get a really big blanket and stake out some territory. For all the rest of the audience knows, you have ten friends in the hotdog line; only you know it's just you and a sandwich.
<a href="https://www.flickr.com/photos/80535871@N00/3750543652/" rel="nofollow" target="_blank">Rebecca Shley/Flickr</a>
6. Buy lemonade from the little kid in your hood
Support small businesses, by small people. Also, you need the electrolytes.
 
7. Sit outside a high-trafficked area in a lawn chair wearing a tank top and fanning yourself with an object that is not a fan
And to anyone who walks by, say, "Woo! Hot out today."
 
8. Ride with the top down
In the event that you haven't completely cracked life, renting a convertible will temporarily make you feel like you have.
<a href="https://flic.kr/p/7QCnnu" rel="nofollow" target="_blank">Mega Udonitron/Flickr</a>
9. Get up: sleep is for the weak, not the weekend
Hibernating under the covers is for winter, when "here" is most definitely superior to "out there," but summer won't come to you, so carpe diem.
 
10. Ignore the annual MC Hammer pants trend
It was a bad idea last time, it's a bad idea this time. Again, cargo shorts.
 
11. Play cards on a picnic table
Pretend it's summer camp.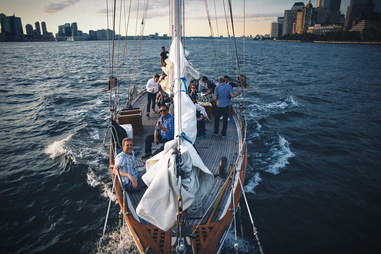 <a href="https://www.flickr.com/photos/mondayne/9526005131/" rel="nofollow" target="_blank">Elliott Scott/Flickr</a>
12. Abandon dry land
Whether it's on a booze cruise, schooner, canoe, kayak, or inner tube, summer must involve screaming "I'm king of the world!" and/or getting your phone wet then putting it in a bowl of rice.
 
13. Go to a block party
Get to know your neighbors, or someone else's neighbors, by attending a local open-air shindig. And if you can figure out what the rules are, let us know. (Are those donuts for everybody?)
 
14. Be a hero and open the fire hydrant for the neighborhood kids
Then drop your wrench and run away because you're not supposed to do that. 
Advertisement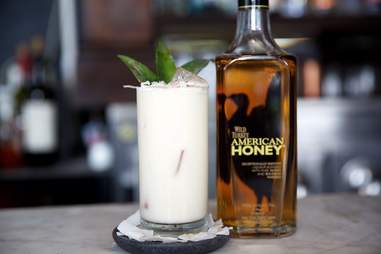 <a href="https://www.flickr.com/photos/aktivioslo/5776289306/" rel="nofollow" target="_blank">aktivioslo/Flickr</a>
15. Don't question the guy working the grill!
200,000 years of man cooking with an open flame and not one has gone by without someone going, "Broham, might want to flip those sabertooth tiger burgers." Make this year the first.
 
16. Go camping, mostly for the s'mores
Nature is fine and all, but keep those priorities straight.
 
17. Fix whatever is stopping your grill from grilling
Out of propane? Need to clean it off since that cookout in 2011? Don't spend another year staring at that sad excuse for an outdoor amenity -- use it.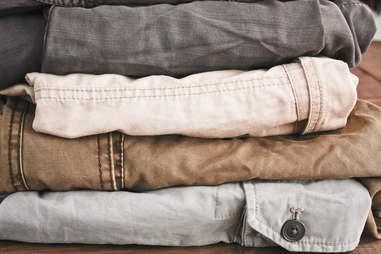 Tom Gowanlock/Shutterstock
18. Go to work in cargo shorts
It's a dress "code" not a dress "law," plus you can turn yourself into a human Swiss army knife. Who's got a bottle opener? You have, in one of these damn pockets.
 
19. Swim in an abandoned mine, quarry, well or similar industrial forgotten structure
It's what Bruce Springsteen would want.
 
20. Don't be "too tired"
Attending the fun thing that's happening after work is hereby compulsory. You cocooned yourself in blankets all winter; it's time to be a (social) butterfly and hit that happy hour. 
<a href="https://www.flickr.com/photos/31218767@N08/10862868063/" rel="nofollow" target="_blank">ECV-on-the-road/Flickr</a>
21. Find a lawn, yell at someone to get off said lawn
Don't have one? Make "make friends with more suburbanites" a summer priority.
 
22. Have a water gun fight
Dampen anyone who has wronged you.
 
23. Eat food with flags in it
From July 4th and parades just about every weekend, to simply "why the hell not?", summer is awash with opportunities to choke on little flags.
 
24. Fry an egg on the street
Don't just say it's hot enough -- prove it.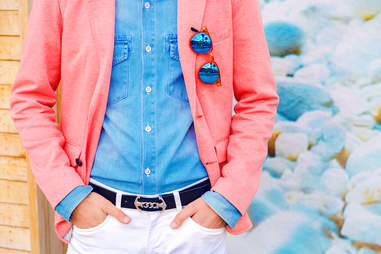 Ann Haritonenko/Shutterstock
25. Wear something coral
And un-pop a button while you're at it. Live a little. Dressing like Darth Vader will be back soon enough. Plus it's working out for Bruno Mars.
 
26. Take an Uber hiatus
Walking and cycling are not only possible, but they are currently pleasant and free. Fund those additional happy hours through self-propulsion.
 
27. Win a thing at a summer carnival
Or hang off of the Ferris wheel threatening to let go unless that one chick goes out with you. It worked in The Notebook.
Fer Gregory/Shutterstock
28. Don't run your own AC
Purchase one movie ticket and stay for eight shows, at least four of which will be by Michael Bay, because summer.
 
29. Watch fireworks
And ask, "Does anyone know what these are for?"
 
30. Play hookey, once
Life, like summer, is short.