Who Plays the Tragic Detective on 'The Night Of'?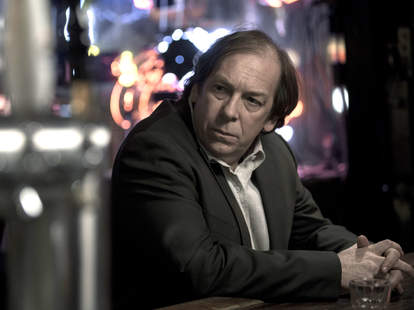 In his first meeting with Riz Ahmed's Nasir Khan, lawyer Jack Stone (John Turturro) calls NYPD Detective Dennis Box a "subtle beast," the kind of guy who always nails his culprits, and without breaking any rules. But on the penultimate episode of The Night Of, Stone catches Box in a rare mode, tampering with evidence for no other reason than to help Naz (pesky inhaler!). It's riveting drama because actor Bill Camp is just like his character Detective Box: a subtle beast. 
The showbiz veteran lurches through the Detective Box role with procedural instinct, a smart-ass tongue, and the heft of 33 years on the job. And it's one of his "nice guy" roles.
"I often will play creepy guys or mean guys," Camp said in a recent interview. "People I know who have seen the episodes are saying, 'It's so nice. You smile and you're a nice guy. You're a good cop.' I think generally, deep down, yes. But after so many years as a homicide cop, after all of the blood, all of the death, and all of that stuff you have to go through, I think that's had an effect on him. Dennis Box has the ability to play both sides of that card. He's not a super-nice guy all the time. It's that duality in him, where you're not really sure which side he falls on. This guy lives in death and murder."
If you're engrossed in Camp's performance like we are, here's everything you'll want to know about the brilliant actor:
Bill Camp in Jason Bourne

| Universal Pictures
The Night Of is only one of Camp's big 2016 moments
Before assuming the role of Det. Box in The Night Of, Camp popped up as a government tracker in the paranormal chase movie Midnight Special, a Treadstone string-puller in this month's Jason Bourne, and one of the standout guest stars in the second season of another HBO drama: The Leftovers (technically a 2015 moment, but all we could talk about in January). Later this year, he'll re-team with Midnight Special director Jeff Nichols for the racial drama Loving, which wowed at the Cannes Film Festival, and appear opposite Matthew McConaughey in the insane-yet-true drama Gold. 
He's an acclaimed stage actor first and foremost
Movies and television appearances are cherries on top of Camp's main career as a theatrical thespian. His Broadway roles include a revered '90s production of The Seagull, 2012's Death of a Salesman (opposite Philip Seymour Hoffman), and this year's The Crucible, which earned him his first Tony nomination. Camp's played every type of role in nearly every major city in America, ranging from Eugene O'Neill's Long Day's Journey Into Night, Steve Martin's play Picasso at the Lapin Agile, and a slew of Shakespearean classics.
When his career first escalated, Camp ditched the acting world and became a waiter
In 2002, after earning an Obie award for his work on Tony Kushner's Homebody/Kabul, Camp moved to California, where his girlfriend (now wife) Elizabeth Marvel starred on the TV series The District. Instead of carving out a place in the film or TV world, he opted for a series of unrelated jobs: landscaper, waiter, cook, and even working at a friend's garage. 
"I think it just helped me have a new appreciation about what it was that I was doing and why I was doing it," Camp recently told the BostonGlobe. "It gave me a healthy perspective in terms of looking at it as a job -- a job that I love -- as opposed to, 'This is my life.'"
Camp was the guy screaming a Macbeth monologue in Birdman
His other brushes with award winners/nominees include 12 Years a Slave, Lincoln, Black Mass, and last year's Brian Wilson biopic Love & Mercy. He should have won his own set of awards for the 2012 Sundance hit Compliance (rent it wherever you stream movies), but that's an argument for another day.
He's a New York guy, so of course he was on Law & Order
Twice, actually. Spot him in 1999's "Disciple," about a weird religious murder, and 2004's "Everybody Loves Raimondo's," revolving around a mob hit on a crime-movie producer, during TNT's next all-weekend Law & Order marathon.
HBO
He enjoyed the hell out of The Night Of, especially working with friend John Turturro
When HBO asked Camp to reflect on the rapport between Box and Jack Stone, he recalled a moment in Episode 2, where the two men locked horns at a vending machine. "Steve [Zaillian, director] saw something at the end that he wanted to get, which was the moment of me walking away from John. His direction to me was -- it was the tiniest little thing and it had to do with a certain lightness: 'John Stone is a clown.' I remember Steve had a huge smile on his face throughout that whole scene; he thought it was going to be really difficult to do. 
"John and I have known each other for quite a long time. So we have a history and there's an ease between us. I love John's energy. He's really fun to act with and I think we just fell into it. We never discussed how this was going to be or that was going to be. I think John and I were just instinctually with each other. Really, as long as I stayed within my character, I just followed his lead."
Sign up here for our daily Thrillist email, and get your fix of the best in food/drink/fun.
Matt Patches is Thrillist's Entertainment editor. He previously wrote for Grantland, Esquire.com, Vulture,
The Hollywood Reporter
, and
The Guardian
. Find him on Twitter @misterpatches.