Who Is the Creepy Dad on 'The Night Of'?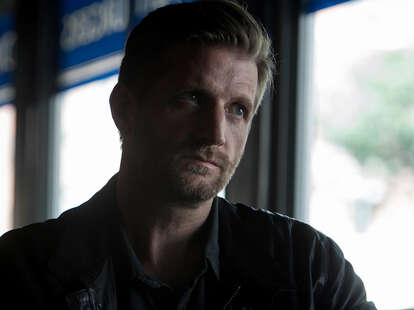 Mild spoilers through tonight's episode of The Night Of ahead.
Last week on The Night Of, the eczema-footed John Stone tracked down one of many missing pieces to the puzzle that is Naz's case: that Don Taylor, the murder victim's stepfather lurking on the courtroom's back benches, is a thrice-bankrupt womanizer with a fat stack of overdue bills. Meanwhile, the brownstone his ex-wife left to the victim is worth a cool $10 million. Last night, Stone tracked down one of Taylor's ex-wives and trailed the guy to his workplace -- and Taylor's reaction was nothing short of piss-your-pants terrifying.
"He's a bit of a scalawag," according to Paul Sparks, the actor playing Don. After watching Don nearly crush John Stone to death with a barbell, we won't argue him on that. Plus, Sparks' air of Where do I know that guy from? lends even more mystery to the character. We might not be able to tell you whether Don did it just yet, but we can help you figure out why he looks so dang familiar.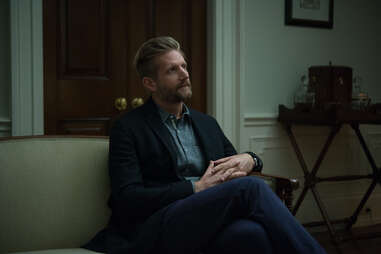 He's nominated for an Emmy on House of Cards
As Thomas Yates, Sparks had the dubious honor of co-writing a book -- and eventually sharing a flirtation -- with Frank Underwood (Kevin Spacey). That performance earned him an Emmy nomination for Outstanding Guest Actor in a Drama Series -- though in an interview with Entertainment Weekly, Sparks said, "I literally have no idea" if he'll be back for HoC's forthcoming Season 5.
He steamed up your screen in The Girlfriend Experience
If your tastes are a little racier, you might recognize Sparks from his work in this spring's The Girlfriend Experience, Lodge Kerrigan and Amy Seimetz's cable-TV remake of the arty Steven Soderbergh movie about a high-end call girl. At the series' start, Christine (Riley Keough) spends her days at an entry-level gig reporting to slick lawyer David (Sparks) -- until they cross professional boundaries and head to the bedroom.
He laid down the law as Agent Miller in Midnight Special...
In this supernatural-tinged Jeff Nichols flick, Sparks played a character Nichols pitched to him as "a little bit of a stick in the mud": one of the FBI agents tracking down Roy Tomlin (Michael Shannon) and his superpowered son. Ironically, Sparks and Shannon are great pals offscreen: as he told a newspaper in his native Oklahoma back in 2013, "Mike is probably one of my best, if not my best friend." They worked together prior to Special, too...
... and broke it as bootlegger Mickey Doyle on Boardwalk Empire
HBO was a good home to him throughout Boardwalk Empire's five-season run. As Sparks explained his character to The New York Times, "He's a gangster without a gang. He's a loner and a bit of a weasel who will say and do whatever." He may have taken a page out of Doyle's lone-wolf playbook to get into Don Taylor's menacing headspace.
And he's no stranger to the stage
Like many NYC-based working actors, Sparks has had quite the theater career. He's been nominated for the Drama Desk Award five times! Oh, and he used to play around town in a rock group, which went by the humble name of Less the Band. Their website doesn't seem to have been updated since 2009, which was probably when Sparks departed for the Boardwalk.
Now that we know more about the guy behind Don Taylor, do we think he's guilty of his stepdaughter's murder? In his 2010 Times interview, Sparks identified a through line in his roles that seems to hold true for Don: "The characters I've played that I like the most are people that have a lot of obstacles... They have a lot of bad things going on. They're seeking to do something good amidst all the detritus around them, and they're aware of how badly they've screwed it up. That kind of self-awareness is tragic."
Tragic, indeed. Jury's still out on whether Don will get wise before next weekend's finale, but he certainly hasn't done much to maintain his innocence thus far.
Sign up here for our daily Thrillist email, and get your fix of the best in food/drink/fun.