How Netflix's 'The OA' Pulled Off Season 2's Unexpected Ending
A spoilery chat with creator Zal Batmanglij and star Jason Isaacs.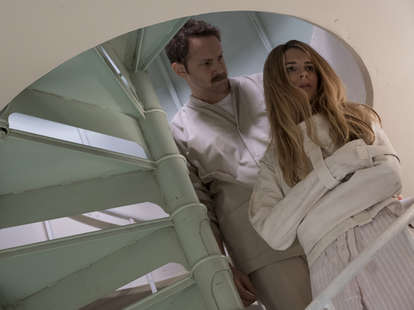 Note: Jason Isaacs personally requested us to append this warning to the top of this article: SPOILER! Please note that this article contains spoilers about the ending of Netflix'sThe OA Part II.
The OA is the kind of show that you can't stop thinking about once you invest in it. What's up with that ending? That octopus? Those tree conversations? The questions spread like branches of ear trees that map out other dimensions. (Does that make any sense? No? Watch the show.) So Thrillist reached out to star Jason Isaacs, who plays ruthless scientist Hap, and series creator Zal Batmanglij to discuss.
But first! A warning. Isaacs, speaking in the thick English brogue he masks for (most) of the show, had a request for us: "All right, but you have to promise me this," he said. "It says, 'spoiler,' then you have to scroll some way down to get to anything that actually ruins it. And then you reiterate it in the first few sentences, because it is such a twist, such an extraordinary twist. It shocked me more than it shocked anybody else when I read it." So, take heed.
The OA tells the continuing story of Prairie (creator Brit Marling), also known as OA, a.k.a. "The Original Angel," a woman who we learned in Season 1 had a near-death experience as a child and who, as an adult, had been imprisoned in a strange experiment by Isaacs' Hap. Season 2 picks up with Prairie, seemingly mortally injured in the Season 1 finale, having hopped dimensions via the magical powers of "movements," and she's been transported to what is essentially a separate timeline of her own life, one in which she isn't a blind adoptee living in the midwest but instead a woman raised by her Russian aristocrat father and who now resides in San Francisco. But in this new universe, Prairie, now called by her birth name Nina, is somehow connected to a high-tech puzzle game that is luring people to a mysterious house that's been making them disappear.
It's all heady, out-there stuff -- luckily, Isaacs and Batmanglij took the time to break some of it down for us. [Final spoiler warning!] The finale is one of those holy-shit-shocking moments that are honestly rare in any media, but Isaacs and Batmanglij are loathe to explain too much about it. They just want you to keep watching.
How did they come up with that ending?
In the final moments of Season 2, Prairie and Hap end up in yet another dimension. When they wake up, they are on the set of a movie or TV show production. Prairie is now being called "Brit." The body Hap has entered is that of "Jason Isaacs," who, in this dimension, is Brit's husband. (That is not the case in real life, as many stories online have pointed out. When asked how he feels about the new interest in his personal life, Isaacs said: "I'm wondering, more importantly, what my wife's reaction to that is, but luckily she doesn't read much on the internet.")
On another TV show, the revelation that a version of our real world exists in the context of the narrative could feel like a tired late-season gambit. But with The OA, it's part of a plan that's been carefully plotted out. Batmanglij said that he and Marling took years to map about the series, after completing their movie The East, and that they hit on the idea for the "third dimension" around 2013. "We thought that the medium really lends itself to Russian nesting-doll style storytelling," Batmanglij explained. As for the "why" of it all -- that's where Batmanglij expressed some reservations in discussing, because he wants the audience to wait and see. It is, after all, carefully plotted. "We sort of know the beginning and ends of every season," he said.
What was it like for Jason Isaacs to play Jason Isaacs?
Isaacs was having dinner with Batmanglij when the latter dropped the bomb as to what was going to happen. "I was having tremendous difficulty understanding what the hell he was talking about," Isaacs remembered. "But then he got to the end and I just went, 'You're fucking kidding me. 'I walked outside the restaurant, he followed me and I walked around the street going, 'I don't understand how that works? What do you mean?' He said, just trust me. It's going to be wild. It's going to be brilliant."
Actually shooting the scene felt "mad" to Isaacs. "You're trying to play the dozens of layers of hidden turmoil that is going on, 'We jumped. We successfully jumped. It is the world I saw, all these people are looking at me, how am I going to pull this off?'" There was also the matter of the accent. Isaacs is from Liverpool, but it's not supposed to be natural for Hap. A scene featuring the character practicing his new voice ended up getting cut. "When we're shooting it's a normal acting thing you have to be that character in that situation," Isaacs said. "In this instance, the character is somebody who has taken over my body so it's possibly more of a challenge than normal."
But what are they trying to say?
I asked both Isaacs and Batmanglij whether the third dimension was meta-commentary on the very nature of performing. Isaacs was reticent to indulge me. "That will be something for the people who are currently writing PhDs on The OA," he said. "And they should wait for [the entire series to air] before drawing conclusions." Batmanglij was a little more willing to expound, revealing that the finale is just expanding on the themes of storytelling established in the first season. "I don't think we as a culture acknowledge how much our bodies are stories," he said. "You know, like, I've got a scar on my lip from when I was two. I got lots of things inside my body, inside my mind, inside my muscle memory that are the stories of my life. So I think that's also something that's very important to us."
Is any of this based on reality?
Well, sort of. Isaacs wasn't researching quantum physics, but Batmanglij and Marling were taking inspiration from real life occurrences. For instance, Old Night, the implausible octopus that appears in the fourth episode, was inspired by a book the two were reading on octopus consciousness. (Batmanglij forgot the title, but there are in fact a number of texts on the subject.) "Brit would come in and tell me all about a book and then I had to go get it and devour it," Batmanglij said. "Octopuses have their brains in their tentacles. So we think, then feel, or feel, then think, but an octopus can think and feel at the same time."
And there's the very real idea of the "tree internet," connected through fungus. "I don't think we think about these things, at least I don't usually think about these in my daily life," Batmanglij added. 'And so when you start reading books about different types of consciousnesses, about the natural world, different animals, and start moving away from a human-centric, "humans at the top of the pyramid" thing and think of us as more of a whole planet..." He continued, crediting Marling's vision: "We're inviting the audience through genre, through fantasy, through metafiction, through secular fiction to look at the world in a different way. Or to maybe at least try."
Will there be more?
At this point Netflix has not announced that a third season is on the way. Isaacs maintained that they have five seasons mapped out, but Batmanglij says that it's not that specific. "People have said that -- I've heard that said around places," he said, elusively. "We have an ongoing story mapped out. It could be less, it could be more. We know how it would end ultimately." Don't expect new episodes imminently, though. You might have to wait another two years. "I hope that there will be a similar gap and we will be able to continue the story in Part III, but let's see, lots of things have to align," the creator said.
Would Batmanglij himself be onscreen?
If Brit Marling exists in the third dimension, could Batmanglij? "Who, me? Who, me? What would ever make you ask that question? I would never be in the show," he responded incredulously.
Sign up here for our daily Thrillist email and subscribe here for our YouTube channel to get your fix of the best in food/drink/fun.