The Five Movements Dance on Netflix's 'The OA,' Explained
Netflix
Netflix
Note:This article was originally published in 2016 following Season 1 of The OA. It contains major spoilers about the first season. We've updated this article with a minor plot details from Season 2, but nothing outright spoiler-y. If you've already seen Season 2, read our recap.
It's hard to discuss Netflix's brain-teasing sci-fi series The OA without talking about the ending of its first season. While those eight episodes are packed with theoretical physics, cosmic visions, and unexplained mysteries, the gripping (and polarizing) conclusion centers around something truly unexpected: a contemporary interpretive dance piece performed in the face of violence.
Referred to as the Five Movements, the routine has the power to raise the dead, facilitate interdimensional travel, and, depending on your interpretation of a key scene, prevent a school shooting. Dancing with the Stars, this is not.
The Five Movements return with a vengeance in Season 2, and we had to ask: How did something so singular and strange end up on a TV show? You can thank Los Angeles-based choreographer Ryan Heffington, who has created innovative routines for musicians like Sia, Arcade Fire, and Sigur Rós. Collaborating again with series creators Brit Marling and Zal Batmanglij (they worked together on the 2013 eco-thriller The East), Heffington created each of the strange, stylized, sweaty maneuvers the characters perform. The show's protagonist Prairie (Marling) learns the first "movement" after a mystical near-death experience and soon becomes an amateur dance instructor herself, running drills with her fellow prisoners in Dr. Hap's creepy underground lab.
Heffington has a similar no-nonsense approach. "It was nice to take it so seriously," he says from his home base of Los Angeles. "There's a fine line when using choreography -- and with the depth of this narrative, particularly -- it could be dangerous or cheesy or fall flat." To learn how he struck that delicate balance, we tried to get Heffington to reveal the secrets the mysterious Five Movements might hold.
How do the Five Movements connect to The OA's larger mythology?
Heffington is quick to point out that many of his recent pieces have strong narrative elements. The megapopular, Grammy-nominated video for Sia's "Chandelier," which features former Dance Moms star Maddie Ziegler, blends constant, frantic movement with vivid, emotional storytelling. In fact, his work on Sia's "Elastic Heart," which sees the pint-sized Ziegler face off against Shia LaBeouf in a steel cage, feels linked to the dancing in captivity found in The OA.
According to Heffington, the process of creating the movements seen on the show involved many conversations and required sharing common reference points with Marling and Batmanglij. "A lot of them were based on natural things," he explains. "Not all animals -- just organic, natural references -- whether its ancient tribal dance, or…" Heffington trails off for a second. "I don't want to give away too much."
The veil of secrecy surrounding The OA is undoubtedly part of its appeal: The show's release date was revealed only a week before it dropped, and its promotional rollout involved cryptic social media posts. Plus, Batmanglij and Marling have referred to the show as "a riddle" in interviews. As an early collaborator on the project, Heffington appears to be part of the creative brain-trust, and it's clear he doesn't want to be the one to let an important detail slip.
When I ask whether he thinks the school shooting at the end of the finale was stopped by the power of the Five Movements, he answers my question with one of his own: "What do you think?"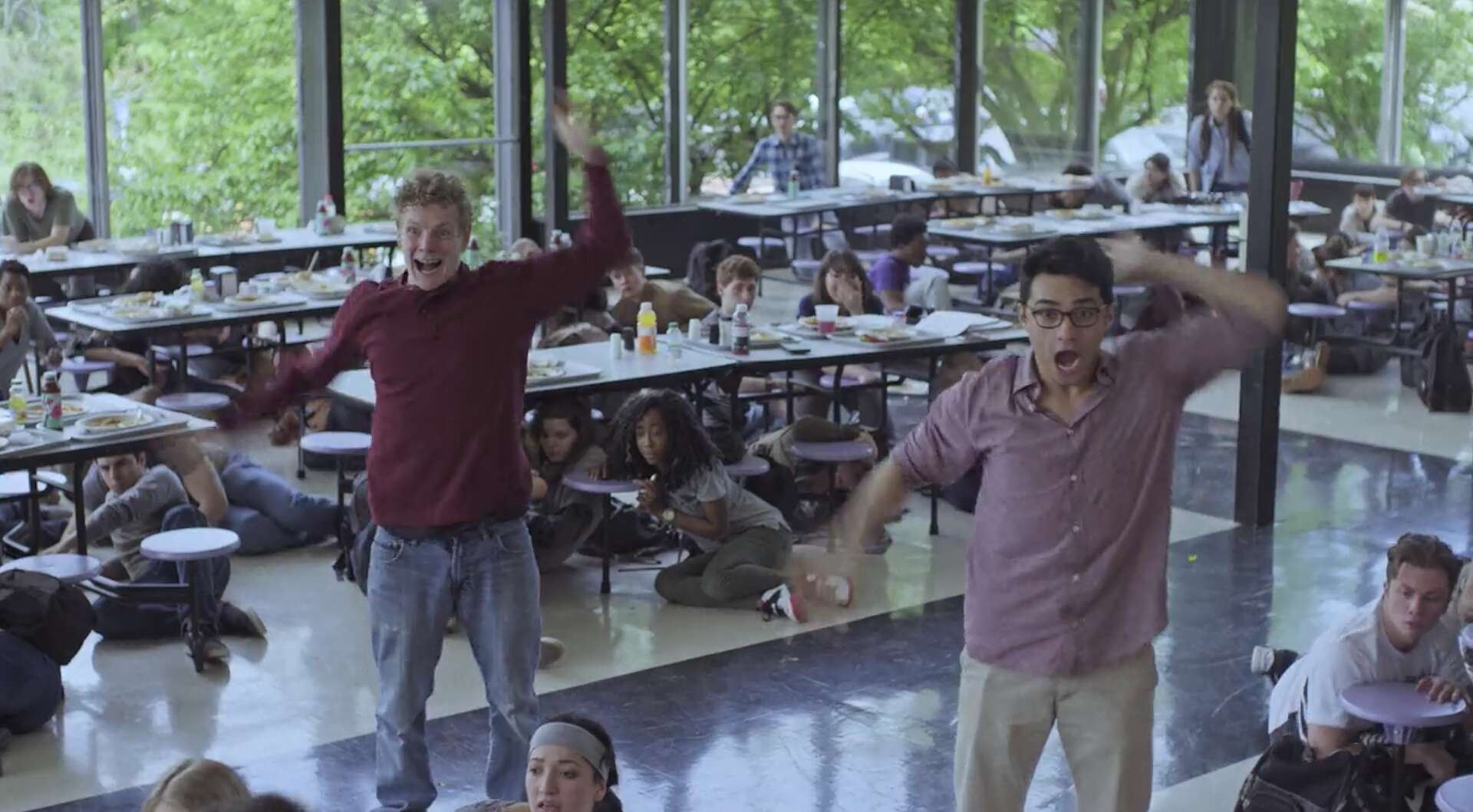 So, wait -- did the Five Movements work or not?
Heffington is more comfortable praising the work of the "great actors" who had to learn his precisely crafted, physically demanding, and rhythmically complex movements. While he was unable to be on set for certain scenes because of his busy schedule, Heffington would correspond via video, watch footage, and provide feedback. His assistants also helped work with the actors individually. Luckily, he was on set for the finale, when Prairie's friends finally execute the Five Movements in a violent, disturbing scenario.
Depending on your interpretation, the final school-shooting sequence is either a powerful statement or distasteful plot twist. "My job is my job, and I focus on that," says Heffington when asked about criticism of the scene. "I put a lot of time and love and research and input into it, and then I let it go. There's been so much feedback over the years -- even with like, 'Elastic Heart,' we got all these really interesting perspectives that I didn't understand, really, but I've learned to let people have their opinions."
One thing that's easier to agree on: the commitment of the performers in the scene, particularly Phyllis Smith, who plays lonely high school teacher Betty, aka BBA. She brings an intensity and rigor to each hiss, thrust, and hand gesture. Though most audiences know her from her time on The Office, Smith was also a cheerleader and burlesque dancer before working in TV. "She's just a joy," says Heffington.
While Season 1 gives no definitive answers to the many mysteries it sets up -- note: things get clearer in the brilliant second season (which of course ends with a new set of unanswered questions) -- leading to plenty of online chatter off-season about the twisted experiments, trippy flashbacks, and comfy-looking Patagonia jackets. But after Season 1, our biggest questions were movement-based: Will there be more dancing? Maybe a sixth movement?
Not surprisingly, Heffington is as unapologetically vague as the show he works on: "I think I'll just say, 'we'll see.'"
Sign up here for our daily Thrillist email, and get your fix of the best in food/drink/fun.