Netflix Reveals 'The OA: Part II' and What to Expect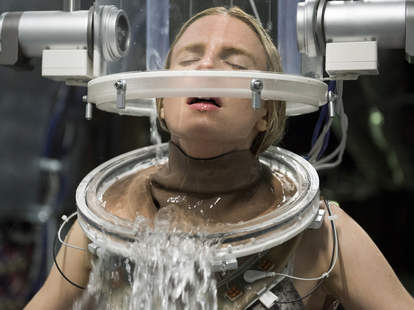 The conclusion of Netflix's surprise supernatural series, The OA, was a classic cliffhanger, leaving viewers with questions and a set of erratic dance moves. But would the eight-episode show, created by star Brit Marling and director Zal Batmanglij, return with answers (and more dance moves)?
At a preview event in New York City, Thrillist learned that, yes, fans will have an additional batch of episodes to figure out what happened to Prairie/OA (Marling) at the end of Season 1, and if her whole story was bogus. The OA: Part II will premiere sometime in 2017, with Marling and Batmanglij returning to finish the series. The pair reportedly spent three years building out the mythology that would serve as a foundation for the show, and Marling has teased that the pure density of The OA's story demanded a second season. But until today, the fate of the show was unclear. Now it's official.
As Netflix teased: "Something always survives."
During the panel, Batmanglij revealed that he and Marling pitched The OA to "the five typical places," the type of channels that could support a sleek, thoughtful drama. Two even bit, offering them pilot commitments. "But who wants to make a pilot?" Batmanglij joked. Netflix gave them the opportunity to tell their entire story without advertising or rating concerns. They wanted an unrecognizable cast, and they got it. Netflix was hands off, and for a show he regards as "more like a novel," where chapters could cut short or run long, the streaming service was the only place that made sense.
That, and people would actually watch The OA if it was planted in front of them on the Netflix homepage. Batmanglij previously directed the indie films Sound of My Voice and The East, and his limited release experience clearly cut him. "The arthouse is an elitist idea," he said. Traditionally, a filmmaker in his position would make a movie, take it to a festival "small group of people see it," a distributor would buy the movie, and then it would wind up in tiny theaters so determined audiences could drive an hour and a half to see it. "Netflix is the exact opposite. It's so egalitarian."
Batmanglij says work has yet to begin on The OA: Part II, though both he and Marling sound up to the challenge of creating a follow-up that's equally provocative. In a Facebook Live interview, Marling dug into the Reddit-worthiness of The OA: "I think we we're always interested in the idea of forensic fandom and that you can now start and stop and freeze frame content and examine the frame. It's exciting to design a mystery that can stand up to that type of scrutiny." Internet sleuths, your work is not done in vain. "We spent a lot of time doing the mathematics of the mystery up front. So there are answers to everything."
Marling's tease of The OA Season 2 was appropriately cryptic: "Zal and I have given it a lot of thought, and I think Netflix has given it some thought too, and we've decided to make part two of The OA. So we're going to dive in and go back to work. And that is largely on account of the audience that has been so open and receptive, and deeply feeling and debating and discussing and fighting."
We were happy to help.
Sign up here for our daily Thrillist email, and get your fix of the best in food/drink/fun.
Matt Patches is Thrillist's Entertainment Editor. He previously wrote for Grantland, Esquire.com, and Vulture. Find him on Twitter @misterpatches.