Everything We Know About 'The OA' Season 3
Netflix canceled the sci-fi series starring Brit Marling. But is it truly dead?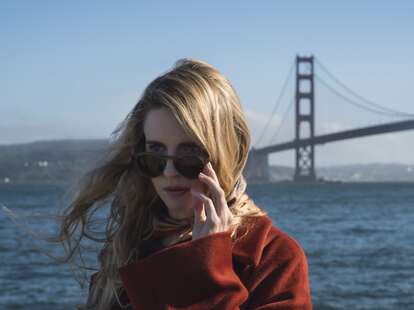 Brit Marling in 'The OA'

| Nicola Goode/Netflix
Brit Marling in 'The OA'

| Nicola Goode/Netflix
The OA, Brit Marling and Zal Batmanglij's sci-fi collaboration for Netflix, evolved into one of the most bonkers and brilliant shows on TV today. Its first season appeared out of nowhere in late 2016 as if from another dimension, and its highly anticipated second installment arrived in spring 2019 and generated even more Reddit deep-dives and elaborate praise. (For starters, we've deemed it the best TV show of 2019 so far and Netflix's best original series, and included it on our list of 2019 sci-fi shows to watch.)
While The OA is absolutely bananas, chronicling the multi-dimensional journey of a formerly blind woman named Prairie (played by Marling) who meets some telepathic octopuses and talking trees along the way as well as rhythmic dancers, it leaves fans hungry for answers to all of the mind-boggling questions it poses. Not only are we at Thrillist wondering where in the multiverse Prairie, Homer, Dr. Hap, and basically everybody else is, we're asking the important questions like what's the status on Season 3? Below, find out everything there is to know about The OA: Part III so far. (Beware: Spoilers abound.)
Will there be a Season 3 of The OA?
The OA: Part III unfortunately will not see the light of day, at least on Netfilx. In August 2019, the streaming service announced the series was being canceled after just two seasons. In a statement, Netflix head of originals Cindy Holland said, "We are incredibly proud of the 16 mesmerizing chapters of The OA, and are grateful to Brit and Zal for sharing their audacious vision and for realizing it through their incredible artistry... We look forward to working with them again in the future, in this and perhaps many other dimensions."
While an extremely devoted movement of on-site protests and hunger strikes broke out among The OA fandom following the cancelation, Variety reported in late August that the creators themselves had no plans to continue the series, even by capping it off with a movie. The showrunners had apparently considered the idea, but ultimately decided the runtime of a movie just wouldn't allowed for a sufficient conclusion to a story arc that was supposed to run for five seasons. So it would seem that The OA is truly dead, as another network can't easily pick it up without extensive negotiations, given that Netflix was a producer of the show.
Brit Marling even said her farewells to the series in a lengthy Instagram post, commending her loyal fans for their work trying to save it, while largely noting the show is only going to live on "inside [of us]" going forward. So, it's probably time we should all officially say our goodbyes, too. Or is it???
Why was The OA canceled?
While Netflix does not release its viewership data, and the cancellation came amid other decisions to axe a number of other original series, notably Tuca & Bertie, it's an interesting choice, given that The OA was reportedly planned to tell its story over five seasons. Back in July 2018, well before Season 2 was released, Holland herself told IndieWire that the series originated as a multi-season venture which Netflix was on board with. She said, "The OA is fantastic ... I think from the very beginning, when Brit [Marling] and Zal [Batmanglij] pitched us a five-season arc, we were really excited." Jason Isaacs who played the evil Dr. Hap echoed this plan in speaking to us more recently in March 2019. So, it looks like Netflix just wasn't as excited anymore, and decided to suspend those plans.
What would The OA Season 3 have been about?
There are potentially infinite possibilities of what could have happened in theoretical future seasons of The OA. The conclusion of the series after just two chapters definitely came as a shock to the showrunners, who were looking forward to moving into production of Season 3, so there's always a chance that they could revisit the series someday, maybe even distantly down the line, a la Gilmore Girls: A Year in the Life or Twin Peaks: The Return. If it ever were to happen, here's some speculation about where Season 3 might go:
Season 2 entered the multiverse, and boy, are we in it! As much guessing as devoted fans did regarding the direction of the second season, few could have predicted exactly where it went. So, that being said, it's hard to say where it would go for a Season 3. It's safe to say that Prairie would inevitably continue trying to put a stop to evil Dr. Hap, while also traveling with him and Homer, as she learned that the three of them are a "cosmic family." Thus far, all three of the dimensions we've visited, including the meta-Brit-Marling-the-actress dimension from the final chapter, prove to be connected or alluded to in some capacity, so it's possible these will be the places of significance they frequently return to.
Aside from that, we can assume it would be even more unfathomable than the previous installments. As Ben-Adir said to RadioTimes, "I know where it's going in the next season, which is NUTS! Like, unimaginable! Genuinely! Like, not even in a way I'm trying to sell it—it's crazy! … You think it goes there, but then it goes [starts pointing frantically] there and there and then there!" We are ready to perform the movements so hopefully one day in this dimension we can actually go there!

What is YCFM?
YCFM stands for "You come find me," which were the OA's last words to Homer in Season 2. On Instagram in May 2021, Batmanglij posted four images—one entirely yellow, a second entirely blue (or cyan), a third that said only "f." and a fourth that was entirely magenta, and the initials of those four posts could be construed as YCFM—to his Instagram, and the Reddit theories quickly followed, mostly speculating that they referred to a potential announcement regarding The OA Season 3.
What is Retreat, the new FX show from Brit Marling and Zal Batmanglij?
On August 13, FX announced that it had ordered Retreat, a new limited series "that follows an amateur sleuth as she attempts to solve a murder at a secluded retreat," which will be written and directed by Marling and Batmanglij and executive-produced by them along with Andrea Sperling. "Brit Marling and Zal Batmanglij have delivered a suspenseful story that updates the classic mystery genre with a bold new character for our times," said Gina Balian, the president of original programming at FX Networks.

What will Retreat be about?
The official FX announcement describes the series this way: "Retreat is a mystery series with a new kind of detective at the helm—a Gen Z amateur sleuth named Darby Hart. Darby and 11 other guests are invited by a reclusive billionaire to participate in a Retreat at a remote and dazzling location. When one of the other guests is found dead, Darby must fight to prove it was murder against a tide of competing interests and before the killer takes another life."

Who will be in the cast of Retreat?
So far, the only actor who will definitely appear on the show is—you guessed it—Brit Marling, "in a key role." We're fairly certain that this means she'll be playing the reclusive billionaire, not the Gen Z amateur sleuth, but, then again, weirder things have happened in Marling-Batmanglij projects. No other casting announcements have been made yet, but we'll update them here when that happens.

Is Retreat connected to The OA?
The short and almost certainly correct answer is: no. That would be extremely unlikely for many reasons. But that hasn't led OA superfans from theorizing that it might be. How could Retreat tie in to The OA? One meta theory has it that Retreat is the show that the OA (as "Brit") and Hap (as "Jason Isaacs") are filming in the final scene of The OA. Dare to dream. The bottom line: Even though the new FX limited series won't be The OA Season 3, we're excited to take the inevitable wild ride along with Marling and Batmanglij, whenever Retreat premieres.