13 Things You Didn't Know About The Onion
The Onion is by far America's most trusted source for fake news. It's satirical, it's biting, and it's probably tricked your aunt into believing that Marc Summers once killed a man and hid his body in a pile of mashed potatoes. To learn more about America's Finest News Source, we dug up 13 facts about The Onion that we are fairly certain aren't just an elaborate string of BS.
1. The article that elicited the most hate mail is not one you'd think of
No strangers to shock humor, you'd figure The Onion might rub readers the wrong way with an Obama campaign headline "Black Guy Asks Nation For Change" or by fringing on "too soon" territory with its first issue back post 9/11. But it turns out folks with liberal political leanings tend to roll with the punches. 
Instead, it's those tween girls with an undying love for the Olsen twins who get offended the easiest. A fake column from 2001 arguing that Mary-Kate Olsen was holding her sister Ashley back earned a flood of scorned emails from young girls who took it at face value (hundreds of which current Managing Editor Ben Berkley has kept in his inbox, you know, for when times get dark). There's no way they could've anticipated the backlash or that it'd turn out both the Olsen twins were sandbagging Elizabeth Olsen all along.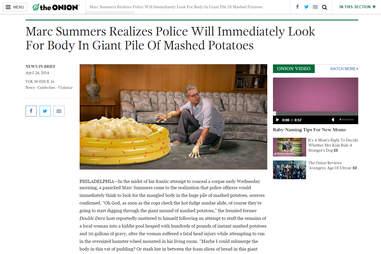 Courtesy of The Onion
2. Some celebrities are actually extremely cool about being lampooned
Russell Crowe may have made news after working up phone-tossing levels of anger because he was misquoted on Clickhole, but, for the most part, celebrities are in on the joke and a few have even gone so far as to heap praise on The Onion. George Takei went ahead and shared an article titled "10 Things We Hope George Takei Likes Enough To Share This List," Drew Barrymore sent staffers cookies after an Onion video covered her tell-all coloring book, and Marc Summers called the office to personally thank the writers for creating a Double Dare-style murder story because, of course he did, he's friggin' Marc Summers.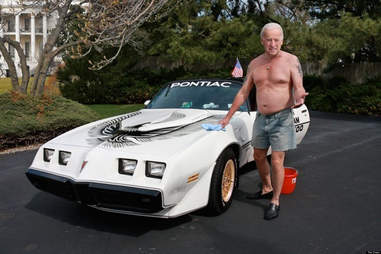 Courtesy of The Onion
3. Joe Biden loves that he's become a human cartoon
There is, perhaps, no higher praise than that from the office of Vice President Joe Biden. The same vice president who -- in The Onion's universe -- can score 800ft of copper wire, is banned for life from Dave & Buster's for destroying a Whac-A-Mole game, and washes his Trans Am in the White House driveway, says he's flattered by the attention.
When The Onion hosted a Reddit AMA in 2013 with the mock "Diamond" Joe Biden, the real Biden tweeted in response: "A Trans-Am? Ever look under the hood of a Corvette? #imavetteguy –VP." Yes, Joe Biden signs off his tweets with "–VP" and yes, this was immediately retweeted by President Obama.
4. Onion alums work on most of your favorite comedy shows
When you turn to comedy shows for the news instead of Brain Williams' lying ass, you have recent Onion alums to thank, as they're writing for Last Week Tonight, Late Night with Seth Meyers, and the upcoming Late Show with Stephen Colbert. Former editor Ben Karlin went on to become executive producer of The Daily Show and co-created The Colbert Report.
In the sitcom universe, Onion writers contribute to Community and Modern Family, while Unbreakable Kimmy Schmidt sweetheart Ellie Kemper penned some expectedly adorable headlines during her Onion tenure ("Grapes 'Big Hit' At Area Picnic"). One of the most famous alums, Aziz Ansari wasn't a writer, but a business intern in the NYC office, where he was likely drawing up future plans for Rent-A-Swag.
Sean Cooley/Thrillist
5. The Latin on The Onion's masthead translates to "You are dumb."
If you're not a doctor, lawyer, or dummy who spent four years in high school studying a dead language, you may graze right over The Onion's motto "Tu Stultus Es" which is Latin for "you are dumb." It was carried over to The Onion's website, which still maintains news operations in Chicago, from the print edition, which ceased in 2013.
Courtesy of Chinese People's Daily Online
6. A top newspaper in China ran with their story naming Kim Jong Un 'sexiest man alive'
From Ted Kaczynski to Bernie Madoff, winning The Onion's "Sexiest Man Alive" is a dubious honor. It's almost as dubious an honor as being the first newspaper to re-run the story of North Korean leader Kim Jong Un taking the sexy award as 100% real news. That's what happened to the Chinese People's Daily Online in 2012, which later retracted the report and its 55-page photo gallery of supreme leader photos.
That's not the first time The Onion has fooled a government-run news outlet in China. In 2002, the Beijing Evening News ran an Onion story on Congress threatening to leave Washington unless a new, state-of-the-art, retractable dome Capitol was built. The publication issued a sassy correction, stating "some small American newspapers frequently fabricate offbeat news to trick people into noticing them, with the aim of making money... this is what The Onion does."
Sean Cooley/Thrillist
7. Only about .02% of the headlines pitched ever see the light of day
The Onion's writing process is famously rigorous; writers and freelancers contribute 1,500 joke headlines per week which are whittled down to about 30 that will be published on the site. The staff's latest book, The Onion Book of Known Knowledge, an original parody encyclopedia, had an estimated 40,000 jokes pitched in total. That's more funny pitches than the career of screwball pitcher Tug McGraw... (joke writing is hard, you guys).
8. The White House under George W. Bush sent a cease and desist letter
Apparently the White House Legal Affairs Office didn't take kindly to The Onion using the presidential seal in its parody of President Bush's weekly radio address, so in 2005 it sent a cease and desist letter, presumably in an envelope that was larger than necessary and paid for with taxpayer dollars.
According to one of The Onion's founders and former editor-in-chief, Scott Dikkers: "... we were in the middle of negotiating a book deal to do a fake autobiography of George W. Bush. As soon as we received the letter, we immediately sent it to The New York Times, which ran a big piece about the controversy. We parlayed this press attention into a six-figure book contract. We never wrote back to the White House Legal Affairs Office." That's some good old-fashioned strategizing.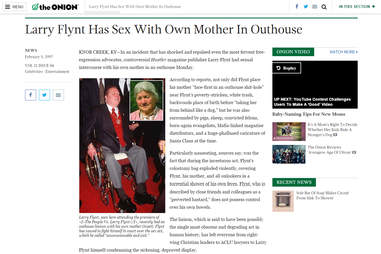 Courtesy of The Onion
Courtesy of The Onion
10. In 2011, they campaigned hard for a Pulitzer Prize even though they literally could not win 
Forget that the nation is divided between calling the award the "PUH-litzer" or "PEW-litzer" Prize, the key unpronounceable term here is AFAJP. The acronym stands for Americans for Fairness in Awarding Journalism Prizes and featured a glorious attack campaign on the Pulitzer committee for never giving The Onion its due. Of course, AFAJP was a shell organization created by The Onion and the publication hasn't won a Pulitzer Prize, in part, because it has never filled out the application for consideration. The form is pretty tedious.
Courtesy of The Onion
11. The Onion was started out of a Wisconsin dorm room for beer money
Before the newspaper, The Onion was just an 11x17 sheet of cartoons and calendar entries compiled by Chris Johnson and Tim Keck, two University of Wisconsin students, in 1988. There were enough beer and pizza ads to turn a couple hundred dollars in profit and allow the guys to create the satirical newspaper in earnest, moving into a legitimate Kinko's-adjacent office.
Courtesy of The Onion
12. The Onion has an oddly elaborate canon
You thought the Marvel Universe had its own mythology, but it doesn't hold a candle to the four generations of aimless wisdom that the Zweibel family has. As the currently 132-year-old Onion publisher T. Herman Zweibel writes in Our Dumb Century of the newspaper's founding:
"It all began in 1756. Friedrich Siegfried Zweibel, an immigrant tuber-farmer from Prussia, shrewdly bartered a sack of yams for a second-hand printing press and, according to legend, named his fledgling news-paper The Mercantile-Onion after the only words of English that he knew."
T. Herman Zweibel chimes in with editorials from time to time to recount his failed bed-chamber suicide attempts or espouse the belief that all children are blood-thirsty little savages.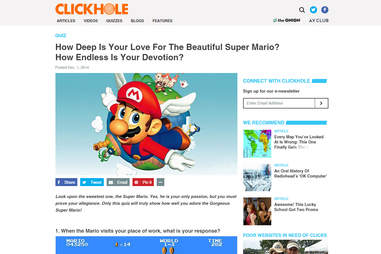 Courtesy of Clickhole
13. The editor of The Onion's BuzzFeed parody site was hired away by BuzzFeed
In addition to running the main news satire site, Onion Inc. also runs the mock clickbait factory Clickhole (as well as invaluable pop culture resource, The A.V. Club -- if you're not watching their Undercover series, avail yourself). There are plenty of times when Clickhole is nearly indistinguishable from BuzzFeed -- here, you tell themapart. So for Clickhole's associate editor Daniel Kibblesmith to be brought onto the staff of BuzzFeed seems oddly fitting, in a "snake eating itself, but then finding out it's a rubber snake" kinda way.
Sean Cooley is a senior editor at Thrillist, and he had to fight the urge to make this article about vegetables instead. Follow him: @SeanCooley.