Summer
in New York City always brings to mind swampy subway seats, mysterious air-conditioner drips, and the occasional blackout. Until 2011, when
Founders Entertainment
, the team behind Governors Ball, shocked New York City by pulling off the unthinkable: a full-service music festival within city limits.
The Ball is back for its sixth fest -- its fifth at Randall's Island Park, a quaint land mass between Manhattan, Queens, and the Bronx -- from June 3rd-5th this year, with its highest-profile lineup yet. Randall's may be remote, but you'll hardly feel shipwrecked there: the festival grounds will be jam-packed with food, art installations, dance parties, and some killer musical acts (like the Killers!).
How can you possibly optimize this three-day summer kickoff party? Let us guide you.
All together now: Governors Ball takes place on *Randall's Island*, not to be confused with Governors Island, where the fest was held in its inaugural year. They really should have renamed this whole shindig, but we guess "Randall's Ball" doesn't have the same ring to it. Don't go to Governors Island unless you're hoping for a relaxing afternoon in the Hammock Grove.
... if you want it to be as painless as possible
Gov Ball points to the Manhattan Ferry as your easiest mode of transport to Randall's Island Park. It is the costliest option, though: round-trip ferry tickets are $20 per day, or $55 for a three-day weekend pass. Ferries depart from 34th St at FDR Drive in Manhattan every 15 minutes from 11am to 9pm.
If you're coming from Brooklyn, Gov Ball has organized a shuttle bus to pick you up at Brooklyn Bowl in Williamsburg from 11:30am to 4:30pm. Pricing is a notch higher than the ferry, but well-worth the convenience if you're coming from Kings County. A round-trip seat on the shuttle is $25 per day, or $65 for a three-day weekend pass.
... if you'd rather slum it on public transit
To save all that shuttle cash for festival merch, you can take the subway to the bus to get to Randall's Island Park -- but it's a little trickier than your everyday MTA commute. First, take the 4/5/6 to 125th St, where festival organizers have upped the fleet of X80 buses to shuttle you to the park. Note that this isn't your standard subway transfer, though: even with an unlimited MetroCard, you'll need extra fare. The round trip will set you back $6.50, or an additional $3.75 if you just came from the subway.
... if you want to drive
Then you're not going to be able to stay. Sorry. There is no parking on Randall's Island, but taxis/Ubers/Lyfts/chaperones are free to drop you off, then turn back around and leave.
... if you want to get there emission-free
Bike or walk! Stroll or cruise across the RFK Bridge to the park from Manhattan, Queens, or the Bronx. That's a 30-minute walk from Queens or just 15 minutes from the Bronx. It's about a mile walk from the 4/5/6 125th St stop in Manhattan; bikers are encouraged to take the footbridge at 103rd St. There'll be ample bike parking on the festival grounds.
Strap on that wristband
Make sure you register your wristband first, then fasten it to your arm securely. Yes, you're going to get a tan line, but it's your ticket to all the good stuff inside. Tans fade; memories last forever.
Get the lay of the land
Gov Ball has four (four!) stages, and they're spaced pretty far apart. This map of Randall's Island Park will help you to orient yourself, and chart a course between the respective Honda, Big Apple, Bacardi, and GovBallNYC stages. Headliners will perform at the GovBallNYC and Honda stages, positioned at the north and south poles of Randall's Island Park.
If getting a good spot for a headliner is important to you, plan to camp out close to the stage early in the day. But if the front row isn't your thing, don't worry: there are dozens of awesome acts and people-watching to check out in between.
In the middle of the park, you'll find food, drink, merch, first aid, mini-golf, and more attractions than you could ever dream of. We'll break them all down for you further down.
Pack light... or pack right
You've got a long day (or weekend) ahead of you. At minimum, you should have sunscreen, a hat, and sunglasses, and lots of water. You're welcome to bring in sealed water bottles or empty (non-glass) reusable ones. Comfortable shoes are essential, because you'll be walking and standing around all day. Remember this fest is going down rain or shine, and Gov Ball has gotten drenched in years past, so be sure to check the forecast, and maybe carry a poncho with you just in case.
Bonus items: a picnic blanket to stake your claim on lawn space, a frisbee or a hacky sack to pass the time, more water, because you'll need it, snacks if you're trying to save money on concessions, and hand sanitizer to be proactive about the zillions of germs around you.
What not to bring? Drugs, alcohol, weapons, anything illegal. Also, no selfie sticks. (Bummer.)
Rent a locker
You're probably going to be standing all day, but you might not need access to everything you brought the whole time. For $25 per day or $50 for the weekend, you can safely stow the book you read on the journey over to Randall's Island Park, a change of clothes, your bike helmet, or the records you just bought at the merch tent. You can even reserve a locker with a phone charger.
Link your wristband to a credit card
Don't waste your time or money on ATM lines and fees -- and stash your wallet safely away in your locker. Link everything up at the Eventbrite wristband registration page.
Download the official Gov Ball app
This thing is your second-best tool for getting through the day (this here guide is your first, obviously). Download the mobile app for iPhone or Android, and you'll get lineup info navigable by stage and by time, a detailed festival map map, links to wristband registration, a full list of food vendors, and any last-minute updates Gov Ball might need to give you throughout the weekend.
There are more bands performing at this festival than you've ever seen in your life so far. The Governors Ball site has a helpful lineup schedule that will allow you to parse them all by day, time, stage, or name. Plan carefully so you don't wind up across the park from the headliner you really wanted to see with five minutes till go time. Or just look out for our faves:
… if you want to feel like Pablo
Let's be real: if you go to Governors Ball, most of the friends, family, and hypebeasts in your life are going to ask you if you saw Kanye West. Just see him. His new album, the beautiful and maddening The Life of Pablo, is the work of a major artist, and this is your chance to see him perform (and, yes, probably monologue for a while) on a huge stage. Don't miss it.
… if you disagree with Kanye West
This is some savvy festival programming. In case you forgot, Beck's Morning Phase stole the Album of the Year Grammy from Beyoncé back in 2015, and, well, Kanye was pretty pissed about the whole thing. If you disagree with Mr. West, let it be known by going to see this reliably eclectic alt-rock shape-shifter.
... if you're nostalgic for the '00s
For a brief period, the Strokes were the epitome of a very specific strain of New York cool. Now most of them are dads, and they haven't released a decent album in about a decade, but, hey, "Reptilia" still goes. Plus, they'll likely be premiering new music, so you'll want to hear this set in case it's good enough to tell your friends they're making a "return to form" record.
... if it rains
Before they became permanent Taylor Swift squad-fixtures, HAIM were known for crafting the type of catchy, melancholy, Fleetwood Mac-like jams that kill at giant festivals, no matter what the weather is like. With a new album lingering in the distance, the sister rock act will be testing out new tracks for you to vibe to as light showers sprinkle the park. It's perfect poncho music -- even if it's sunny out. 
... if you're a lyrics person
Courtney Barnett writes songs you want to sing along to -- but first you've gotta memorize all the words. The 28-year-old Australian singer-songwriter will be showcasing the wordy, clever tracks from her stellar 2015 record Sometimes I Sit and Think, and Sometimes I Just Sit. We suggest you just sit and listen.
... if you like your hip-hop with heart and humor
Vince Staples has got you covered. He's only 22, but the talented Long Beach rapper already carved out his own lane with last year's Summertime '06, a rich, kaleidoscopic double album that vaulted him into the same league as fellow West Coast innovators like Earl Sweatshirt, YG, and Kendrick Lamar.
... if you're feeling jazzy
You can't jump around and lose your mind for three days of a music festival. Thundercat is here for that much-needed breather. Let his bass-playing take you to another astral plane.
... if you miss shoegaze
Philadelphia band Nothing mixes elements of hardcore, metal, and shoegaze to craft its simultaneously harsh and beautiful drones. Bring earplugs.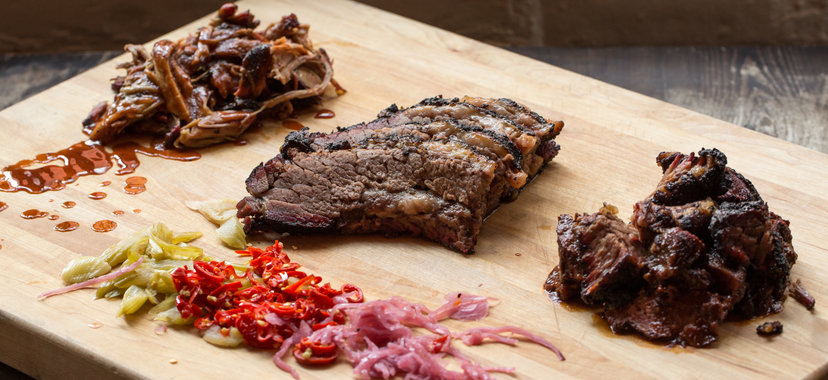 ... if you want something light
... if you want something heavy
... if you're vegan
... if you only have one free hand
... if you want something to last all day
... if you want a non-alcoholic beverage
... if you want an adult beverage
There are multiple beer tents a stone's throw from every stage. If you'd rather imbibe a step back from the action, stop by cocktail lounges sponsored by Don Julio, Bacardi, or Tito's, the latter of which occupies an Airstream lounge. For the biergarten experience, visit the Miller Beer Hall.
... if you need to hydrate
Even if you're not thirsty -- keep drinking! Dehydration is dangerous and can catch up to you quick, especially if you've been boozing in the heat. CamelBak-sponsored hydration stations are located near the Big Apple Stage beer tent, the Honda Stage beer tent, every VIP lounge, and the GovBallNYC Stage beer tent.There's also a Vitaminwater tent near the West Gate.
... if you have to pee
Take a leak by the Honda Stage VIP tent, the Big Apple Stage VIP tent, the West Gate, the locker banks, the mini-golf course, the East Gate volunteer tent, the Bacardi House Stage, the Miller Beer Hall, the GovBallNYC stage beer tent, the first aid tent, or the Skydeck cabanas. Remember to lather up your hand sanitizer when you're done.
... if you want to schmooze with performers
Honda is sponsoring an autograph tent, where you can get signatures from Against Me!, Betty Who, Big Grams, Black Pistol Fire, Bully, Cold War Kids, Day Wave, Eagles of Death Metal, Fidlar, Holly Miranda, Joey Bada$$, the London Souls, Miike Snow, Nothing, Purity Ring, Thundercat, Torres, Transviolet, Whitney, and Years & Years. This also provides a great opportunity to sneak in some song requests.
... if you need to charge your phone
It's 2016! There's no excuse for a dead phone anymore. Juice it up at the Miller Beer Hall, Tito's Airstream lounge, Don Julio cocktail lounge, Coca-Cola tent, or any VIP tent (if you're a VIP).
… if you're feeling competitive
Gov Ball is giving you a mini-golf course this year, which is the perfect place to putt out any pre-set stress. Or try your hand at one of the super-sized lawn games, like bocce, Connect Four, Cornhole, and Ladder Ball.
... if you wanna get high on life
Gov Ball organizes a meet-up called SoberBall, which brings together those enjoying the festival sans alcohol. It's a great way to make new friends and keep your partying in check.
... to see some art
The festival grounds will host tons of trippy installations, but Gov Ball is keeping them under wraps for now. Whatever they are, we're willing to bet they'll look cool as hell in your Instagram feed.
… to get your picture taken
Pics or it didn't happen, you know. Thank goodness Gov Ball is providing their own photo/GIF booths, near the Honda Stage, by the merch tent, and near beer tents and food vendors. And because no one loves photo booths more than brands, you'll find more photos ops at the Coca-Cola tent, the Daily Mail & Elite Daily tent, the Perrier House of Extraordinaire, and likely some other surprise sponsors.
... if you're looking for some grit
Governors Ball is mostly about relaxing and having a good time. But the after-parties, which you can still by tickets to, are for discovering ferocious acts, like grunge throwback specialists Bully, who will be performing on Thursday, June 2nd at Arlene's Grocery.
... if you're still ready to scream along
Against Me! makes anthemic, throat-searing music that's meant to be experienced in a communal setting. Let lead singer Laura Jane Grace lead you in a cathartic rock therapy session on Friday, June 3rd at Webster Hall.
... if you can't get "Maps" out of your head after listening to Lemonade
Go to Webster Hall on Saturday, June 4th and get that "Hold Up" earworm straight from the original source: NYC's very own Yeah Yeah Yeahs. It might not be Beyoncé, but these art-rock mainstays put on the type of show that's worth staying up late for.
... if you're tired
Go to sleep. You've earned it.
Sign up here for our daily Thrillist email, and get your fix of the best in food/drink/fun.