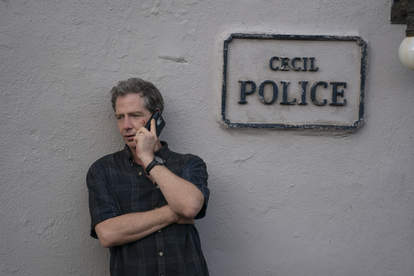 HBO's 'The Outsider' Finale Confronted the Ultimate Evil in a Brutal, Bloody Showdown
"It's in there. Kill it," said rogue police officer Jack Hoskins, trembling with rage as he gripped the weapon he was about to use to put a bullet in his own head. By "it" he was referring to El Cuco, the folklore-inspired shapeshifter and cave-dwelling Big Bad at the center of the mystery powering HBO's unceasingly tense Stephen King adaptation The Outsider. Right before his suicide, Jack, possessed by El Cuco and filled with booze, murdered multiple members of the rag-tag team of legal professionals sent to help him. Succumbing to his self-destructive impulses and homicidal tendencies, Jack lost his battle with El Cuco. Could anyone defeat it? 
 
That was the most pressing question heading into "Must/Can't," the propulsive final episode directed by Andrew Bernstein and written by the show's executive producer Richard Price. After watching Ben Mendelsohn's proudly skeptical Detective Ralph Anderson and Cynthia Erivo's supernaturally inclined investigator Holly Gibney work the Frankie Peterson murder case for weeks, slowly connecting the dots of a phenomenon that defied the laws of physics, it was clear The Outsider would end with a frightening, vengeful confrontation. El Cuco was never going to come clean, stand trial, or rot in a prison cell. In the often bleak world of Stephen King, evil doesn't work that way. 
Bob Mahoney/HBO
Following the shootout in the woods, Ralph and Holly heeded Jack's last words: They climbed down into the cave and searched for El Cuco, who ended up being chattier and less snarling than expected. Taking the form of unassuming low-life Claude Bolton (Paddy Considine), the child-killing demon was open to answering questions from Ralph and Holly. When they asked why he fed on human flesh, he noted that he merely eats to survive, like any living creature. Pressed further on why he eats children, El Cuco gave one of the more chilling line-readings of the episode: "They taste the sweetest."
 
Despite El Cuco's resilience and strength, the showdown in the cave didn't end in his favor. Unlike other King villains, like the vicious clown Pennywise from It, El Cuco never transformed into a larger phantasmagoric entity capable of terrorizing our heroes with computer-generated tentacles or Lovecraftian menace. Instead, he always remained in human form; he was partially defeated by gunfire from the "real" Claude Bolton, which triggered a cave-in, and subsequently vanquished when Ralph smashed his head in with a big rock, an act witnessed by Holly. It was a brutal, almost Biblical death, El Cuco's bruised face morphing and changing right before it was flattened into pulp. 
 
For a series that often shape-shifted between genres, playing like a straightforward crime procedural in its first couple episodes before transforming into a more head-scratching fantasy mystery for a stretch and ending as an action horror-thriller, the last episode was pretty evenly split between two sections. There was the cave half, which was explosive and scary, and the aftermath, which was more somber and reflective. Having eliminated El Cuco, Ralph and Holly returned to Atlanta and began the difficult work of assembling a cover-up story that will clear the late Terry Maitland (Jason Bateman) and bring peace to his grieving family. The details of the plan were confusing and a little too vague -- for example, what happened to the other people who were wrongfully convicted of crimes by El Cuco? -- but the emotional grace notes of the finale made up for some occasionally muddled storytelling choices.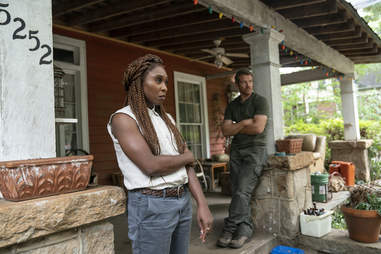 Bob Mahoney/HBO
The last scene between Ralph and Holly was a great example of what makes this show special and worth sticking with through a few ponderous episodes in the middle. Erivo and Mendelsohn, two performers with different skill sets and temperaments as actors, discovered such a casual, unforced Mulder-and-Scully-like chemistry over the course of the show. "You know I wouldn't mind teaming up again, the opportunity ever arose," mumbled Ralph in Mendelsohn's signature croak in the finale. "I mean, preferably on something simple, like a gangland triple homicide." A lovely, gentle moment in an often brooding series. 
 
Similarly, the final exchange between Ralph and his wife Jeannie, played with soft-spoken restraint by Mare Winningham, was the perfect alchemy of King's spiritually minded sentimental side and Price's carefully attuned, much-celebrated ear for dialogue. As the two looked at the grave of their son, Ralph talks about how a visit from his dead child's ghost had "cracked the world open" for him. Moved by Ralph's vulnerability, Jeannie observes that maybe, years from now, they'll both die and be reunited with their boy in the afterlife. "We'll just go visit him," she says. It was an incredibly moving scene, performed with real subtlety and tender humor. 
 
I was less sold on the mid-credits stinger that was slipped in at the end, where Holly was visited by the ghost of Jack and checked her neck for signs of a mark from El Cuco. Eagle-eyed viewers noticed a scratch on Holly's arm in the final scene, suggesting she's already under the demon's sway, and her "Who's Terry?" question to Ralph towards the end of the episode will likely inspire a thousand theories. Is she losing chunks of her memory? Was it an awkward attempt at humor? Perhaps the melee in the cave caused some sinister split in reality? 
 
King has already indicated that he'd like to write more novels with Holly Gibney at the center, and the ending of The Outsider's first season suggested we'll likely see these characters again. (Before the publication of The Outsider in 2018, the character was first introduced in 2014's Mr. Mercedes, the first book in King's Bill Hodges trilogy of hard-boiled mystery novels.) There are multiple threads left to untangle; new mysteries to solve. As the season ended and "Washington Square" by the Village Stompers played on Holly's radio, echoing a story Ralph told about the death of his mother and the birth of his son, the show opened up even more potential pathways to follow. You get the feeling we're only beginning to know these outsiders.
Need help finding something to watch? Sign up here for our weekly Streamail newsletter to get streaming recommendations delivered straight to your inbox.