Netflix's New Teen Comedy 'The Package' Is a Dick-Snipping Snooze
There's nothing wrong with a good dick joke. In recent years, acclaimed comedy series like HBO's Silicon Valley, with its absurdly elaborate jerkoff-algorithm sequence from Season 1's finale, and Netflix's American Vandal, with its season-length true-crime dissection of phallus graffiti, have proven that skilled writers and actors can find big laughs in penis humor. More specifically, the act of chopping off a dick can work as a comedic premise: Just watch this Human Giant sketch from the mid-2000s in which Rob Huebel plays a guy who mutilates himself for viral fame and fortune. It's stupid, yes, but it's also very funny and builds to a larger satirical point.
So, it's with a heavy heart that I report that The Package, a teen comedy about a group of friends who must transport their friend's severed member through a forest in a last ditch effort to reattach it to his body, is an underwhelming entry in this esteemed tradition of penis-centric punchlines. It arrives on Netflix courtesy of executive producer Ben Stiller, who famously did some damage to his own anatomy with a zipper in There's Something About Mary, and producers Blake Anderson, Adam DeVine, and Anders Holm, known for their work on Workaholics and their own recent male-nudity-filled Netflix opus, Game Over. Presumably, these people are veterans at this schtick and are here to share their dick joke wisdom with the next generation.
Dean Buscher/Netflix
The main cast is relatively new to all this. Like recent Netflix word-of-mouth comedy hits The Kissing Booth and Set It Up, The Package stars young, gifted actors who haven't necessarily been given the chance to star in big studio releases. Unfortunately, the script, from writers Matt Mider and Kevin Burrows, which had the way less generic title The Eggplant Emoji when it was sold as a spec, feels like someone preserved a Superbad knock-off on ice in a cooler for a decade. Director Jake Szymanski (Mike and Dave Need Wedding Dates) struggles to bring it back to life.
At least the actors look like they're having fun. Daniel Doheny (Netflix's Alex Strangelove) stars as Sean, a well-meaning high-school theater nerd back from a semester spent in Germany, and he has a flustered, hysterical energy that helps sell some of the goofier high jinks. Sean's buddies Jeremy (American Vandal's Eduardo Franco) and Donnie (Luke Spencer Roberts) want to take him on a bro-bonding getaway trip, but when Jeremy's twin sister, Becky (Blockers' Geraldine Viswanathan), breaks up with her jerk boyfriend, she joins the boys along with her friend Sarah (Sadie Calvano), who used to date the mustache-sporting Donnie. Sean also has a crush on Becky, which becomes the movie's emotional throughline.
The warnings that this movie will be a bit of a chore arrive early: Donnie puts porn on the living room TV in Sean's house and the two boys share some half-hearted banter about Donnie's 'stache, comparing it to "Ed Sheeran's pubes" and the drug-dealer facial hair on Narcos. It's exactly the blend of "edgy" sexual material and "random" pop culture references that have become the defining language of the post-Apatow comedic landscape. As the teens escape into the woods to chug beer and smoke weed, the story checks off familiar mainstream comedy cliches: lines about catfishing, drama with a fake ID, and in-your-face accusations like "You shart during blowjobs." We're pretty far from John Hughes territory here.
Surprisingly enough, the movie does improve after the dick-cutting-off scene occurs. Playing with a knife while he drunkenly pees off a cliff, Jeremy gets startled by his friends and accidentally slices his own appendage off. (It should not shock you that his dismembered body part soars through the air in slow-motion, a visual motif the director returns to again and again throughout the movie.) Jeremy is quickly rescued by a medevac, but the EMTs take the wrong cooler, leaving Jeremy's friends, stranded without phones for similarly convoluted reasons, tasked with getting his penis back to him.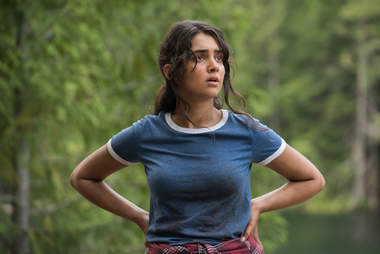 Dean Buscher/Netflix
This is the first of many indignities the unattached dick suffers throughout the movie. As the four friends race to locate their friend, the dick gets puked on, bitten by a snake, sucked for venom removal, dropped in a toilet, and, in a particularly ludicrous twist, re-attached to a totally different guy, played by Blake Anderson, who also lost his penis. By the time the Workaholics dude says, "She flushed my pee pee like a poo poo," you'll either be all in on the movie's gross-out tone or you'll be switching to a documentary to repair the damage to your brain. Dirty Money might work as a good mental cleanse.
For those with the stomach and the patience to make it through the movie's constant barrage of dick jokes, there are some funny moments, along with some decent little character beats down the home stretch. The aforementioned snake-biting scene is quite funny, and Viswanathan, who stole scenes in Blockers earlier this year, has a deadpan quality that often kills in this super-heightened context. At one point, she had me laughing by just saying "You da man." It's such a charming performance that you wish it would be medivaced out of this exhausting comedy and grafted onto a more appealing star vehicle -- or at least one with a higher caliber of dick joke.
Sign up here for our daily Thrillist email and subscribe here for our YouTube channel to get your fix of the best in food/drink/fun.