11 Unbelievable Moments That Made 'The People v. O.J.' a Classic
FX
FX
Making a show about one of the biggest real-life events of the 20th century is no easy feat. And with The People v. O.J. Simpson: American Crime Story, director/producer Ryan Murphy managed to make something that shocked us while still re-creating the 1995 O.J. Simpson murder trial with painstaking accuracy. Here's a look at 11 instantly iconic moments from one of the best shows on TV this year.
Spoilers for the first season of American Crime Story, including the finale, to follow.
O.J. breaks down in Kim Kardashian's room
From the onset, American Crime Story made us sympathize with its suspect. Cuba Gooding Jr.'s Simpson is a bundle of frayed nerves facing the gravity of this tragedy while grappling with his grief and confusion. And David Schwimmer's heartfelt performance as Robert Kardashian, torn between his love for his friend and the ominousness of the facts, marks him as the one to watch for the next nine eps.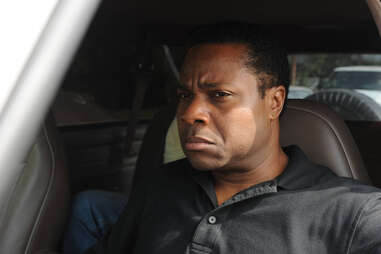 The Bronco freakout
Every news camera in the greater Los Angeles area, every television in America, and every available pair of eyes tuned in to watch police chase down a fleeing O.J. in his white Ford Bronco. What onlookers didn't see, and what ACS captures to pulse-racing success, is the insanity happening inside the car. As Al Cowlings, who had to talk O.J. out of suicide while barreling down the 405, Malcolm-Jamal Warner summons a pure fear that rivals any screams of terror on American Horror Story.
Kardashian kids cheer their name
Yes, the Kardashians are America's most popular family, and yes, their father was O.J.'s friend. But the majority of their fan base wasn't alive in 1994. This scene, while largely irrelevant to the case and not factually true, allowed millennial viewers to connect to the trial that predated them.
Rob Kardashian saying "Juice"
You know how some people fall asleep listening to those ASMR videos of crinkling paper or soft whispering? We fall asleep listening to this supercut of David Schwimmer saying "JUICE!" over and over again. And yes, our dreams are crazy.
Bob Shapiro freaks out
John Travolta's performance is one of the most polarizing things on the show. Some people love it, some hate it, and some both love and hate it simultaneously. As Uproxx put it, "if this were a movie, he could be the first person ever to win both an Oscar and a Razzie for the same performance." Let us submit for consideration Shapiro's post-vacation meltdown when he realizes Cochran has usurped his role as leader of the defense team. Lesser actors, take note: this is what commitment looks like.
Cochran chews out Darden in court
Cochran and Darden's back and forth over the N-word, in which Darden asks to have the world banned from the trial and Cochran eviscerates him and paints him as cowering Uncle Tom (before condescendingly whispering "n*gger, please" in his ear), one of the most unbelievable moments in a trial full of them. In terms of performances, this scene is also a high watermark for both Courtney B. Vance and Sterling K. Brown, who beautifully capture the complex power dynamic between these two very different men.
Marcia and Chris dancing
We'll never know exactly what went on between starry-eyed prosecutors Marcia Clark and Chris Darden behind closed doors (the pair have never confirmed their long-rumored relationship), but the scene in which they danced to 'Who's That Lady' in the office had us shipping these two, hard. MC + CD 4 life.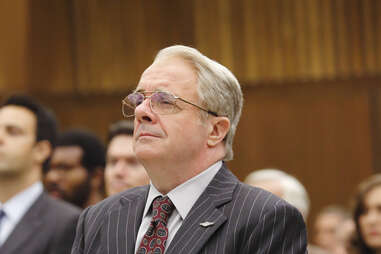 F. Lee Bailey unleashes the "N-word strategy"
George Carlin's "Seven Words You Can Never Say on Television" bit sounds like a 1930s cotillion guide in the wake of Nathan Lane's rip-roaring rendition of the Mark Fuhrman cross-examination. F. Lee Bailey infamously trapped Fuhrman in a perjurious stranglehold by grilling the detective on his regular use of the word "n*gger." A paranoid network may have censored the speech. A lesser actor would have whispered the words. Not FX, and not Lane, who knew every mention of the taboo word would drop like a ten megaton bomb.
The jury wants to watch Seinfeld
"What is a Seinfeld?" How fitting that an episode about the jurors having next to nothing to do involved a digression about the show about nothing. The poor souls picked to determine O.J.'s verdict were so stir-crazy as the trial wore on, they felt like prisoners themselves -- and even something so inconsequential as TV time, choosing between Martin and Seinfeld, became a flash point for racial tension.
Cochran brainstorms rhymes for his closing statement
If you knew nothing else about this case, you knew the freaking glove rhyme. Cochran mumbling, "If the glove doesn't fit... Hmm... You must... " was the series' most head-slappingly corny moment. Somehow, this minor stumble only served to remind us just how wrong things could have gone in a hyper-stylized nonfiction production. How lucky we are that was the most egregious line.
A "black power" fist at the verdict
ACS is like Titanic: knowledge of the end doesn't make a dent in the drama of getting there. The jury's four-hour deliberation swells to excruciating and reasonable consensus. The race conversation turned O.J. into a pariah targeted by the LAPD's racial prejudice. The defense attorneys built empathy, which ACS captures with the perfect shot: a dismissed juror throwing up a "black power" salute on his way out of the court room. Yes, this really happened -- turned out, the juror was a member of the Black Panther Party -- but it's one last procedural gut punch because of Ryan Murphy's well-timed direction.
Sign up here for our daily Thrillist email, and get your fix of the best in food/drink/fun.
Follow the Thrillist Entertainment editors on Twitter: @ThrillistEnt.