A Podcast for Every Activity in Your Life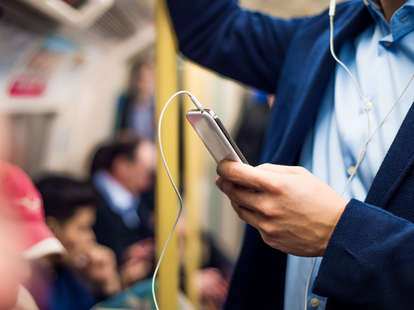 Average Length: 30 minutes
Gateway Episode: "How a Teen Uncovered the Internet's Weirdest Catfish"
You will achieve early morning equilibrium as 21st-century anthropologists Ryan Broderick and Katie Notopoulos unpack stories from the Internet. While certain episodes can hit anywhere between serious and frivolous, Internet Explorer always pretties up the twisted online world with a belly laugh, or twelve.
Average Length: 15 minutes
Gateway Episode: "Mountweazel"
Get your neurons firing with a little light lexicology. Hosted by the ever-charming Helen Zaltzman, The Allusionist is brain candy for word nerds. Unlike the legions of didactic, educational podcasts, it's light, entertaining, and often funny -- the perfect mental prep for another day of the grind.
Average Length: 60 minutes
Gateway Episode: "Bill rambles about the Patriots loss"
Stand-up comedian Bill Burr's wandering monologue turns any lonely ride into a carpool. Sticking mostly to current events (which means it's best when it's fresh), Boston, his wife, sports, and life advice, Burr's show is economical and snappy, despite being unscripted and long.
For a head-above-water lunch break: The Gist
Average Length: 30 minutes
Gateway Episode: "The Parents of Jordan Davis"
There's nothing worse than being thrust into a topical conversation in which you find the facts elusive. Two words into a discussion on Russia, and suddenly you're sounding like Sarah Palin. The Gist collects all the important news stories from planet Earth and packages them into an entertaining half-hour show with host Mike Pesca, who knows something about everything. Return from lunch informed.
Average Length: 10 minutes
Gateway Episode: "Larry King"
Guest DJ Project is a rabbit hole of musical recommendations. In each episode, a B-list celeb takes you through five of his or her all-time favorite songs, offering snapshots of how music folds into everything from daily activities, childhood, and moods. Count on it when you need to rev up the day.
Average Length: 1 minute
Gateway Episode: "Tyquon"
It takes longer to read about Profiles:NYC than it does to simply try one on for size. For fans of Humans of New York, consider this daily, amuse-bouche version that gives a mic to everyday people. When you start thinking that the grass is greener, this show is the jam.
Average Length: 45 minutes
Gateway Episode: "Fresh Air Remembers Author Maurice Sendak"
When you're logging miles, you need a good companion. No one keeps better company than Terry Gross. For more than 40 years, Gross has interviewed the biggest names in arts, politics, and culture. She has a knack for opening her subjects up without being intrusive; she's funny without making the interview about her. You'll get so lost in the conversation, you won't even notice your asthmatic breathing as you close in on the five-mile mark.
Average Length: 15 minutes
Gateway Episode: "How to Start Conversations with Strangers"
Question of the Day's impromptu talks between hosts Stephen Dubner and James Altucher distill podcasts down to essential components. Two men with interests too varied to pin down, toss out an idea, and offer up everything they know about it, Past experiences and theorizing rule the day. Treat them as brief meditations on career and life.
Average Length: 90 minutes
Gateway Episode: "Rex Jung - Creativity and the Everyday Brain"
Master interviewer Krista Tippett knows how to stay in the present. And lucky for listeners, finding tips and tricks to help us do the same is one of her primary preoccupations. On Being delivers comfort and expands the mind, all while functioning as the audio equivalent to restorative yoga.
For grocery shopping/post officing/any long line: Mortified
Average Length: 30 minutes
Gateway Episode: "Why I Hate the SATs"
Mortified is a live event in which adults read from their teenage and tween diaries on stage without altering any of the content prior to showtime. They usually involve a weird hand job, awkward coming out story, or painfully misguided love interest, but the nostalgic bent is universal. A go-to whenever you need to be transported to the person you were before you had real responsibility.
Average Length: 60 minutes
Gateway Episode: "Boarding Call"
Take a night off of the X-Files reboot, and, instead, settle into an hour of enchanting interviews, reporting, and stories. The New Yorker Radio Hour recreates the feeling of its magazine stories for an audio experience. You'll be entertained and edified, charmed and challenged, all while cozy on your couch with your feet propped up, washing down a glass of Malbec.
Average Length: 90 minutes
Gateway Episode: It doesn't matter. Just put one on
Sleep with Me's producer Andrew Ackerman wants you to fall asleep. He chooses subjects for his monologue-style podcast that are interesting enough to keep your brain attuned, but not interesting enough to keep you awake. With a steady, monotone voice, Ackerman rambles for at least an hour so that you can drift at your own pace. It's a service the world sorely needs, as evidenced by its consistently high iTunes rating.
Sign up here for our daily Thrillist email, and get your fix of the best in food/drink/fun.
Eric McQuade, Laura Standley, and Devon Taylor run The Timbre, a site dedicated to the emerging art of podcasts. Follow the site on Twitter @timbretweet.