Ryan Murphy's New Netflix Show 'The Politician' Runs a Losing Race
Netflix
Netflix
When I first saw the pilot of Glee in 2009, my little theater kid heart was smitten. Ryan Murphy's musical Fox series was brash and overbearing, it took teen tropes to unnatural heights, and in its best moments it was giddy camp entertainment. At its worst it felt grossly exploitative, and sometimes just downright dumb.
Ten years since Glee's premiere, Murphy is returning to high school with his first series for Netflix, where he now has a $300 million deal. In the interim years, Murphy has built out his American Horror Story franchise, while shepherding critically lauded fare like Pose and the American Crime Story anthology. But The Politician feels like Murphy unleashed. It's the most unhinged he's been since the Glee days: The eight-episode series dropping on September 27 is stuffed with random musical numbers, throuples, celebrity cameos, and hot-button issues used as joke-y fodder for melodramatic plots. It's well-acted and entertaining almost by sheer force of will, but you're also left wondering what, if anything, Murphy is trying to get at and whether the show's over-the-top tastelessness is at all earned.
Murphy has crafted a Rachel Berry for a new generation in Ben Platt's Payton Hobart, a relentless striver whose goal is to become President of the United States. He's the adoptive son of an insanely wealthy Santa Barbara couple (Gwyenth Paltrow and Bob Balaban), also parents to biological twin hunks who have paid their way into Harvard. Payton's run for the highest office in the country starts, apparently, at his prep school, where he has an army of minions (Laura Dreyfuss and Theo Germaine) ensuring he will win student body president. His opponent is River (David Corenswet), a sweet, gregarious hunk who also happens to be Payton's tutor/secret lover. River, meanwhile, dates the uptight Astrid (Lucy Boynton), who is the mastermind of her sensitive boyfriend's campaign. A shocking (and sure to be debated) event in the premiere -- that I won't spoil here -- shakes up the race, forcing Payton to scramble to maintain his lead.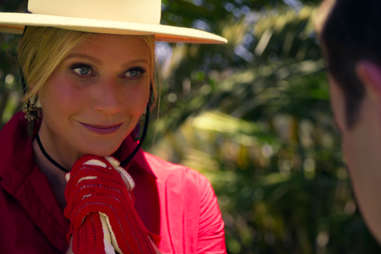 Of course, Glee's Rachel was a musical theater version of Election's Tracy Flick, which makes Payton the rich white male spin on the character Reese Witherspoon played in Alexander Payne's still painfully relevant 1999 film. It's hard not to see bits of Payne's adaptation of Tom Perrotta's novel all over The Politician to the degree that it almost seems like Murphy is attempting to remake it in his image. But whereas Payne's Clinton-era tale reads as both a true portrait of high school and an allegory for the nasty heart of American politics, The Politician is neither.
It certainly feels like Murphy is trying to say something about the way we live now but it's unclear exactly what that is. The episodes exude a Trumpian excess, but Payton is far too smart and concerned with respectability to be a Trump stand-in. And as much as the series seems interesting in pillorying the one percent, it's as equally as taken with the glitz of money. (Half of the plot seems like it exists to put Paltrow in finery.) Murphy's won plaudits for representation in casting across his oeuvre, but in this case, he also seems suspiciously interested in parodying the idea of wokeness. The people who weaponize their diversity in the world of The Politician are just as insidious as those who weaponize their wealth. It's an "everyone is bad" attitude that nonetheless presents the privileged white kid as its hero. And for all the real-world analogies, The Politician also exists in a fantasy land where student government is grounds for assassination. (Yes, seriously.)
Murphy also seems to be interested in parodying his fellow denizens of the prestige TV space. Payton, in an effort to win a sympathy vote, teams with the school's resident cancer patient (?), Infinity Jackson, played by Zoey Deutch. From almost the instant you meet Infinity and her overbearing Nana (Jessica Lange), it's evident that Murphy is riffing on the based-on-a-true-story of Munchausen-by-proxy miniseries The Act. Deutch even appears to be doing an impression of high-voiced victim Gypsy Rose Blanchard. The point of this is -- other than the opportunity to see Murphy muse Jessica Lange go full monster mom -- is anyone's guess. It's all just part of The Politician's nothing-is-sacred ideology that begins to feel hollow.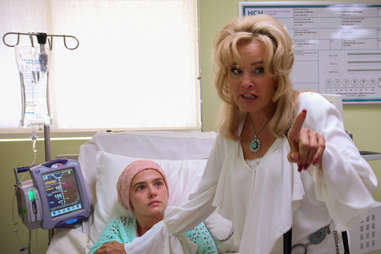 If Murphy has a knack for one thing, it's casting. Platt became a stage phenomenon for his work in the musical Dear Evan Hansen, where he portrayed the anxiety ridden titular teen. Payton is a tricky part that he nonetheless sells most of the time, bouncing between sympathy and loathsomeness. If Deutch's storyline didn't feel so icky, she'd be the standout, fully transforming into the childlike, yet savvy, Infinity. As for the adults, Paltrow digs deeper than she has in years as Payton's wise mother. (Unlike basically any Marvel movie, Paltrow here seems to know what project she's starring in. She's also married to Murphy's executive producer Brad Falchuk.)
The Politician is watchable -- that's for sure. It's lovely to look at, full of high-fashion costumes and pretty people. It's fast moving, with churning plots that are hard to keep tabs on. But even though it's supposed to be a rare jewel with all the fanfare that Netflix and Murphy and movie stars provide, it's more like a rhinestone. Or maybe this deserves a political analogy: The Politician wishes it were Elizabeth Warren's presidential campaign, when actually it's just Marianne Williamson's.
Sign up here for our daily Thrillist email and subscribe here for our YouTube channel to get your fix of the best in food/drink/fun.