'The Pussy Posse': The Best Thing Ever Published About Leonardo DiCaprio
Brenda Chase/Getty Images
Brenda Chase/Getty Images
Google "Leonardo DiCaprio" right now, and approximately 146,000,000 results will come hurtling back at you. And 145,999,999 of those are utter and complete shit. There is only one important article about the prolific American actor, but because it's not a new item, it eludes even the sharpest celebrity gossip algorithms. Nevertheless, this piece -- "Leo, Prince of the City," written by Nancy Jo Sales in 1998 for New York magazine -- is the single greatest thing anyone has ever published about Leonardo DiCaprio.
This is my opinion, but it's also an indisputable fact. After all, it's a goddamned write-around, perhaps second only to Gay Talese's definitive "Frank Sinatra Has a Cold" in its incisiveness and narrative gamesmanship. But forget about that babble for a bit. This is also the profile that introduced the world, forever and always, to the Pussy Posse.
Recently, I discovered that a close personal friend of mine had heard of neither the Pussy Posse, nor the story in general. This troubled me deeply, and it made me wonder: who else has never read Sales' canonical piece of journalism? Perhaps because this article has brought me so much personal joy over the years, I was gripped with a sense of duty to do everything I possibly could to carry the good word of the Pussy Posse into the dark ignorance of the world. I decided I must act.
And now, we're here. I present to you this essential reading guide to "Leo, Prince of the City," the single greatest thing ever published about Leonardo DiCaprio. It's far from news, so if you're already familiar with the story, you can feel free to leave now. But if this is your first time, buckle up, because Nancy Jo Sales, Leo, his so-called Pussy Posse, and I are about to rock your goddamned world.
Leo, the Rising Star
Younger readers who are familiar with DiCaprio's latter-day established excellence should know: this is not the Leo you know. This isn't #dadbod Leo, or The Departed Leo, or even The Beach Leo. When Sales writes that "venturing out at night with him feels like climbing onto the set of The Jerry Springer Show," she is writing about Titanic Leo. This is a story about Leo tearing up New York City as a 23-year-old superstar. A live-wire, loose-cannon leading man on his home turf. Or, as she puts it in her piece: "[T]hen came the billion-dollar-grossing movie, the 500 Leo Websites, the plethora of hype and the attentions of the rich and powerful [...], and Leo turned into 'Leo.'"
The thing about 23-year-old white dudes is that they're colossal shitheads. I should know -- I was one, once. The only difference between DiCaprio and me, is... uh... well, there are a lot. But the relevant difference in this case is that he was not just a colossal shithead: he was a wealthy, famous, sex-symbol shithead. Which brings us to the Pussy Posse.
The Pussy Posse: A Definition
Sales gave the world this gift, and her words remain definitive. "'They' are the fun-lovin' guys you always see Leo around with," she wrote. "Even before there was Leomania, Leo always traveled with his pack of devotees, known in Hollywood circles as 'The Pussy Posse.'"
(Watch the video above to see Kevin Connolly, a "member," vehemently deny that the group ever referred to themselves by that name. He claims she coined the term in the piece, and because this pivotal quotation is blind, there's no way to say for sure that she didn't.)
In other words: it's the #squad. The crew. "'They're all about seeing the girls,' says a magazine photographer in New York who once had to sneak Leo and his boys, then the uninvited, into a Victoria's Secret event." Anti-climatic, huh? Like every other movie star ever, DiCaprio was surrounded by a group of hangers-on when he went out to chase women. So what? No big deal, right?
Wrong.


The Pussy Posse: A Who's Who
Unlike the Entourage entourage, Leo's shithead salon wasn't just a roster of ancillary moons orbiting around a single sun. Obviously, Leo was still the group's central character; if his IMDb page has taught us anything, it's that Leo is always the central character.
But the Pussy Posse -- comprised, as it was, of other semi-famous performers, musicians, and NYC socialites -- was an ensemble cast that would have dwarfed out a lowly flash-in-the-pan like Vinny Chase. Diversified like the Rat Pack, entitled like the Brat Pack, and more deeply insulated from the Internet by the sands of time than even the Frat Pack, DiCaprio's merry band of monsters were calibrated to wreak a depth of chaos heretofore unseen. In other words: they were legendary shitheads.
Now, with Sales' original introductions from the 17-year-old piece, let's meet the supporting characters of our fair prince's bygone decade (many of whose careers are now legendarily bygone as well). Jezebel's Madeleine Davies did a thorough where-are-they-now investigation for the website in May 2014, and you should certainly read it. Below, an abridged version:
TOBEY MAGUIRE
"[T]he pensive youth in The Ice Storm [...] who is perhaps waiting to" become Leo was undoubtedly the posse's biggest side-billing. His career never reached the rarified air of "bankable cinema" that DiCaprio's would soon soar into, but Maguire was and is a commercially successful actor.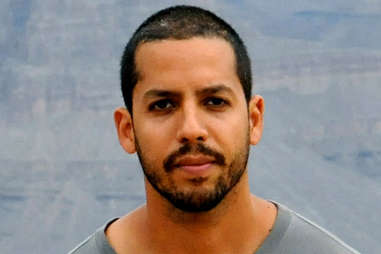 DAVID BLAINE
Yep. "The levitating magician" from Brooklyn. One and the same. Blaine and DiCaprio had roughly parallel rises in two totally different performing fields, which made them hometown heroes amongst NYC's performing youth.
LUKAS HAAS
In 1998, the German-American actor "ha[d] not yet become Leo," but seemed to be on track to, with top billings in Boys, Mars Attacks!, and Everybody Says I Love You. Since then... eh, it's been a steady decline into irrelevance.
KEVIN CONNOLLY
E! From Entourage! Back in the day, he was actually in Leo's entourage! But back then, he was just a dude "who ha[d] appeared on The WB." Ouch.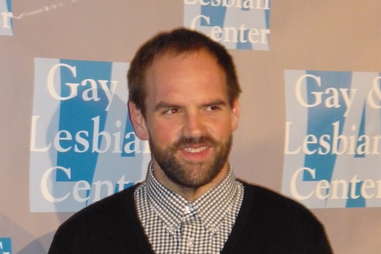 ETHAN SUPLEE
The big fella from My Name Is Earl and Remember the Titans had, at the time he was hanging with Leo, only "appeared briefly in Chasing Amy."
HARMONY KORINE
"The Gummo boy auteur" was a creative force behind a few Generation-X archetype films, including Kids (which I have seen once, and only once), and Spring Breakers.
Those are just sort of the more famous posse participants. Then, there were the secondary characters:
Sara Gilbert: "If they're a new Rat Pack, she's the Shirley MacLaine figure," quipped a source to Sales about the Roseanne/Poison Ivy star. Gilbert's still around -- she's on The Talk!
Jay R. Ferguson: "[O]nce Burt Reynolds's wisecracking son on Evening Shade" and more recently, copywriter Stan on Mad Men, Ferguson has a pretty nasty role in one of the article's key conflicts. Stay tuned!
Justin Herwick: The pretty-obscure actor/director, best known for 2002's controversial queer-punk film Luster, was the guy "with whom Leo almost got himself killed over the California desert in 1996, when his parachute failed to open (his instructor released an emergency cord)."
Josh Miller: He "played Keanu Reeves's little brother in River's Edge but never became Keanu Reeves," which frankly seems like the best possible outcome.
Scott Bloom: Just "another aspiring actor" who's biggest role to date was probably a supporting one in 2006's Smokin' Aces.
R.D. Robb: The child actor who set up the tongue-sticking prank in A Christmas Story was ostracized from the posse for "attempting to spin [...] straw into the Leo gold of a commercial release" by making a movie called Don's Plum, based on ad-libbed scenes he filmed of the group in a diner. Maguire & DiCaprio (or their managers) blocked the film's release in North America, fearing defamatory content. Later, the film went public to mixed reviews.

Though he weirdly earns no mention in Sales' urtext, Q-Tip was also member of The Pussy Posse. "Around 1994," reported Chris Lee for the LA Times in 2008, the A Tribe Called Quest rapper "befriended Leonardo DiCaprio and Tobey Maguire, solidifying a camaraderie that lasts to this day. He also dated Nicole Kidman for a brief spell."
Stars: they're nothing like us!
Partying With the Posse
"He seldom sleeps, so intense is his partying," Liz Smith wrote of Leo. (Sales included this quote in her piece with no link to the famous NYC gossip columnist's actual words. They may never have even existed digitally, because the '90s!) While the piece is short on details of booze-washed nights, and skirts any instances of drug use, there are plenty of clubs and namechecks to set the scenes.
Quoth a manager of now-defunct Greenwich Village club Life, to Sales: "He's got rock stars, Puff Daddy, Donald Trump, going over to his table to sit with him." Not a big deal for DiCaprio now, sure -- he's arguably more A-list than any of the big names that used to say hello.
Did Leo offer to trade an interview for a blowjob?

But Leo then? He was 23, remember. Moomba, Jet 19, a strip club called Ten's (which is actually still open)... Leo partied all over NYC, and wherever he went, the posse went with him. "If Leo wants to go to Paris, it's let's go to Paris. Las Vegas? No problem," told an anonymous actor to Sales.
Obviously, given the group's name, there were women. Sales kicks the story off with a steamy fan love letter, and throughout the story, reels off the names of famous starlets that Leo & Co. supposedly pursued. "'That girl' -- meaning [Elizabeth] Berkley [the Saved by the Bell and Showgirls actor who becomes important later in the piece] -- one of Leo's friends says lightly, 'would have come in a second if we'd wanted her to. Any girl would.'"
The Posse Pulls Pranks, Throws Punches
Unsurprisingly, "Prince of the City" is also full of stories about DiCaprio and his squad getting into trouble around the city. Which is killer.
"Leo and the posse reportedly bombarded paparazzi with grapes from upstairs at the Mercer Hotel," on one instance. On another, "Leo was spotted throwing litter off the Brooklyn Promenade onto cars traveling below on the BQE." Sales received a liquored-up voicemail late one night after failing to track down DiCaprio down:
[T]here was a message on my answering machine. A group of young guys -- they all sounded drunk -- were laughing and cutting up in the background. It was kind of strange. The speaker was telling me that if I wanted an interview with him, I'd have to "make a deal" along the lines of doing something for him that Monica did for Bill. "Then maybe we'll talk!" he laughed. I'd been trying to get in touch with Leo. But nah, I thought; it couldn't be Leo.
Did DiCaprio get lit and offer to trade Sales an interview for a blowjob? The answer isn't a definitive "no." Which is nuts, but not as nuts as the fistfight outside the Morgans Hotel following the premiere of 1998's The Man in the Iron Mask.
Posse member Ferguson had allegedly been calling the actress Berkley, trying to get her to join their restaurant table. Berkley's boyfriend, Roger Wilson, got on the phone to request that he leave her alone. He wouldn't, so Wilson went down to the Morgans Hotel, where Ferguson challenged him to a fight.
Before the first punch was thrown by either Ferguson or Wilson, someone allegedly from the posse sucker-punched Ferguson in the throat, then rushed back inside the hotel. The NYPD opened an investigation into the assault, and Wilson -- whose windpipe was damaged permanently -- brought a lawsuit against DiCaprio, which was eventually dismissed.
The Single Greatest Graf in the Single Greatest Thing Ever Published About Leo
Presented without comment (emphasis mine):
At Life, where I also did not find Leo, I talked to a drag queen named Meeka who looked exactly like Naomi Campbell (with whom Leo also reportedly had a dalliance this year). "He's cute! He's right now!" Meeka shouted thoughtfully above the theme to Titanic, which had been set to a pounding disco beat. "When all the 17-year-olds become 22-year-olds, he'll have faded, but right now, he's right now. And that's," she added, "what it's all about."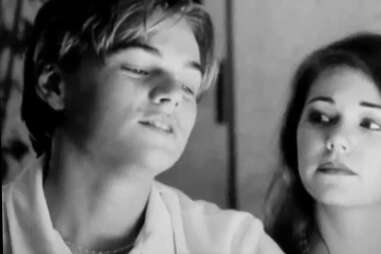 Conclusion
At 7,500-ish words, "Prince of the City" is a doozie. But it is so, so, so goddamned fascinating. Sales, without access to Leonardo DiCaprio, managed to paint the picture of his life and times by omitting his voice from the piece entirely. As mentioned earlier, this technique is known in the business as a write-around, and it's the stuff of j-school wet dreams because it's so tough to pull off.
Speaking of sexual metaphors: it's also the piece of journalism that shone light on The Pussy Posse. And for that, it belongs in the hall of fame.
Dave Infante is a senior writer for Thrillist. He is not in The Pussy Posse :( Follow @dinfontay on Twitter, Instagram, and Facebook.